How Do You Know You're Ready to Adopt?
This post was written by our newest blogger, Torianne Allen! She combined feedback that some our supporters shared on our Facebook page with general tips to break down the main reasons people know when they are – or aren't – ready to adopt a furry friend.
<> <> <>
Are you aware of the responsibilities that come with adopting a pet? When you tell your friends and family you're hoping to adopt, do they ask you this question?
"I knew I wanted to adopt because my heart breaks for dogs without a home. I want to give them a second chance at life. I believe they do well because my home welcomes them with unconditional love." – Darcy
It's a question that isn't asked often enough, so let me break it down for you.
1. Is your house dog-friendly?
If you rent, do you have permission from your landlord to have a pet? Many renters don't know that it is in fact illegal to enforce a no pet rule on tenants, unless someone already living in that residence is allergic, or if the pet will cause harm to other tenants. Even if the tenant signed a "no pet clause," no such clause is valid in Ontario, according to ontariotenants.ca. However, would you want to get a pet knowing it would only cause trouble with your housing situation if the landlord refuses to abide by this law?
If you own, do you have a fenced in backyard? It seems straightforward to assume that big dogs equal big houses, but did you consider that smaller dogs, such as Chihuahua's or terriers need space to live active lifestyles, which actually keeps them calmer? Or that a large dog may be older and enjoy mellowing out on the couch from time to time?
"When I lived at home my Dad wasn't a dog guy so he let me adopt cats. I adopted a 10 year old cat because old cats aren't always adopted. Then when I volunteered for TAGS 20 years ago I went to the pound to see if there were any little dogs we could help. They had the cats out of the cages getting some exercise so of course I had to browse. There was a tiny little kitten that came up to me and I was told that the tiny kitten was going to be put to sleep because the mother rejected it. Well I couldn't let that happen. Due to the kitten being so young they just let me take the kitten. I got home and told my Dad I'm just going to get the kitten healthy and then find a home for her. Yeah right… I still have her! When I moved out of my Dad's I adopted 2 more cats. Cats are good pets for single gals who work a lot." – Lisa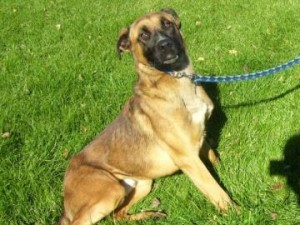 Eddie is a young, playful, energetic guy!
The family who adopts him needs to have a good-sized, fenced-in backyard.
Next come the finances.
2. Can you afford to adopt a pet right now?
According to the Ontario Veterinary Medical Association handbook, in 2013, it cost Ontarians up to $2,018.49 to own an adult dog. These numbers include food, veterinary care and pet insurance, (you can find sites to compare pet insurance deals online). The same or similar numbers can be seen all over the country and across the border as well. What these numbers don't include are all the necessary pet needs you already thought of, such as training classes, licenses, grooming and toys.
If you're considering buying a new home with a larger backyard and space for your pet, will you be able to manage your finances? Think about using a home affordability calculator like the one available from SoFi or other loan providers before you dive into this investment. It's important to carefully consider your costs when it will likely involve a furry family member too. Along with the costs that come with owning a home, there will also be numerous pet care costs to take care of, as highlighted above.
Of course there will be other expenses to add to that list, such as the replacement of damaged furniture and clothes the animal might have ruined before he/she was trained and let us not forget the investment of a pet vacuum or pet steamer.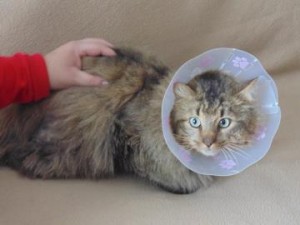 Burnie needed medical attention after being injured
by another animal. Although he was a stray, if he was someone's pet this would have meant unexpected bills for them.
3. Do you have the time?
This is the most important question you can ask yourself before committing to adopting a dog.
Yes, indeed, you don't need the expertise and knowledge that is required for most veterinary jobs, but time is one thing that you most certainly require when it comes to adopting a pet. It takes time for a dog to get used to a new owner and vice versa. Some owners take up to a week off work when they first bring their adopted pet home. If you go to school, make sure someone is always home to play, go for walks and make sure the pet always has fresh water.
"We'd planned to wait two years after losing our beloved JRT, Roxie, but when, after 10 months, we were still grieving terribly and working practically 24/7, I talked to my husband about adopting just for the sake of work/life balance (being forced to go for walks is a good thing!). We definitely got what we were looking for!" – Cathy
Balancing home and work life is essential when it comes to introducing new members into the family. Everyone wants to be greeted at the door with hugs, kisses and a wagging tail. They missed you, so don't make them wait too long!
4. When you're ready, you're ready. Have an open mind and you never know who may steal your heart!
"My 3rd year of college I knew I was ready for a pet. I had always wanted to adopt like my family did growing up. Bring in full time school and part time work; I knew I didn't have time for the puppy training. Having 5 roommates that would help with walks and play time helped a lot in that first year. I went to Peterborough humane society and I must have walked 12 dogs. I was ready to leave and try another day. Just then my brother, who came with me to help, walked out into the yard with Lucas. Every other dog I walked that day wanted to explore the yard; Lucas ran right to me and lay across my lap. He wasn't going to let me leave without him. Lucas had 3 previous owners and was labelled as being aggressive with other dogs. I promised his a forever home. It's been 8 years we've moved 5 times together and he's great with even the smallest of dogs. Sometimes the dogs choose their owners." – Britni
<> <> <>
When you are ready to adopt, be sure to visit our adoptable pets page! It is always changing.
---
---