Read more Happy Tails on our blog!
---
Bo
Hi everyone! My name is Lee-Anne and I've been blessed to have adopted Bo almost a year ago! Now for me it was love at first sight at the meet & greet but for Bo it was a different story as he was very attached to his foster mom Brittany! But I quickly learned Brittany had only fostered Bo for a little over a week so as long as you deserved his love……he was quick to give it! And that he did! For the first couple of weeks I couldn't believe how well behaved & mellow this little guy was….…man I hit the jackpot!! Fast forward about 3 weeks & guess what HONEYMOON STAGE WAS OVER LOL as the saying goes and I got my first real introduction to Bo!
He's as smart as he is energetic & very strong willed so that being said that doesn't always mean he's eager to learn but boy oh boy when he is……. it's fast & amazing! This winter I actually taught Bo to get on a treadmill to help get rid of some of that energy! As you can all remember we had many bitter cold days so long walks weren't always possible and with his energy level that was a setup for disaster. My family & friends laughed at me but boy were they surprised, as it only took about 3 days & he got it……and he's so darn cute doing it because he concentrates so hard while jogging! So I took it one step further & thought wouldn't it be neat if we could both be on there at the same time …..oh yes we could! I of course was so happy & proud of my little guy but now unfortunately I've created a monster because I'm not allowed on the treadmill by myself hahaha and have to literally put him upstairs & close the basement door so I can!
But most of all what has absolutely amazed me about Bo is watching him to learn to trust me….and in trusting me he has learned to trust others and that makes my heart burst! He has become a very loving, loyal friend that is goofy & funny but yet confident & a great protector! I strongly believe it's because he knows he's finally home! We've especially come light years with men…..he now doesn't sound like something out of Jurassic park lol!!
So I would like to say a HUGE thank you to TAGS, Brittany & anyone else that helped bring Bo into our life……he has truly become family & couldn't imagine our life without him!!! One of the most important lessons I think I learned through all this is to be patient & give lots of love because what you get in return is priceless! We honestly don't know what these animals have been through but if given enough time & unconditional love they do learn to trust again & truly become who they were meant to be!
Signing out with the ultimate TAGS phrase " adoption is the ONLY option"!!
Lee-Anne
---
Iggy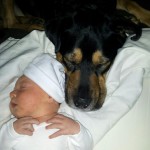 Iggy is now just over 4 years old and a thriving big brother!  He takes food ever so gently from Emmett and quite enjoys that Emmett knows how to open his treat cupboard and give him cookies!  Iggy continues to enjoy his walks and playing in the park with other dogs. He LOVES playing fetch and LOVES LOVES swimming and anything water related!  Iggy enjoys going to the cottage where he can swim and fetch to his hearts content as well as spend time with his grandpa….who we think he loves more than anyone else! Iggy has also tried his paw at a bit of dock diving and is a very impressive swimmer (he actually come up on plane….so much power!) Or he likes to help Emmett have his bath at night!
Iggy had been a wonderful addition to our family and we can't imagine a life without him.  He is always a big hit at the kids park as they always find him so handsome and more than happy to be petted by everyone! I think parents are often surprised how that rotti faced dog is so sweet and gentle with their kids!
Casey
---
Our Journey with Mia
As soon as my husband and I were married we knew the first thing we wanted to do was to adopt a dog.  It may have taken some time and patience but we were finally given the amazing opportunity last summer to adopt Mia.  The TAGS organization worked with us to find the best dog to fit our family.  Mia has come all the way from Tennessee to find her forever home and we are so glad that she did!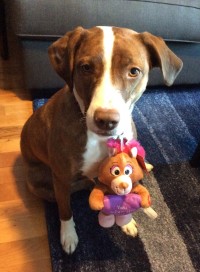 And what can we say about Mia!  She is the most amazing dog that we could have possibly wished and hoped for.  Mia has what I call two personalities, lazy and crazy.  She can certainly can go between the two personalities in an instant!
In the home her favourite past time is sleeping.  Sometimes we will be wondering where Mia is and we will find her on her doggy bed.  Mia also is the most gentle and loyal dog and often gives you those puppy dog eyes that you cannot resist.  All of our friends and family cannot believe how well behaved she is and we barely ever hear a peep out of her. She rarely barks and when she does we are surprised that she can even do so.  Mia loves being around people so much, to the point that she does not like to be left alone for too long.  We often take her with us when we are visiting friends or family so she is not on her own and the days we are both working,  Mia get extra visits from "Grandma".
As to her crazy side, Mia loves the outdoors especially when she has the freedom to run.  Once you take her off the leash, watch out 'cause here comes Mia!  She is fast and out runs most dogs at the dog park.  She is also very strong and does not realize her own strength.  The only behavioural issue we need to work on is her love for jumping on people. And because she doesn't realize her own strength her run and jumps can be very powerful.  Mia also loves car rides.  Even though it may be -10 outside, nothing would stop this Tennessee girl from sticking her head out the window.  When we tell her it's too cold, she gives a little sigh, but we know she understands.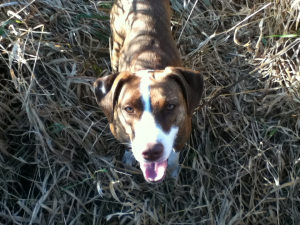 Thanks to the wonderful volunteers at TAGS, we have the most amazing addition to our family.  Without their hard work and efforts, we never would have even met Mia.  She truly is the best dog a couple could ask for.  She is trained in most aspects, even before we adopted her.  She sits, stays, shakes paw, high fives, lies down, does not chew on anything unless given a bone or toy, is house trained and even loves to play hide and seek with us.
This is why I always try to encourage people when looking for a pet to adopt instead of "buying one."  There are so many dogs and cats out there trying to find their forever home.  Some maybe a little older when adopting but they have just as much love to give. With TAGS, most of the pets are placed in foster homes and receive basic training to be ready for their forever home.   And after adopting, TAGS offers training classes and will work with you to help with the new addition to your family.  We are so thankful to the TAGS organization for helping us find our Mia.  She truly has brought great joy into our lives.
Cindy
---
Dogs have always been a part of both my husband and my life. The bond you share with a beloved pet is unlike any other and we wanted this to be a part of our children's lives. We waited until our children were old enough to understand the significant responsibility of caring for another life. We wanted them to be able to appreciate that adopting a dog was not just providing a dog with a home, but giving the dog what they deserve – respect, nurturing, and love. Adoption was our only consideration – we have adopted dogs through the Toronto Humane Society growing up and as a couple. They are victims and the most in need of love.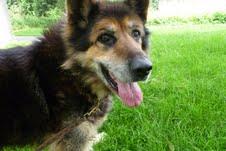 Becky is the third dog we adopted through TAGS. Our first, a beautiful Sheppard /Husky dog named Sasha, developed cancer after 6 months of joining our family. It spread rapidly to her lungs and after many tears and discussions together as a family, we decided to put her down before her cancer caused her further pain. After losing Sasha, we felt even more strongly the need to have our children grow up with a dog and experience that unique and privileged bond we had only just begun to share with Sasha. Again, as a family, we decided to connect with TAGS and we adopted Roux – a one year old Shepard/ Rottweiler cross. (Previously named Ryella.) She is a great dog and we all took part in the puppy classes TAGS offered, the children learning right along with Roux!
As our relationship with Roux grew, our thoughts of Sasha started to move from loss and sadness to memories of adventure and happiness, I began to feel that although we provided a home and loving family to our dogs, we gained so much more in return. Their love was unconditional and limitless. I am always visiting the TAGS website and came across a description of Becky. She was a 15 year old Malamute/Sheppard who was picked up from the streets by a Whitby pound. TAGS saw her potential, despite her feces covered fur and elderly, emaciated body. Even the pound staff tried to discourage the adoption to TAGS, believeing no-one would want her. Of course, TAGS refused to be dissuaded and took her back to the shelter and shortly thereafter, to her foster family.
After reading her description, I knew that it would be hard for TAGS to find a home for Becky, given her advanced age so I proposed the idea of adopting her to my family. We discussed that due to age, she may not be with us long but that we were not just adopting her for what we could gain, but for Becky herself; to give her the quality of life she deserved. The children took this proposal head-on and were excited to find ways to spoil her and fill her days – no matter how many – with snuggles and walks and toys! We arranged a Meet & Greet with TAGS and our family of 6, including Roux, all drove out to meet her. We immediately fell in love with her strong and silent composure and kind eyes. Roux was equally as impressed! As she was well into her senior years, we did not need to take training classes and, as it turned out, we had no need for them as her calm and loyal nature only wanted to please.
We brought Becky home and at first, she was unable to climb the stairs so I slept downstairs on the couch to help her feel safe and welcomed. We took it slow at first, trying to gage how active she liked to be and how long to walk her. She was content with going for short walks and would turn around and lead us home when she had enough! The kids fed her and walked her and made a point of sitting with her they could become familiar with each other. We also wanted Roux to feel she was included in this transition. We would drive them to a park together, finding some shade for Becky to lie in while my husband threw a ball over and over again for our young Roux! She would never tire of a game of toss and Becky would happily rest in the shade and oversee the activities, occasionally galloping toward the fun before retreating to her resting place!
After a few days, she attempted the stairs and began to follow us upstairs when we would headed to bed. Soon, Becky became an integral member of our family and added a quiet calm to our often chaotic world! We have had her since the summer now and she has enjoyed trips to the cottage, travelling in a boat and wading in the water with Roux. She loves to ride in the car and every time we take her for a walk, she must first circle the van and pause at the door, looking up hopefully at us to see if we are going for a drive! We like to take Becky and Roux to the park together and let them play off -lead. Roux, of course, can run circles around Becky but she doesn't let her wobbly gait stop her from lumbering along after Roux, tail wagging, letting out her gravelly bark to snatch Roux's ball or catch up to her. Sometimes, she is like a pup on these walks and it's all you can do to coax her home!
Becky and I have a developed a special closeness and from the moment my feet hit the floor in the morning, she is following behind me. If I sit down for a meal or head upstairs she is close behind me. As her strength is limited and her eyesight unreliable, we always walk beside her up and down the stairs so she feels safe. This works for our carpeted stairs to the third floor but our basement stairs are not carpeted and are also quite steep. We are constantly shutting the door at the top of the stairs to prevent Becky from following me down and potentially slipping. Now, she won't let a few slippery stairs stand in her way and, when I am not fast enough to close the door behind me when I head downstairs, she'll slowly plod down each stair, looking ahead and judging the space between each step to reach me! When she finds me, she'll lie at my feet and then follow me back upstairs continuing to shadow me wherever I go.
Becky balances Roux's typical puppy antics and emits a peaceful calm that Roux has yet to appreciate! Our children understand that Becky and Roux's needs are very different and they have gained great insight into how to modify and adapt their interactions. Most importantly, the children have seen how their love can breathe new life into a dog that would otherwise be considered too old for adoption.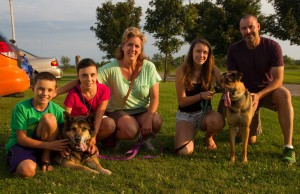 We are going on five months since we brought Becky home and she is a sweet and loving girl – we can't imagine our lives without her. She and Roux make a super welcoming committee every evening when we come home from work – tails wagging, barking and snuffling at us as soon as the door is opened! No matter how long we have been away, they greet us as if they haven't seen us for a lifetime and we are their best friends! The same daily greeting is offered to our 3 kids when they arrive home a few hours before us. I am always reassured to know that Rose, Georgia, and Walter have these 2 great dogs to sound the alarm should anyone come to the door. Becky doesn't realize she has no teeth and wouldn't pose much of a threat!
While both Roux and Sasha hold a special place in our hearts, Becky is unique. She offers our children an invaluable glimpse into the senior years of a dog's life and although she has no doubt had a long and difficult past, Becky retains no bitterness or resentment. This fortitude and peace comes from the inherent good in all dogs, her maturity and her collective life experiences. By adopting Becky, we hope our three children will realize the significance of this potential future for Roux and will continue to offer both her and Becky the unfaltering love, compassion, and respect they deserve .:)
Christina
---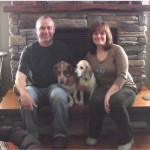 Six months after we got married, we brought a puppy into our family. Fifteen years later, we sadly had to say goodbye to our little one, Roxie, an affectionate and beautiful Jack Russell terrier. We knew that day that it would be awhile before we'd be ready to bring another dog into our lives because of the grief we felt. We
also knew then that our next dog would be from a rescue organization such as TAGS.
In March of this year, I started surfing Petfinder.com and brought up the idea of getting another dog with my husband, almost certain he'd not yet be ready. I was thrilled to hear him say that if we found the right dog, we could adopt. I was even more thrilled when he suggested we get two.
The following weekend, we went to Petsmart to see the TAGS dogs. Cora, a little beagle nix relatively new to TAGS, sat in her crate silently while the other two dogs there barked excitedly, anxious to play. The poor little girl seemed frightened, and our hearts melted. Since our loss still felt fresh, we knew we were looking for a ·
young, healthy dog who would be with us for another ten or fifteen years. Cora's age was guessed to be five (she'd been a stray, so not much was known about her), but we realized as soon as we met her that her age really didn't matter. Giving her a warm, loving forever home was what we wanted to do no matter what. Our next task was to find a dog who would bring Cora out of her shell and make a great addition to our home.
Enter Dusty. We met him at Petsmart the next day. A year-old basset hound mix, he barked the whole time we were there and paid us little mind since he was interested only in trying to play with the other dogs on site. We felt he might not be the right dog for us after all, we both work from home and can't have a dog barking all day. We left Petsmart thinking we had to keep searching for the right second dog.
The next day, I called TAGS to see about setting up a home visit with Cora. Kathy insisted that Dusty wasn't an in-the-house barker and suggested we see him too, so the two dogs (and TAGS interviewers) came to our house that evening. (We were so lucky and will be eternally grateful, first, that Kathy gave us that little push to get to know Dusty better and, second, that Annetta could fit us in on such short notice!) The dogs got along so well, and Dusty was such a fun little guy that we fell in love immediately. The following weekend we began our extended visit. We officially adopted the dogs only yesterday.
In just a week with them, we have seen such progress with Cora! This morning, once she decided it was time to get herself out of bed (like me, she likes to sleep in, whereas Dusty is like my husband–more of a morning dog), she wiggled and waggled her entire body, not just her tail, for at least ten or fifteen minutes. She loves to be petted and pushes her way in when Dusty's getting attention–her growing confidence and  trust in us is so wonderful to see! Three days ago, she took the initiative to jump up and sit beside me on the couch as she'd seen Dusty do. She claimed her spot there for the morning, and Dusty took it in the afternoon. They share better than any siblings I've ever met! And as for Dusty, Kathy was right. He doesn't bark in the house at all–not even when the doorbell rings! He loves to squeak his toys, play fetch, or chew a bone, and he's always trying to get Cora to play with him We hope one of these days, he'll successfully convince her of just how much fun it is to tug on the other end of a rope.
Although I know that we helped these dogs by adopting them and giving them a good home, my husband and I feel we're the lucky ones to have found them. We hadn't really felt certain our hearts would heal after losing Roxie-and we will always love her and miss her–but we've learned we have a whole lot more love to give and there are just so many dogs out there ready and willing to give it right back Can 1 ask for much more than that!
Cathy Witlox
---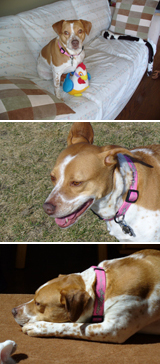 My husband and I adopted Jillybean in late October of 2009. We couldn't have wished for a more lovable girl! Jilly loves to cuddle on the couch, un-stuff stuffed animals, car rides, and keeping her "brother" JD in line! Everyone Jillybean meets comments on her sweet disposition and cute little face (which she uses to her advantage to get out of trouble). Jillybean really enjoyed our obedience classes, and she almost has me trained! She loves her cookies, and is now taking longer walks to compensate for all those training treats.
Jillybean fit into our menagerie of 3 cats and a guinea pig right away – she even cuddles with the cats if she thinks no one is watching. When we adopted our second dog from another rescue group, Jilly helped make him feel welcome by covering him in doggy kisses the moment he walked through the door! Her calm energy and easy-going personality were just what he needed. We can't imagine our lives without Jillybean – she is all we had hoped for and much, much more. Thank you so much to all the volunteers at TAGS who fostered her, took care of her when she was sick, and helped her find her way to her forever home!
Michelle Anderson
---
Benson came to us as a foster a couple of months after we lost our beloved boys Scooby and Sparky who passed within weeks of each other. We couldn't replace our 'boys' but we missed the pitter patter of tiny paws and decided that fostering would fill our need to share our home with a four-legged friend while providing a little one with a safe, warm and loving environment while he was awaiting his forever home.
Benny was a challenge from the start. The first night he was resource guarding a rather large rawhide. He didn't realize that nobody here was going to take it away from him. He was chewing so vigorously though that he cut his gums and we had to get the raw hide away from him to allow his gums to heal. A bowl of food eventually convinced him to give it up. Benny likes to get behind the couch to watch the world through the picture window – knocking lamps and other items along the way. We moved those things to allow him better access. Later on he scratched at the front door when we were away, his separation anxiety getting the better of him. Eventually he learned that we were coming back and he stopped scratching the door. He is a fence fighter too, always listening in the backyard for the sound of the dogs that live behind us. If he hears them he tears to the back fence to do battle. He gets so excited that he chews the fence sometimes. We're hopeful that, over time, he will realize that each time he fence fights he goes back in that house and that if he doesn't fence fight he gets to stay outside – this might be a longer term project for us. His beagle nose leads him to food and he has encouraged us to put all our food much higher than we would have thought necessary. He reminds us when we forget, like the time he got up on the dining room table and plucked a bag of bagels out of Cathy's bag and proceeded to eat 5 of the 6 bagels! When I came home there was a bagel in a plastic bag on the rug in the living-room and pieces of bagels scattered around the floor and one stuffed beagle lying contentedly on the couch. Benny didn't need dinner that night!
Benny loves other dogs and strains very much on the leash to go and see them. He howls his greetings and is so exuberant he sometimes startles the other dogs we meet. He came to us a wee bit on the portly side but he is now quite trim. He loves his walks and he holds his tail high as he wanders the trails, nose to the ground, 'reading' his pee-mail and enjoying the outdoors.
Benny is very affectionate with the two of us, often nuzzling his muzzle under our chins or resting his head on my lap as we watch TV together. He has a need to be touching both of us so he often stretches out on the couch so that his head rests against one of us while his feet are touching the other. He gets up with me in the morning to have his brekkie but then zooms back to bed to be a cuddle monkey with Cathy, he loves to sleep in!
I took Benny to obedience class to help make him more adoptable. Benny already knew sit and he instantly raises his paw when he sits. He learned 'stay' and 'down' (I'm actually most impressed with his down). Very vocal and exuberant in class he could be distracted at times. He really excelled at 'come' and a beagle's love of food is truly a great motivator. I was quite proud of him when he took top dog' honours at obedience class (and more than a little surprised too).
It took Benny about five months·to truly settle into our home. In that time we had ups and downs and we became strongly bonded. Benny had been in the program quite a long time and had endured multiple moves and disappointments. We didn't want to see him have to start all over again. In the end Benny had already found his forever home – it had just taken us six months to realize it too. So we signed the paperwork and Benny is officially in his forever home (he doesn't seem to have noticed any change at all!) We are thrilled and looking forward to a long, healthy and happy life together with Benny!!
---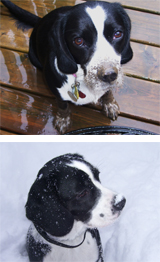 We adopted Tia in April 2008 and from the first day she came into our home she grabbed our hearts and immediately became our beloved little girl. She is the sweetest little pup who makes us laugh and who loves to cuddle with John, sleep under the covers, loves her treats and toys and can do several tricks. She can't wait to go for her walk but also likes sleeping in!,
We have many nicknames for her but our favourites are Teapot and Teabag. She recently was selected as one of the favourite entries in the Whitby newspaper dog photo contest and is definitely one of my favourite subjects to photograph.
She is one spoiled little monkey (another nickname) and we cannot imagine our lives without her.
Thank you to TAGS and their foster parent program for bringing Tia to us.
Susan and John Mckay
---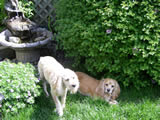 We have always had Spaniels, usually two at a time. When our last dog passed away we were recommended to TAGS. Don checked them out and liked the fact that they interviewed us to see if we were good for the dog, unlike other organizations which simply take your money and give you the dog.
Daisy, the curly Cocker Spaniel in the picture, came to stay with us and became Don's sidekick. We went to all the lessons provided by the adoption agreement and I had fun watching Don and Daisy playing all the games. By the spring we were ready for a friend for Daisy.
Myrtle, the straight-haired Spaniel came to us at the end of April this year and the staff at TAGS once again gave us time to decide if Daisy wanted Myrtle to stay forever. They are both loving and friendly dogs so they do not argue or squabble but share everything, even food. They look out for each other and are like two peas in a pod. Daisy has never liked staying out in the backyard for long because of her experience as a pup but now the two of them sit on the back step watching the birds. We are so pleased that we adopted them thanks to TAGS.
Pauline and Don Langridge
---

My husband Mike and i have had the privilege of adopting 3 of our dogs from TAGS and all the dogs have been awesome, such a gift to our family. First there was Toby, a senior gentleman who was a shepherd husky cross. He was about 12 years old when we adopted him. We had him for about 18 months before he passed, we were honoured to show him love and affection and a lovely life for that last year and a half. Many people can't understand why we would adopt such a senior dog but our believe is that every dog should be loved and cared for until their end so although our hearts ached when he left us we at least knew we did right but that old boy. He was worth every tear we shed. We have no regrets only wonderful memories of how he used to love to just stand outside while there was a heavy downfall of snow and just absorb all that winter had to offer, we started calling him northern at that point and his hearing was going so he didn't mind he just answered to our whistles anyway. We have a lovely picture of him with his ashes and his collar around the urn. think of him often with pride on how he lived with horrible arthritis and in the end cancer. What a brave boy.
Then we adopted Sasha a Rottweiler cross. She was much younger and we've done a lot of training with her and we have such a strong bond. She's been an important part of our lives now for 8 years. She does agility and some tracking oh yes and she loves her beer although it's not good for her she will steal the cans and puncture them if left to her own devices. We should have named her hoover because she's such a food hound. Shes an absolute pleasure to have around the house and everyone who first meets her is usually a bit nervous just because she's a rotti but if only they knew what an awesome breed the Rottweiler is when raised in the right environment. Give her 10 minutes with any scared human and they're putty in her hands. She rings the back doorbell when she wants in which many people think is amazing, we taught her that trick. She loves her time to run and play and gets along with other dogs and is good with children although bowls them over with her size but she's just a gentle giant. Wouldn't want to think of our lives without her.
Okay now we come to our work in progress our third gem from TAGS. His name is Fletcher and we've had him 5 and a half years. He's a Jack Russell Terrier but we say Jack Russell Terror but of course that's not true we're just poking fun. He's an amazing dog and so resilient. He's quite the comedian, loves to sing(Bark) and dance. Loves to play ball and he's even done some racing which he is awesome at and a couple of weeks ago he did an earth-dog training session and was okay but of course Fletcher being such a love thought that rat was for kissing, not a killer at heart. He is filled with a love of life and everything that that entails. I'm writing about our dogs to help you all understand the utter joy that a rescue dog can bring into your life. I'm not saying that there is never a challenge or two but the joys, pleasure and fun hugely out way the odd challenge of getting that rescue dog used to his new environment. If you approach it with love and understanding you can always look back on your decision and know you did the right thing for that dog. You gave that dog a second chance in life and they won't forget it. My husband and I will always rescue and someday perhaps we'll have enough property to open up a sanctuary for old or sickly dogs because these are the ones that no one seems to want to have in their lives and what a shame because they truly are the most needy but rescuing any dog that's found itself on hard times is so worth it.
Mike and Darlene Flynn Ajax Ontario
---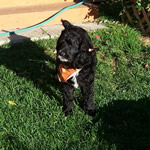 In the fall of 2008 a cocker spaniel was rescued by TAGS from the Whitby pound. She was placed in foster care and named Scarlett. Our family looked after her while her foster mom was on vacation and I also transported her several times to Petsmart. During these times Scarlett became quite attached to me and I must confess the feeling was mutual. One Sunday, several families came into Petsmart who were interested in Scarlett and I started to get a little worried. You see, I was thinking that this girl would fit in quite nicely into our family with Casey our golden and Finnegan our bichon. On the way home to her foster mom that day, I detoured to our house and told hubby that she would soon be adopted and he said "well, I guess we'd better hurry up and put in an application hadn't we?" She is now a loving part of our family and I truly believe that she "chose" me to be her forever mom.
Sue Montgomery
---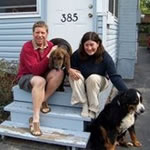 We adopted Leroy our Plott Hound in the spring of 2008. His face and unique colors drew us to visit and finally adopt him. His big brother Bear, our Bernese mountain dog has welcomed him into our home and continues to show him the ropes. Leroy is a bundle of energy and a source of constant smiles and memories. He loves to run at the Harmony dog park and at his Great Uncle Mike's farm and Grandma and Grandpa's farm. He loves to help cook meals and BBQ especially. Leroy is full of love and gets lots of love in return.
Jeff and Sandy Doucette
---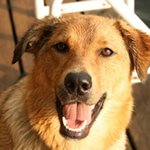 We began fostering Tiki (aka Tequila) in April of 2008 and quickly determined that she had already found her forever family…us! We adopted her in March 2008. Tiki gets along great with her cat-sisters Sugar and Pepper. She loves playing fetch, going for runs and spending endless hours dock-diving and swimming at our cottage. Thank you TAGS for helping us to find Tiki and making her transition into our family a happy one!
Michelle and Jay Di Febo
---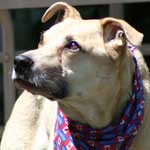 In December of 2005, we adopted Bo, a 10 year old shepherd mix, from TAGS. He came to us as an emergency foster when his foster mom had a medical emergency. He fit in so well, we decided to adopt him. We have two other dogs, Baxter and Buddy, and Bo was a welcome addition to the "B" boys. Even though Bo was in his golden years, at times he was like a puppy. Like when we came home to find Bo had gotten into a 10lb bag of flour and had it all over himself and the rest of the house. Or the time we came home to find all the pots and pans and plastic bowls removed from the cupboards and spread all over the floor.
As a volunteer, I have heard many people say they won't adopt an older dog because they won't have them for very long. Well, we discovered how short a time that can be, when Bo passed away in July from cancer. Would we adopt a senior dog again? You betcha! As heart wrenching as it was when he died, the time that he was with us was so rewarding and so full of love. It is truly heart breaking to see senior dogs sitting in shelters. If only people knew what joy these dogs can bring to their lives. Even if that time is short, it is so worth it.
Even though we only had him for a few years, we wouldn't have missed the love, laughter, and yes even the tears. If you have ever thought about a senior dog, give it a whirl, I doubt you'll be disappointed.
---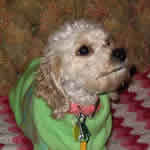 I adopted Jessie form TAGS a year ago in February 2007. It took a long time for me to decide to adopt a dog and I wish it hadn't because Jessie has been the most wonderful dog I have ever had. She came to TAGS underweight, dirty, stinky & scared, but the volunteers that rescued her from the pound could see the potential in her eyes. I thank God they did what they did every day.
This is my first dog as an adult, as I have always had dogs growing up in my family. The TAGS team were SO supportive to Jessie and I in helping us find our way to each other and also in strengthening our bond through the behaviour classes. Within the 8 weeks, I could see her confidence blossom and I still do to this very day.
This team really IS committed to finding the dogs an appropriate and caring home and making sure that after the placement that they stay out of animal shelters.
I have been telling and will continue to tell friends & family to adopt a dog through TAGS. Jessie is proof that rescue dogs can make the best pets. The volunteers at TAGS are wonderful people who really do care about these animals.
Joan
---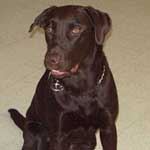 We adopted Karma last winter. Initially my wife was wary since she is nervous of dogs. Karma is young but is very well behaved and it didn't take long to win over Susan. Our two boys play ball with her in the backyard and it is cute watching her playing with a soccer ball. However the squirrels aren't very happy!! Karma is a member of our family and we couldn't live without her.
Thank you Russ and Deanna for introducing us to Karma.
Todd
---
We adopted Nellie from TAGS 5 months ago in September 2007. We knew we wanted another dog and when it came time for the annual corn roast, we had figured out which dog we wanted.
We went through the adoption process very quickly and new that Nellie was here to stay. We went through the 8 week training class with a little turbulence but we pulled through with all our stickers.
Our whole family has their own special bond with Nellie and so do the neighbourhood dogs we meet on various walks. TAGS has really done a great job in helping us extend our family.
Breagh, Natalie, Tom, and Dustin
---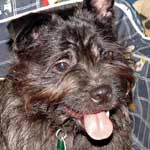 Ever since Petey (aka "Logan") has entered my life, he has brightened it only the way a sweet soul could. He has been the most wonderful companion and I feel extremely blessed. Not only do I feel good rescuing this lovable little doggie, but he's made me incredibly happy. Actually, he tends to put a smile on the face of everyone he meets.
I want to thank TAGS for existing! Without people like you, second chances wouldn't exist and I wouldn't have the light of my life – Petey.
With sincere thanks,
Rebecca
---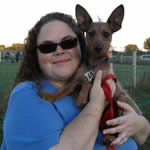 I adopted Ty 1 year ago in March of 2007. I knew from the moment I saw him that he was supposed to come home with me. He makes me laugh everyday, and the exuberance he greets me with on a daily basis is the very definition of unconditional love. I have to admit that I never saw myself as a small dog person, but somehow this little scruffy dog with the big ears and springs in his feet has converted me. What he lacks in stature he more than makes up for in personality. He is smart, playful, lovable, and wilful. I waited a long time to get a dog of my own and I am so glad I did because Ty is just the right fit. Adopting Ty through TAGS was absolutely the right decision.
Andrée