This memorial section was created in honour of Patricia McLellan, who passed away away on Sunday, April 28, 2002, in Oshawa at the young age of 64. She was known as an animal lover and is greatly missed by those who knew her. One of her last requests was that donations be kindly made to the Cancer Centre at Lakeridge Health Oshawa or to TAGS.
It is inspiring that people would generously and graciously think of helping others until and at the very end. It is this type of heartwarming gesture that people will remember their loved ones by. By helping others, we in turn help society as a  whole.
Everyone is welcome to post any caring words or poems and share memories on the passing of beloved human and animal friends.
As well as kind words, you may also choose to ask the public to make donations to any worthy or related cause or to a charitable animal rescue organization. This memorial page is free for the public to use. To post a special message, please send an email with your message to [email protected].
---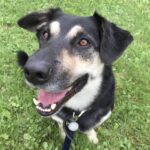 Milo 2023
On April 19, 2023, our sweet Milo crossed the rainbow bridge. He had been diagnosed with an inoperable brain tumour 5 weeks prior, with our only choice being palliative treatment. My partner Jack and I adopted Milo from TAGS in 2018. We had randomly stopped in Port Perry for a slice of pizza, and a TAGS fundraiser was being held in the parking lot. Milo was one of the dogs available for adoption. There was no doubt in our minds – he was meant to be our boy.
His quiet demeanor and sweet affection made him instantly our best friend and con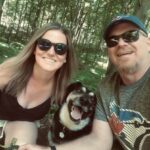 stant shadow. He loved his car rides, belly rubs, and a bite of whatever his begging brown eyes could get him. Milo loved his off-leash forest walks – always running a bit ahead to get the best sniffs. He would regularly turn back, checking in to make sure his mama was still there and doing ok. Milo was never far from our sides – he slept in our bed, he cuddled on our couch. Even near the end, he would muster up all of his energy to ensure that he stayed close to us. Milo taught us how to love and be loved unconditionally. We miss him more than words can say… he was truly a once in a lifetime dog.
Thank you to TAGS for giving dogs like Milo a second chance at "the good life."
Love,
Jack, Kaitlyn & Baby S
---
How do you put into words the love you have for these beautiful angels? Gunnar was our first rescue with TAGS. We first met our Gunnar at Petsmart Whitby when TAGS had 3 dogs they were trying to have adopted. My son was 7 at the time and went right over to Gunnar (who of course sat up, tail wagging wanting to meet us) and said "Please Mom, we have to adopt him".
It wasn't long before I sent in the application, we met Gunnar at TAGS, had a home visit and Gunnar chose us.
Gunnar was saved from a high kill shelter in Kentucky and fostered by Sue before finding his forever home with us. The work that TAGS does with saving these beautiful animals is so amazing. Gunnar was only 1 year old and 3 days from being euthanized at the shelter before TAGS rescued him. He was the perfect dog, no issues whatsoever. He has been the love of our life for the last 9 years and he will remain in our hearts forever.
As all of you know that have posted here about your fur babies, It is the hardest thing ever to say goodbye to your best friend who has been there through thick and thin, ups and downs and loved you with all of their heart. We will miss those big wet kisses, downward dogs every morning, barks for walks, cuddling your Angry Bird and of course your obsession with liver treats and Greenies.
We hope that he is waiting for us when it's our turn to cross over that rainbow bridge. Until we meet again little man.
Rest in peace G-man.
The Kohli Family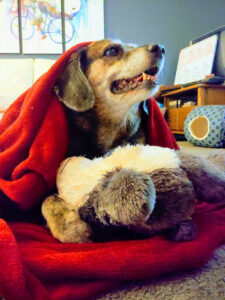 Gia (September 2022)
Gia was a unique dog. A German Shepherd-Beagle mix, she had the brindle of a German Shepherd but the incredible tracking ability of a beagle. Gia could sniff out a hidden treat in any place you hid it! Gia loved to run, whether she was chasing after a bunny, doing zoomies, or just racing up and down the hall while her roommate Gazou barked at her silliness. Gia was eleven years old and came to TAGS through a family in Pickering. Gia graduated at the top of her TAGS class and would be used in future classes as a teaching dog. She was even the promo photo for Santa photos for a couple of years. Gia spent over eight incredible years with her adopted family and made quick friends with all the animals that came through the house. Gia loved wintertime and would routinely stay outside so long, that she would develop a coat of snow! Gia will join Gazou, Gabby, Griffin, Genevieve, and Gunner at the Rainbow Bridge and is survived by Gus, George, and Gilly.
Missed by the Frampton family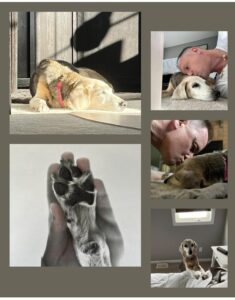 Layla (August 2022)
Today is not an easy day.  Someone very close to our hearts earned her wings.
Layla, little four-legged angel, crossed the rainbow bridge.  She lived a long life despite a hard start.  Thanks to Kathy and TAGS, who rescued her from certain death in Kentucky and brought her up to Canada.
Layla was 4 years old when she came here.  She picked us to take care of her.  Sweet Layla, Pumpkin, Coconut, Belle Fille, Sweet Pea, Ninja, so many nicknames she would always answer to.
I really hope we made a difference in her life, because she certainly changed ours.
Love you Layla.
Now. Later. Forever.
The Charbonneau family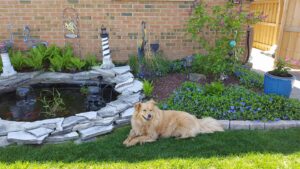 Ella (June 2022)
Ella was adopted from Tags in March 2017 shortly after we retired. We thought it would be a good time to adopt a senior dog who was more suited to our lifestyle. We had two cats in our home so there was concern that she wouldn't fit in which turned out not to be an issue at all. While Ella wasn't really a cat dog she learned quickly they were the boss of the house. When we first got Ella she appeared to be dog reactive on leash so we took her to a training facility and I think they thought we were crazy as there were no issues at all. It took us time to understand that she wasn't really reactive she was just so excited to meet and greet other dogs. Ella was the sweetest dog we ever met and we always wondered how she became a stray as she was so loving to be around. She loved all people so much that when she went for her morning walks she would not walk past a person until they would stop and pet her so everyone in the neighborhood new Sweet Ella. Ella was diagnosed with cancer this year and lasted longer than the vet thought as I don't think she wasn't ready to leave us as she was by our side every day. Our house is now empty without her but we hope one day we can find another dog as sweet as her to fill the spot she left as she can never be replaced.
Thanks to Tag for bringing her to your facility and to her foster parents Liz & Kaz for initially taking care of her.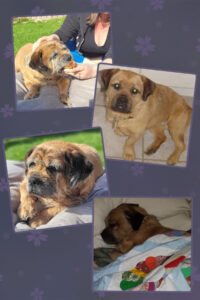 Heidi House (May 6th, 2022)
It is with the heaviest of hearts we announce the passing of our sweet fur baby, Heidi. Twelve years ago TAGS called us to advise they had this little girl dog in their care and thought she would be a perfect fit for Mike and I after a failed trial with a wonderful male beagle who unfortunately proved to be too busy for us. Boy were they right!!! Before we even got her home, we knew she was our baby and our house was exactly where she belonged!
Heidi has always been food motivated and thanks to a pocket full of cheese and patience from Sandra (A wonderful TAGS volunteer), they took a chance on her despite being told she was not a nice dog by the staff at the shelter. Heidi was always a very perceptive girl and loved most people she came into contact with, but if she didn't like you – it was for good reason! She didn't have a mean bone in her body and was the most loving and gentle girl. After being our whole universe for two years, I became pregnant with our first child. At first, she wasn't keen on the idea of sharing the spotlight and when the crib was being assembled, she felt that was the perfect time to let us know just how she felt about it by dropping a big, stinky poop on the carpet! After the baby came home, she still wasn't sure what to make of the situation, but after lots of assurance and extra love, she loved the baby just as much as we did and would lay under her crib and really started to appreciate the baby when she started eating "real food" as she was constantly dropping scraps for Heidi to enjoy and was the perfect height to steal arrowroot cookies from!
Fast forward to two young girls in addition to Heidi, she started to slow down and walks weren't as enjoyable and seemed like more work for her than fun, then stairs became a problem, chasing after squirrels in the backyard/creating a path in the snow to run and playing tug of war just wasn't a priority in her life anymore. She became what we affectionately referred to as our "cat that barked" as she spent most of her days snoring (and boy could she snore!). Her appetite was never an issue though and lived for food, right up until her last day! We wanted to ensure she crossed the Rainbow Bridge with an extra full heart filled of love and belly full of extra wonderful goodies. We gave her some special fast food burgers, took her for "walks" in a wagon and had special made double chocolate cupcakes that she devoured and absolutely loved!!!
She has left a huge hole in our hearts, but she has given us nothing but pure, honest and unconditional love and although our hearts weren't ready, her wings were and we had to love her enough to let her have peace.
Thank you to TAGS for rescuing our beautiful Heidi Bear, for she has been the greatest joy and we will cherish her memories for the rest of our days until we are reunited with her again.
Charlie Beagle may not have been the brightest dog we ever met, but he was the quirkiest. He had directional seeing and hearing. At times, he would not recognize us at the bottom of the stairs and growled until his name was called. When we whistled for him, he got up, went to investigate but always in the opposite direction of the sound.
When you placed your cup or utensil down on the countertop or in the sink it would make a pinging sound. Thinking it was the doorbell, Charlie would then frantically run and skid into the front door alerting the invisible intruder with his beagle howl. When the doorbell actually did ring, most of the time, there was no reaction. One more quirky thing, our boy peed like a girl, always squatting over never lifting a leg.
He loved being where we were and loved to be petted. Charlie definitely let you know when he wanted more petting and raised his front paw, looking for more. On the other hand, he ran away when brushed with hair fluff trailing after him like tumbleweed. Anytime one of us left a room, that boy was on patrol. His beagle thoughts were: "I MUST follow… where they go, I go!". In our hearts, we believed he followed us because he loved us, but truth be told, he patrolled because there was probably a snack in it for him.
This peculiar boy Charlie could be walked and petted on the street by any child or adult in the neighbourhood. Go figure, they all knew his name but never ours. However, in his home he could be very territorial and could even bite. We are grateful to friends, family, and neighbours who understood and respected the special needs of our rescue beagle.
When we adopted Charlie, we were so happy to give this boy a fighting chance to have a great life –and he did. Sadly, Charlie left us too early from a rapid succession of complex health issues which led to his decline.
Right now how home feels colder and empty. As famed wildlife photographer Roger Cras once said: Dogs are not our whole life, but they make our lives whole. This will be our Charlie's legacy.
We want to thank our animal health team of vets and technicians over the years. But our most heartfelt thanks goes our to TAGS and especially Kathy who supported and advised us but most importantly loved Charlie beagle as much as we did.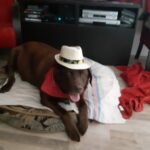 Sunny – April 2021
It is with heavy heart that we announce the passing of Sir Sunny after a battle with cancer. He was a dog in his own class.
Sunny loved his two legged and four legged friends, his passion was playing ball with his dad
Sunny was very happy when he was in the truck going for a ride, his tongue would hang out and his ears would fly in the wind. He would always meet you at the door with a tail wagging. Sunny loved his hugs, kisses and shake paws. During the day when dad was at work, he would follow mom everywhere, even to the loo.
The neighbourhood knew him, we would be greeted with a "oh, your sunny's mom and dad". His beautiful eyes and glowing face had the ability to make anyone smile. He will be sadly missed by his dad and mom, sister Shelby and little brother Ryker the cat. Sunny will also be missed by all
of his aunts and uncle that loved and cared for him. Sunny will never be forgotten.
Nothing beats the unconditional love of a dog!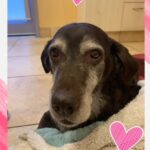 Tucker – April 2021
Family Day weekend 2013 is when Tucker chose us as her furever family. It was love at first site for Tucker and I. When we first started looking for a new family member we thought younger and smaller. My husband and I went to meet a particular pup that I had my eye on from the TAGS website. We walked in, I saw Tucker (not the dog I was there to see), bent down to say hello and that was it. Heart stolen. Love at first site. The following weekend we went for another visit. Tucker saw me from across the play field and ran straight over. My decision was made. This would be our new fur baby. Another week, a home visit and finally our 1 week trial home visit. My husband warned me not to get too excited. A lot can happen he said. If Tucker doesn't like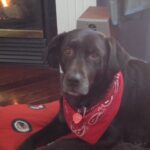 our cats she can't stay he said. Maybe she won't be happy here he warned. The TAGS Volunteer that dropped her off wasn't even out of the driveway and Tucker and I were cuddling on the couch. My husband laughed and said I might as well email them now because he knew she was never leaving. Tucker was 6 years old when we adopted her. Chocolate Labs typically live 10-12 years. We were blessed. Princess Tucker stole our hearts for 8 years. She was 14 years old when we sadly said goodbye to her. She was loved and spoiled and she deserved every ounce of it. May you Rest In Peace "Momma's Good Girl". You will forever by in our hearts. xoxo
Rescued – February 2013
Walked Over the Rainbow Bridge – April 26, 2021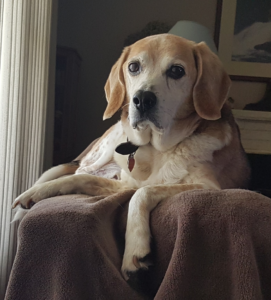 On June 24, 2020 our beloved 17 year old beagle, Benny, passed away after a lengthy illness.  He was our first foster with TAGS – and our first foster failure as we adopted him 6 months later.  Benny was a handful and challenged us over the almost 11 years that we had him.  Despite that, he was a very loving pup in his own way.  He loved sitting atop the couch watching the world outside.  On fall walks his nose would lead him to apples, his favourite fruit.  He'd crawl under the blankets at night and leave when he got too hot.  His soft snoring sounds were so very comforting.  Benny came into our lives when we were dealing with multiple losses and he was my rock.  He'd often join me in my chair and rest his head on my lap.  He was a pack animal and did best when he had a companion dog (first Fila and then Socks when Fila passed).  Rest well Benny – my best bud.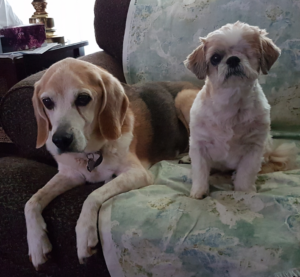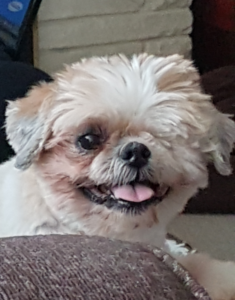 We adopted our little girl from TAGS in 2017.  The sweetest pup we ever knew, Socks (10 years young), left us suddenly on December 10, 2020.  Socks was such a happy little girl who loved everyone (2 and 4-legged).  She introduced us to our neighbourhood and neighbours, as she preferred to walk on pavement and greeted everyone with a smile and wagging tail.  She lost an eye to glaucoma but it didn't slow her down one bit.  My special time with her was when each morning and evening I would give her an eyedrop to help maintain her remaining eye.  Her favourite natural treat was rabbit poo!  She'd go in the backyard after meals in search of her 'dessert'.  She enjoyed bananas, apples, oranges, watermelon, cheese amongst other foods.  She was definitely a food motivated little girl (she may have picked that up from her brother, Benny, who passed in June).  She liked to snuggle on top of laundry, blankets or any other soft spot she could find, and she also enjoyed snoozing in sunlight beams.  We are heartbroken by her loss and miss her so very much.  Sleep well little one and say hi to Benny for us.  Until we meet again.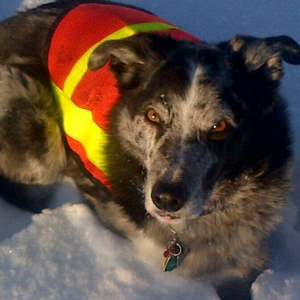 Jasper (formerly Laker) September 2020
May the beautiful spirit and energy of Jasper be in your heart as it is in mine.
D. Ploss
Ted (2008 – 2020)
It is with heavy hearts that we said goodbye to Ted on June 23rd. We were privileged to share the last two an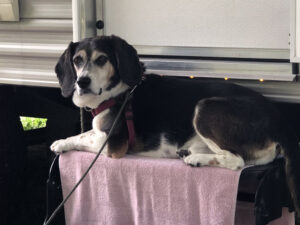 d half years of Ted's 12 years of life. Ted brought joy and laughter to our family every day. He was the happiest dog we've ever known – his tail wagged from morning to night. He was a great inspiration to Winnie, teaching her many things about being a dog, like how to sniff on a walk instead of being fearful of her environment. Ted bounced everywhere, climbed everything from snowbanks to laps, and was the first dog we've met who knew how to give an actual hug. He made us laugh when he ignored the rabbits that ran by so he could stick his beagle nose into the grass to trace their scent. Sniffing was everything to Ted so walks were more meandering than energetic, but never long enough for this adventurous little athlete.
We are so grateful to Dr. Cindy Kneebone of the East York Animal Clinic Holistic Centre for guiding us with Ted's care, especially during his battle with cancer. The drug-free protocols were so successful that Ted enjoyed some of the most energetic and pain-free months of his time with us during his remission. We also want to thank the Bowmanville Veterinary Clinic for their wonderful care, his foster family for their love and kindness, and TAGS (The Animal Guardian Society) for rescuing Ted.
We love you so much, Ted. You will stay in our hearts forever!
Sharon Lecuyer
Ga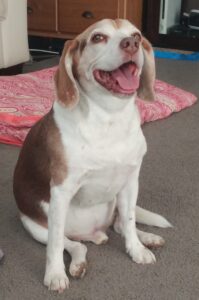 zou
The Great Gazou (formerly Zizou) passed away on Friday, May 1st due to kidney failure at the age of 10. Originally his parents were looking to adopt another dog but by luck, Gazou was present on the initial visit and his future parents immediately fell in love with his goofy grin. Gazou was a well trained dog, graduating at the top of his TAGS class. He was very motivated by food! He would end up leading a few training classes as the display dog of what to do and what not to do. He was not a fan of squeaky toys but loved the toys that required him to work for a reward. His favourite treat was cheese but he was a sucker for liver treats as well. Gazou was beloved by everyone who met him but he expected everyone to reward his presence with a treat!
Gazou battled through many illnesses in his time, from disk disease to dental disease to thyroidism. Due to his stubbornness though, he never appeared in pain and was always working hard to keep on living. He fought hard until the very end. He'll be missed by other TAGS alums, Gia (Rya), George (Ruffian) & Gilly (Blackjack). The Great Gazou left a mark on everyone who met him.
P. Frampton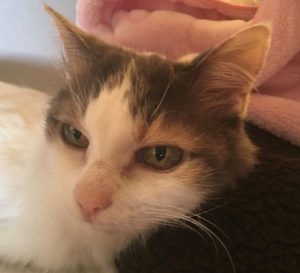 Summer
Beautiful 'Summer' came to us as a foster through T.A.G.S. in April of 2016, and it didn't take long for us to know we wanted her to spend the rest of her life with us and adopt her. She had originally arrived to rescue as a senior with several significant health issues, but over time, she improved dramatically, and spent her final years dearly loved by her human and canine and other feline companions. She had a spirit like no other cat we've known, and we developed countless nicknames for her – solstice and stickly-do, to name a few! – as she made her way further into our hearts. We were so sad to say goodbye to her recently, at 21+ years of age, but feel so blessed to have had her with us for the time we did. Thank you to everyone who loved and cared for her along the way. We will surely be reunited at the rainbow bridge.
Carolyn & Heather.
Buddy Nov. 2009-Nov. 28 2018
We adopted Buddy (we renamed him) in April 2012, a beagle around 2 ½ years old from TAGS. He was smart, comical and we loved him very much and we know he loved us too.  He love to play the bowling pin game (we learned at TAGS).  He would run downstairs and knock them all down and be waiting for his treat before I got there.  He also like to play hide and seek and when he thought the treats were finished in his treat ball, he would make sure by putting his nose in the hole and make a snorting sound.  In June 2017 we got the devastating news he has a cancerous tumor in his mouth. He was put on pain meds.  Our vets couldn't believe his energy and said he was amazing when he went for checkups.  He followed us around the house, especially me since I was the food and treat mom.  He always had his eye on us.  The tumor was spreading in his mouth and eye.  On the night of Nov. 27, I went to bed and a few minutes later, Buddy came under the sheets and snuggled up close to me and I put my arm around him and he stayed there the whole night. He usually slept with his blanket at the bottom of the bed.  The next morning he didn't attempt to do his usual routine, even looking for his breakfast, so we knew the time had come to make the heart breaking decision for him.
Our vets said he was an amazing, energetic, super dog with a youthful spirit.  We miss and love you Buddy, for the short time we had you, but will always be in our hearts.
Cheryl and Doug Graham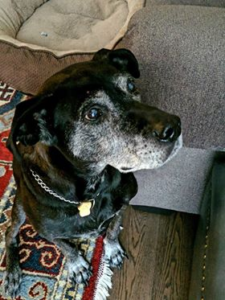 Griffen – 2018
If not for TAGS we would never have know the love of Griffin. It is with great sadness that I share this FB post with you today:
Aileen Anne is feeling heartbroken. Ken, Scott & I heartbroken to share that our faithful companion Griffin died this morning. Griffy was a part of our family for nearly 16 years. He was my sidekick, the keeper of my secrets and my shadow. He was Scott's fur sibling and sparring buddy from age 11 to 26. Griffy was love wrapped in fur. I have an enormous ache in my heart right now. Good-bye sweet pup. Run and play now, until we find each other again Thank-you for taking such good care of us, old boy. I miss you already. I am lost right now. After we returned from the vet, carrying his collar, I still expected him to greet us at the door. Of course we knew he was 16+ years old and the inevitable was coming but it's just impossible to prepare yourself. The air has been sucked out of our home. He was such an amazing boy. He overcame so much. Thanks for sharing his story. Maybe it will inspire someone to adopt a dog who seems to have the 'unadoptable' label like Griff did. Black, pit mix, food aggression = 15.5 years of unconditional love for US!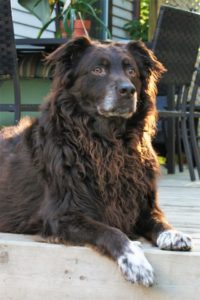 Fozzie  2018
This past weekend we had to say goodbye to our beloved Fozzie. I'd like to share his adoption story to say thanks to the wonderful folks who give their time, hearts, and tears to care for animals in need. From humble beginnings as a rescue dog under a year of age who had been hit by a car, he was rescued by The Animal Guardian Society (TAGS), who raised money for his operation to fix his injured leg. Once he was on the mend he was taken by a TAGS volunteer to a pet store for an afternoon to see if he could find his forever family.
That's when our paths crossed 16 years ago. Deb and I had a habit of stopping in to the pet stores to see the animals up for adoption, while shopping for our Great Dane Max. We'd make the excuse – "Max needs a treat. Let's go to the store, maybe they'll have adoptable dogs today!".
Well, it didn't take long for our hearts to be caught by this little red rascal in the crate at the store. We went outside the store for a walk with Fozzie and the volunteer to get to know him better, and that was it – We were hooked!
A few days later we had a "meet and greet" home visit with Fozzie and his foster parent, so we could see how he would adapt to our home, and to Max. Well, let's just say certain breeds instincts are very strong. One look at Max and Fozzie immediately knew what his job should be. "I've got to herd this big black skinny sheep!". They had fun afternoon playing in the yard with Fozzie nipping at Max's heels to try and "herd" him around. Soon after, with paperwork complete, Fozzie was home!
Fozzie had a wonderful long life shared with his older brother Max, who passed on in 2013, and his younger sister, Freckles – another TAGS adoptee, who joined our pack in 2010. While he was always wary of strangers, Fozzie would quickly come around and be your best friend…for a cookie or two!
We attribute Fozzie's long life to a combination of good genes, good nutrition and health care, and to the love of all the people whose lives he touched, and who touched his.
We've shared this post to celebrate the life of one dog, and more importantly to show how much any adopted pet, no matter their beginnings, can have wonderful life and spread their furry love to all who cross their path. Please consider adopting your next pet. You won't regret it.
The Murray Family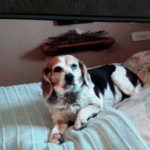 Poppy (July 24, 2018)
We adopted a precious beagle from you December 22 2010.
Her name was Poppy! When we went to visit Poppy for the first time at tags she came out in this stylish red peacoat. We fell in love with her right away.
This past Tuesday we had to put our Poppy down. She was dying and had kidney failure. Hardest thing we ever did but not wanting her to suffer anymore.
I wanted to tell you she was a healthy sweet happy dog. She lived a full life. Went for daily walks, loved to eat and gave the best hugs and kisses. We have a condo in Myrtle Beach where Poppy loved to go and frolic on the beach.
Thank you again for giving us Poppy. We had sooo many beautiful years with her and were sooo blessed that she became part of our family.?
All the best
Sylvia from Bowmanville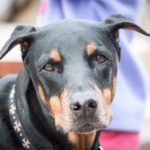 Duke (November 16, 2017, ~13 years old)
We adopted Duke (aka "Muffin") nearly 7 years ago from TAGS.  We nicknamed him Muffin because he always loved to be cuddled and it didn't matter if you were a stranger, he'd be right there up on the couch with you looking for some love.  At 90 pounds, the couch was never too crowded, he would always find his way in between us and had no problem taking up 2/3s (or more) of our king size bed.  He loved to run and play fetch with the biggest stick, more like branch, he could find.  He enjoyed swimming (with a lifejacket) and going for car rides especially, trips that involved drive-thru treats!  Duke only wanted to be with us wherever we went and he'd make it known he was upset when we couldn't take him with us.  We're pretty sure he thought we were at the lake having fun without him.  We took him everywhere we could.  Some memorable trips include winterlude in Ottawa, camping at Algonquin Park and teaching him to be still in a canoe!, visiting his grandparents at their trailer on Rice Lake, and a winter retreat at a log cabin  in Quebec.  He was a part of our family and attended all of our family holiday and birthday celebrations.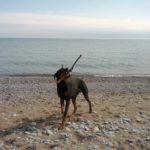 In the spring of 2016, we bought a cottage in Haliburton and this past spring, officially moved there so, Duke got to spend the remainder of his life running free on the property, swimming all he wanted, and trail hiking with his mom.  He was definitely easy to love and brought so much love and affection to our home and everyone he met.  We will never forget his special greetings for each us:  smothering dad with kisses and jumping on the couch to hug mom.  We hold onto Duke in our hearts and are grateful for all the memories we share with him. He is missed everyday.   ~~Diana Earle
Fila
(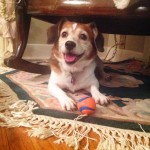 April 21, 2004 – November 24, 2016)
It is with profound sadness that we announce the passing of our little sweetheart, Fila. We originally fostered Fila (previously 'Feel') through The Animal Guardian Society (TAGS) welcoming her into our home in 2010, a packmate for our troublesome beagle, Benny. We ended up adopting her (twice foster failures – we fostered/adopted Benny too). Fila and Benny were never apart for the next six years and her presence helped Benny in so many ways. She was a particularly sweet dog who liked nothing better than to be cradled in your arms and receive belly rubs. She would follow us around with her little 'trot-trot-trot' sounds on the hardwood floor and sleep beside our bed in her bed, occasionally joining us for a few moments. She enjoyed waking Cathy by giving her little kisses or wagging her tail against the headboard. Her passion was to chase little balls that we would throw in the house down the hallways. She would play till exhausted (the accompanying picture shows her resting under the rocking chair just out of arms reach) but she would never give the ball back to you, she'd make you work for it! She was our little protector, barking up a storm when anyone approached or even walked by the house. Benny would join in enthusiastically although we now know that he is hard of hearing (he hardly barks at anything now that she is gone). She also somehow knew when we had ordered in dinner, constantly staring at the front door and raising the alarm when the delivery person arrived – how she knew each and every time remains a mystery to us. She also loved the water and would jump out of my kayak and enjoyed long walks with her pack. Part Jack Russell, part Beagle, and part Dachsund she was our 'little missus with the kisses' and we loved her dearly. Her favourite place was on the wingchair where we put a dog bed and a soft blanket that she could nest under. She greeted us every time we came through the front door with her back end wriggling uncontrollably though towards the end she would lie in her chair with her tail wagging. Fila had been ailing for awhile and after numerous visits to the vet and a variety of meds an x-ray revealed that she had two large tumours in her lungs. A week later her vet, Tracy, came to our home and eased her pain. Our little girl is now pain free. It's incredible that such a little dog could leave such a big hole in our home and our hearts. Rest well little one until we meet again. All our love to you now and always – Bill & Cathy & Benny xoxoxo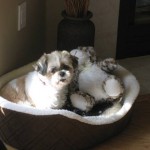 Ginger (March 31, 2016)
When our little Ginger came into our lives four years ago she altered them forever.  She had been wandering, for who knows how long, when TAGS rescued her. Matted coat, underweight and starving but tail wagging, they took her in and nursed her back to health.
Ginger was a different little dog. She had obviously been neglected and by appearances had been continually bred. Because of this, she had never been taught how to play and had a hard time showing affection. The consensus was that she was about ten years old. They say you can't teach an old dog new tricks but she eventually came around.  Ginger didn't like to be held but showed her love by sitting on our feet. She had her bed beside ours and was always eager to hop in there at night. When we walked her she couldn't wait to get back as she seemed to long for the security of home. She'd race to the back door and wait to be let in. Then she was happy.
When health issues reached a point where she was in constant pain we had to make that difficult decision that so many pet owners are faced with. On March 31st , 2016 we brought out little girl to the vet and she was put out of her misery.
Four years isn't such a long time, but it was four years that added so much to our lives. She spent three winters in Florida with us and we know that she always enjoyed the safety of our home. She was never demanding and we take consolation from the fact that her final years were spent in a comfort that she had never known before.
Thanks to Tags for rescuing our little girl. They are a wonderful organization that surely deserves our support.
Cliff and Claudette Tait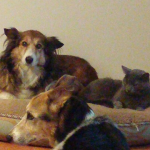 George (March 31, 2016)
10 and half years ago Geoff and I decided to look for a new dog to add to our family and home. After searching high and low we found our baby George at The Animal Guardian Society. He was, after going through the application process, allowed to come and live with us and fill our lives full of love and joy. He was the smartest puppy. He learned very quickly how to wrap me around his paw. He loved camping, swimming, meeting and playing with other doggies, and being a big brother to his sister was his most favourite thing we believe. Tonight we released him from his long fight and sent him on his final journey. We love you George and will miss you forever. We will see you again on the other side.
RIP George.
We adopted our beautiful girl Becky, one year ago this month. Our family chose Becky because she was a senior dog at 15 years of age. We had the privilege of adopting 2 previous dogs from TAGS and our lives were enriched by the unconditional love and devotion they showed us every day. We knew it would be difficult for Becky to find a family of her own and decided it was our turn to offer Becky that same unconditional love and devotion she so deserved, no matter how long that may be. We were going to fill her days with happiness, love, and compassion.
Becky's transition to our family was instant. It felt as if she'd always been a part of our family and she was quickly enveloped in our lives. At Halloween, we adorned her with bells and a frilly collar as she accompanied our children trick-or-treating. She received her first stocking at Christmas, brimming with her favourite liver treats and plush toys. On Valentine's Day, Becky gobbled up the special doggy heart-shaped cookies the children chose for her, making us wonder if having no teeth really mattered when you're motivated! She was with us to celebrate our birthdays and attempt a gravelly "Harumph" while we sang! But none of these moments compared to the pure joy Becky felt during the 3 hour car ride and 30 minute boat ride to our cottage this summer. With her nose dripping from the constant wind and amazing smells of the outdoors, her ears upright as if receiving messages meant only for her, and her eyes squinting blissfully in the sun as  its healing warmth breathed life into her tired bones, Becky simply radiated contentment.
When we returned from the cottage, her health began to deteriorate and we watched helplessly as day by day, she gradually became less and less mobile. We held her up so she could relieve herself as she haltingly struggled to take a step. Eventually, she had no sensation in her lower body and was unable to stand. We never left her alone and tried to make her comfortable by brushing her heavy coat and sitting with her until she finished her meals.
Then we remembered. We adopted Becky to give her the love and compassion she deserved. She did not deserve to live so incapacitated; we were prolonging her life because we did not want to say goodbye. In our deep connection with this wonderful dog, we'd lost sight of what was best for Becky. As a family we made the decision to uphold our promise of unconditional love and compassion. On August 7, 2014, we held Becky in our arms and watched as her breathing became deeper and her body relaxed. Our children kissed and hugged her as her spirit left peacefully and effortlessly. And she was very happy and loved very much.
– The Smallbridge Family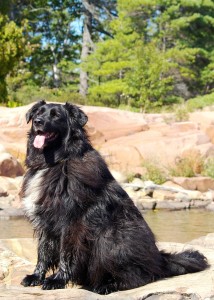 Grizzly (April 12, 2014) 
We first met Grizzly at a TAGS adoption day at the PetSmart in Whitby in 2005. At five, he was a bit older than what we thought we were looking for in a dog, but I fell in love immediately. Shortly after he started living with us, the backyard gate had been left open and he left after I let him out in the morning. I rushed to the front door to start searching the neighbourhood for him only to be met by him on the front porch, waiting to be let back in the house; he already knew where his home was! Grizzly fit into our family naturally. We took him everywhere with us. He especially loved our annual camping trip (where he was often mistaken for a bear while hiking with us on the trails) and going to our family property up north.
Grizzly had a special relationship with each of us. He was our son's playmate from the beginning and to the end. Sometimes I thought of them as two puppies! He was our youngest daughter's inspiration for writing stories and drawing cartoons. She continues to write and draw to this day. He was a companion for our eldest, who has intellectual challenges but found increased independence with Grizzly's help. They were a familiar pair around the neighbourhood. He was my husband's special friend, always ready to harass him for a good scratch as soon as he sat down at his computer. No one did more to make Grizzly's life better than my husband did, especially at the end. He was the only one who Grizz (who was a big dog, 90 lbs at his peak) let carry him, and he even made him a ramp. And Grizz was my best friend. He was always there waiting for me when I got home; he slept beside me while I worked at my desk at home; he followed me around everywhere; and he was there for me if I ever needed to talk to someone.
We will never forget him. He was such a character (I'm not sure that he even realized that he was a dog). Our family won't be the same without him. Thank you for giving us the opportunity to welcome such a special addition to our family.
The Romaniuk Family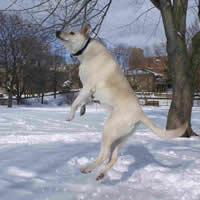 Chief ~ 2013
I adopted Chief (originally his name was Rex) in March 2002 from TAGS. After almost 11 years together, he was diagnosed with degenerative myelopathy. The progression of the disease was so fast! It broke my heart to see him struggle to walk, when just earlier in the year he was still chasing (and catching) skunks. Over the Christmas holidays of 2012, we knew we couldn't watch him suffer anymore.
My beloved Chief, I miss you so. Oh the adventures we had together and the heart attacks you almost gave me, with you chasing deer and coyotes, or getting out of your crate and running through the San Francisco airport. We taught you to play hockey, tennis and golf; when you pulled me on my in-line skates, it was like water-skiing. In return, you warmed our bed each night and our hearts every day. And by standing with your front paws on the window sill and barking ferociously, you surely saved our lives from the letter carrier you thought was trying to break in to kill us. 🙂 We hope we have set you free so that you can soar again as you used to.
Thank you to TAGS for such a special friend, since Chief was always more to us than just a dog.
Elaine & Brian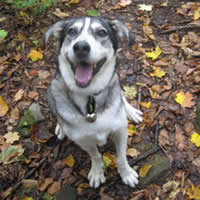 Sasha ~ January 2013
We had the privilege of adopting Sasha from TAGS in August 2012. Over the first few weeks, we took her to our cottage and worked on her recall, always affixing a loud 'bear bell' to her collar to know where she was and call her back to us should that bell fade. We started off on a small island where we knew she would be safe. When she got the hang of it, we took her on many beautiful hikes through the forests of Lake of Bays. When we would call her and whistle, she would come back, tearing over the stumps and rocks, a grey and white streak so joyful to discover all the smells and sounds nature had to offer.
Sasha smiled at everyone she met. She loved people about as much as she loved dogs and would approach every person as if they were a long lost friend – tail wagging with a big, wide smile, and her long tongue lolling out! Our children would rush home from school, eager to see their big friend and proud to be responsible for her afternoon outdoor break.
In the all too short time we had Sasha in our lives, we fell in love with her gentle and sweet nature. She would wait by the front door until each of us was home. At the day's end she would go from room to room, checking to see if her family was safe before settling down for the night. She was equally attentive when we would wake up, greeting each of us before even considering her morning walk.
How can we make sense of the cancer that grew so rapidly inside her? How do we accept that we will never stroke her heavy, soft, coat and see its beautiful shades of grey, white and brown? Or smell that 'doggie smell' after a romp in the mud or snow? We are learning to slowly and steadily, say goodbye to our wonderful friend.
"There is a beginning and an ending for everything that is alive. In between is living." To all the wonderful and dedicated people at TAGS who gave us our dear girl, Sasha, thank you for allowing us to be part of the 'in between'.
– Smallbridge Family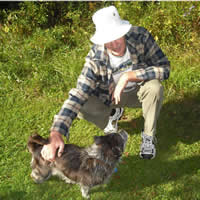 Charlotte ~ Nov. 15, 1994 – Dec. 28, 2011
Paw prints in the snow, on our driveway, A memory of a life that lived so long. Never to be forgot; such a character. Fickleness and independence, goodness and mischief embraced by a pink bow. Such was Charlotte. "Lottie!" sometimes shouted in a haughty accent, scripted her title, her 'Madame' days! She made us laugh. Her furrowed face always straight, if not superior; in charge of us, mere humans. So many years passed before she could roam free, unleashed. Those first 5 years! She'd dash beyond reach…somewhere out of sight in the brush following her twitching nose. Exasperation on our faces, Charlotte ignoring us until too long had passed, then she'd decide….call it quits and sidle back to us, avoiding eye contact as she decided to be leashed. Today, I peered again into the snow…there…..those paw prints in the snow! Tears falling, recalling latter years. She, earned her freedom on the trails, trekking so many miles in Long Sault, Stephen's Gulch, our Creek across the street, allowed to be with Shadow, with Mitchy…unleashed. There… quietly imprinted, her same pawprints on the driveway, layered now by freshly fallen snow, but not forgotten.…still in my mind and heart. Her pawprints in the snow. What an adventurer! So many miles under those sturdy, muscled legs, A little tomboy girl, Charlotte, yet sometimes cradled in our arms for every clap of thunder. Friend of Mitchy, Shadow, Buster, Sterling, Gucci, Kody, Molly, King, Abby and so many more. She's ready at last to join her brother Mitchy, sister Shadow, ready to cut corners race her dearest ones…..and meet Tigger for the first time! And now here on earth? I see them yet again in my heart those pawprints in the snow…,our special little dog, Charlotte. A pall of sadness mixed with joy I see her still. But look! At Heaven's Gate I see she hesitates, With all her agility regained She leaps into The arms of God.
Yvonne & Paul Dodgson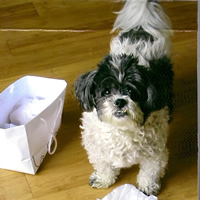 Otis ~ May 2011
We spotted Otis on the TAG website back in April 2003. It was the "amazing race" to get to the Petsmart and take a look. I remember when we got there, there were other people interested, but I had our vet phone number, references and I was ready to fight for this little guy. My mother who had previously said that she would never own another dog or love another, immediately fell in love with him. I remember the dog behaviour lessons and his special personality. His special personality later helped us through my mother's Alzheimer's disease. He knew that she was failing and would sit quietly on her knee. If she moved away from the house, he would bark loudly to let me know. At other times, he was so spunky and is heart was so big, he gave freely of all his love. Yes, we spoiled Otis. He had a playpen for lounging on our front porch; a stroller because he would rather ride than walk sometimes and he would ride in a trailer attached to my bike several days a week. He was our baby! He was a great listener and was always there good times and bad. He turned 14 years old on May 1, 2011, and he rummaged through the gift bag for a new squeaky toy. Otis had more squeaky toys than any other dog we know and he would play by the hour with them. A few weeks ago, I noticed that he was tiring more easily and had a cough. After several trips to the vet, he had various antibiotics, x-rays, bloodwork, he was not getting better. On Saturday night, I slept outside with Otis to help him breathe easier. On Monday morning, he gazed into my eyes and let me know he was leaving. I will never forget the bond or attachment that I had with Otis. He gave so much more than we were ever able to give him. A huge thank you to TAGS for allowing us to take care of Otis and for letting him come stay with us for so many years. We will miss him dearly every single day and in our house, Otis's memories will live on forever.
Marg Trottman-Graham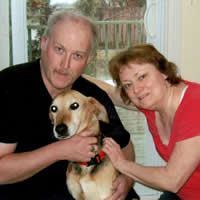 Gentle Ben ~ May 12, 2011
We spotted Gentle Ben on the TAGS website and there was something about his sweet face that appealed to us. After inquiring and finding out more about him, we went to see him and fell in love at first sight. Sure, he had his silly and sometimes annoying habits, such as having to bark at anything that moved, whether it was a squirrel, a vehicle, a kid on a skateboard or a bird, but that is what made him Ben. He wasn't young, maybe eight years old, and we knew that his chances of adoption at that age were slim, so we took a chance. In February, he started having some health problems, so we took him to the vet in March and it was discovered that he had advanced stomach and bowel cancer. We were able to keep him going for a little while, but soon his suffering became too great and we had to make that decision that all pet lovers dread. Ben passed away on May 12, 2011. We will always remember what he brought to our lives. Thanks to TAGS for giving us the opportunity to know and to love our Benny-Boy.
Ron and Kathi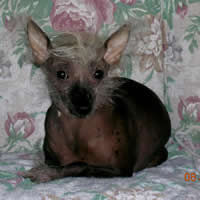 Cookie ~ September 28, 1999 to March 5, 2011
My beloved Cookie passed away on March 5, 2011. I adopted Cookie through TAGS in 2000. Cookie was an obedient, loyal and oh so very loving a companion. She was sweet natured and gentle. At first she did not like other animals near her, but as time went by she learned to tolerate, then play with other dogs. She had health problems over the years, but none that we couldn't deal with. Then, in April 2008, my sweet girl was diagnosed with cancer. She was given 5 to 11 months to live. We gave her chemo and she responded very well and had no further problems until last year and she was then diagnosed with a liver tumor. There was nothing more to do. She wasn't in pain, but she was up and down with symptoms until she was too weak to go on. I am very grateful for the time I had with Cookie. I loved her very much and we spent so much time together. I have wonderful memories of our 11 years together and I will cherish them forever. She was a much loved part of my family and I miss her so very much.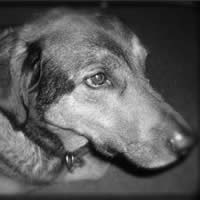 Justice
Our old boy Justice passed away on Monday June the 21st 2010, he will be very much missed by his whole family 🙁 we want to thank TAGS for saving him on Christmas eve from being put down and then giving us the chance to adopt him, and love him. Justice was a part of our family for a long time and will always be in our hearts 🙂 now he will be happy in heaven with his girl Baya, puppy and brother Debo 🙂
We miss you already and Love you so much.
R.I.P. Justice Cook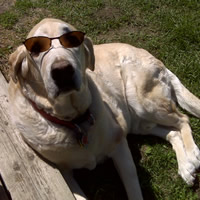 Max
Six years ago we adopted Max, a purebred yellow lab, from Animal Guardian. It is with great sadness that we report that Max passed away on April 23rd, 2010 at approximately 1115 am. Max had a good life with us these last 6 years. He went RV-ing, swimming, camping, and canoeing, although in this instance I think he dog paddled. As far as swimming went, he liked to be able to see the shore and in later life wore a doggie lifejacket that had handles. He truly was portable. Max was never lonely and was never left alone. He enriched our lives with his unconditional love as much as we loved him. We will miss him.
Dennis Brocklebank
Jill Carter
Sean Carter-Roncetti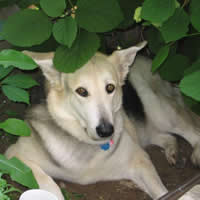 Keisha
MY BEST FRIEND
My Darling Keisha you closed your eyes today
As I was holding you in my arms
Such an overwhelming ache in my heart
I think will never go
For me it was love at first sight
You were so shy and afraid when we met
But you felt my love
And I received so much more love back
You always brought great joy to me
Such a gentle loving beautiful friend
You always stayed close by me
Always giving me so much love
I will always have such beautiful memories
My sweet darling
The time we had was not nearly enough
Go play in the doggy park my darling
Have no more pain as you run
You will be so missed by your Family and Friends
You will always be in my heart my darling
I will miss you for ever
My Darling Darling Gentle Keisha
Till we meet again
In Memory of my Keisha
Born Jan 4th 1997 – Died March 31st 2010
Cosmo McCaul ~ December 09, 1998 to February 11, 2010
The summer of 1999 was a memorable one for our family. We had just come back from visiting with friends who had bought a yellow lab puppy. We fell in love with the breed right there and then and by the end of the weekend were determined to have a yellow lab to call our own. The problem was that the cost of a yellow lab from a breeder was very dear and we thought perhaps we could find one at an animal rescue facility and would not only save some money but would help a dog in need. Now you might be thinking that we were callous in being concerned with the cost of the dog and not the love that a dog would give us. However, with three young children, a mortgage and all the other bills that come with raising a family, money was tight. Fifteen hundred dollars for a dog was not in our budget. So I began calling around. I was told that the place to find a yellow lab if there was one to be had at all would be at a placed called TAGS. I called and left a message that we wanted a yellow lab that was at least six months old and house broken, no preference for age or sex. TAGS called me back and told us that a nine month old yellow lab named Cosmo would be able to be seen at the Whitby Petsmart that very day. We hurried over to see this dog. One look in those big beautiful brown eyes and I was hooked. After what seems like ages, but was only a matter of a few weeks, we brought Cosmo home to stay. He became integrated into our lives very quickly. He had to be the centre of attention, was very affectionate, was very protective and oh so loyal. He greeted us every time we came into the house as if he had not seen us for years even if had only been 5 minutes. He was the "bestest dog in the world". Oh and about the fifteen hundred dollars we could not afford to spend… well over the years Cosmo had lots of health issues, tore his cruciate ligament (knee) which required a plate to be surgically implanted, had a broken tooth removed, a growth on his leg and one on his side removed as well as an assortment of skin rashes and ear infections… that fifteen hundred dollars grew to well over ten thousand dollars before I stopped counting, Cosmo was only four years old by then. Oh but he was worth every penny, every hair that he shed, every mess that he made. We loved our dog and gave our hearts and our home to him for more than 10 years. In return, he gave us unbridled and unconditional love. He brought us joy, friendship, taught us about trust, made us laugh when we were sad and simply taught us to enjoy life. It was with great sadness that we bade farewell to our beautiful boy on February 11, 2010. We thank him for all that he brought us in the time that we had with him and we miss him oh so much. Go sweetly into the night our beloved Cosmo. Rest in peace.
Love Mommy and Daddy, Lynn, Mike and Josh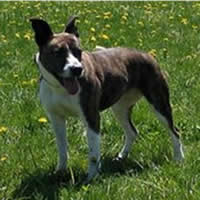 MaggieMae ~ February 27, 2009
Farewell, Maggie May…
It is with a sad heart that I say a final goodbye to Maggie May, as she died on Thursday, February 26th after a short and sudden illness. Some of my fondest TAGS memories are of Maggie. She and I came into the program around the same time in January '03. All of Maggie's new puppies quickly found their forever homes, but Maggie was still waiting.
As it turns out, her foster home ended up being her forever home, and I know she could not have been more loved than she was with her foster mom, Sandra. She often told me about the things this funny little dog would do. Maggie liked to sleep under the blankets, but not for too long because she would get too hot. She also liked to steal toys from her fellow foster dogs and then taunt them with the toys to initiate a game of keep away. I always thought that Maggie was a bit a of a clown – I know she loved the attention.
I know that what many people saw when they looked at her was a stockily built, brindle coloured "pit-bull type" of dog, but I always saw a charismatic, vivacious, energetic, spunky, sweet, wiggly, and lovable dog that truly had a zest for life. I remember the sheer joy on her face as she ran around the dog park heedless of obstacles like benches or trees. She had such an expressive face that it was easy to tell when she was happy. She was misunderstood by some I'm sure, but those of us who knew her, loved her, and we feel her loss. Maggie May, you will be remembered, and you will be missed.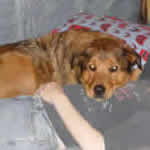 Clifford – December 8th, 2008
It is with heavy hearts that we announce the passing of Clifford as a tragic accident on Monday December the 8th 2008. Our lives were enriched by knowing him. The first time we looked into his big brown eyes we knew our home was to be his also.
He accepted our love and gave all his love back to us. He trusted us and we trusted him back. With everything that he endured before he was rescued, we honestly feel was completely forgotten and he was appreciative of the second chance he had been given. The time we had with him was far to short but he will always be remembered, missed and deeply loved. We believe he is still with us we just can`t see him. We would like to thank everyone at Tags for allowing us to make him part of our family. A special thanks to Kathy, Lorna, Alan and Mary Jane for seeing what we saw in those eyes. Rest in peace our sweet, special boy.
Wendy, Ty, Ayres, Cory, Apollo and Harley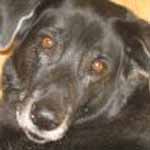 Maxwell Buddy Cooke
This was the name my Dad gave his new dog. I worked at T.A.G.S. volunteering on Sundays I loved walking the dogs and bonding with them because I knew I couldn't have a dog of my own because we are all so allergic. The summer of 2001 my grandmother passed away which left my grandfather living alone in a lonely apartment in Scarborough. So I looked for a companion for him to go on walks with and spend his lonely nights with. One Sunday I saw a loud playful HUGE dog named Max. I took him on a walk to get him out of the cage for a bit and I noticed outside of the cage he was a gentle sweet dog. But again HUGE! I thought he would pull the lead, he didn't. I thought he would bark and lunge at every dog that went by, he didn't. So I started to bond and I thought he would be perfect for my Grandpa. When my Dad came to pick me up that day I told him to come in for a minute to see this wonderful candidate. As soon as my dad saw him he was in love. I said, "So Dad is he good enough for Grandpa?" "Nope." My dad replied. My face dropped I had fallen in love with him and now I had to say goodbye. "He's coming home with us!" My Dad said. That was it. That's all it took. He came for a visit to our home a few days later and never left. That was November 2001. It's now June 2008 and this past Sunday June 1st 2008, Max passed away laying in his favourite spot in our living room under my Grandfathers feet (who moved in with us 2001). Max has given us so many wonderful memories and its a huge part of our lives missing. The past 2 years were hard for this gentle giant because he had a tumour in his left front leg and had 1% muscle in both his hind legs. The day he died he couldn't get up to eat or go outside. He just gave us the look and we new it was time. He gave my Mom one last kiss and went just and quietly as he came. My beautiful "Bubbies". Lauren Cooke
Maxwell Buddy Cooke Unknown – June 1 2008.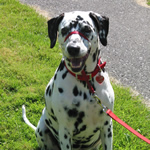 Charlie – June 4th 2007.
On a sunny day in July 2004 little did we know but our lives were to change forever! On the 16th of July my wife ventured into Petsmart while I did my boy toy thing and went into Future Shop to check out computer stuff. A short while later my wife told me I had to come and see this wonderful dog that was up for adoption from a group named TAGS. I was skeptical as we had lost another dog a few moths previously, and we were still grieving. I couldn't overcome her enthusiasm, so I followed her back to Petsmart to meet the most sad looking and wonderful Dalmatian I had ever seen. Needless to say we filled out the adoption papers on the spot and Charlie (female) soon became an integral part of our family. A couple of days later I saw Charlie baring her teeth at me when I came in the room. I was a little apprehensive at that point, wondering what we had taken on. That is, till I realized that she was smiling at me. I had never seen a dog do this before and was amazed. I came to love that smile as did my wife and family. When I got home she would be wagging her tail furiously and smiling her greeting. Charlie soon lost the "pet" status and became our little girl. Needless to say she thrived in the attention and showered us with all of her love and devotion. What more could we ask! Sometimes even seasoned pet owners such as us are taken back by a certain bond that can be created. This existed with Charlie. I have never had such an attachment with a pet before and likely never will again. When we were sad, she was there. When we were down, she was there. When we were sick, she was there. And all that she asked in return was that we loved her back, which we did. It was therefore heartbreak to our family to say that we lost Charlie on June 4th 2007 after a prolonged fight with arthritis. We were heartbroken when we first discovered the problem about a year ago but we vowed to make her life as comfortable as possible and to give her the love that she had shown us all these years and she now rightly deserved. After all she was our little girl! We eliminated the use of stairs for her and gave her every comfort possible for those sore days. However recently we saw that she was having a lot of difficulty getting up and would stumble. After consultation with Dr. Hoogers at the Ritson Rd. Veterinary Clinic we were forced to say our final goodbyes. She passed quietly in my arms with my wife at her side. We will miss our little girl but are comforted in the fact that she knew she was loved as she loved us. We will be together again………. Thank you the wonderful volunteers at T.A.G.S. and especially to Kathy. Without you we would have never have had this amazing opportunity to share our lives with such a special girl. Russ & Debbie Niles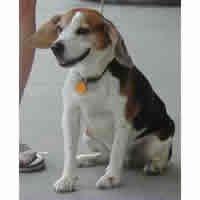 Trixie – August 15, 2006
Today is a sad day for our volunteers as we say goodbye to one of our dear foster dogs Trixie. When Trixie came to our program she was constantly overlooked, finally after a time, it was felt that Trixie was so attached to her foster family that she would remain a "permanent foster dog". Very suddenly Trixie started having seizures. We did our best to help her, we loved her, however after a week of constant medical care, Trixie passed away on the morning of Aug 15/06.
Every dog that comes into our lives touches a part of our hearts. The older dogs especially get overlooked and yet they have so much love to give.
Wondering how we could Honour the memory of this little dog, we have started a new funding program, appropriately named "The Trixie Fund". This fund will be used to assist senior dogs in need, whether they are in our program or not, any senior dog that needs help will be assisted through this fund.
Sadly, we have seen a number of previously adopted TAGS dogs pass away this year. Many of these dogs were adopted by our own volunteers. We shall never forget them and while there is pain in our hearts now, there will always be another dog needing help.
So as you read this, please give your dog a hug & a kiss in honour of Trixie. You are in our hearts Trixie – now and forever.
The TAGS Volunteers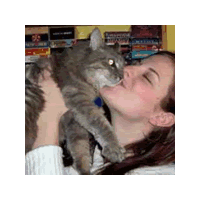 Griffin – Sept.22.2005
To the best Boober in the whole wide world!! No cat will ever compare. You cheered us up when we were sad, you calmed us down when we were tense, you always loved us more than yourself, For this we thank you a billion times over. We'll always remember your special kisses and nuzzles…. they were truly heart warming. Anyone who ever met you always said," I've never known a cat to be so loving." WE MISS YOU SOOOOOOOOO MUCH!!!!!!!!!!
Love Mummy and Daddy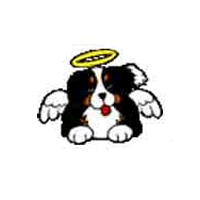 Ralph
Sadly, Ralph, a beloved dog by his adoptive family and all who knew him passed away of liver cancer. Ralph had been adopted through the T.A.G.S. program on May 19, 2002 when he was approximately 4 years old. He will be greatly missed by all.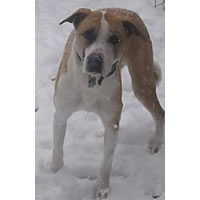 Duncan – Aug 30th 2001 to Feb. 27th 2005
Our Beloved Dog was taken from us suddenly by a hit and run. He was full of life and energy. He will be sadly missed by his family esp. Sheri who shares the same birthday and his buddies Zac & Cooter, and favorite neighbour Donnie who visited him everyday. A special thank you goes out to the passerby who kindly stopped , wrapped him in blankets and check his tags to contact us. Who ever you are THANK YOU! DUNCAN (a.k.a Dunkie,dunkaroos & Ducttape) I never got to say goodbye if your listening. Camping will never be the same I love you and you will always be in our hearts. XOX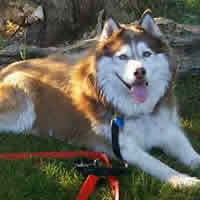 Mandy – May 1st, 2004
Our loving and gentle Siberian Husky "Mandy" who passed away so quickly and unexpectedly on the early morning of May 1st, 2004. Mandy was adopted through the T.A.G.S. program 2 years ago and has brought so much joy into our lives and has been a tremendous companion to our Golden Retriever "Shiloh". She will be so sadly missed by us and all those who had come to know her. We will never forget you.
Linda, Alan, Garth, Nash,
The Cats and of course Shiloh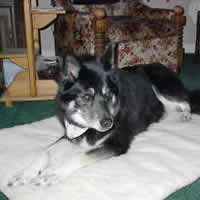 Toby – September 1st, 2003
Toby, a senior Siberian Husky mix, passed away on September 1, 2003. Toby was in the T.A.G.S. program for some time and was adopted by his loving foster home. His new adoptive parents loved him very much and Toby was very thankful to have a great home to call his own for the remainder of his life. Toby spent a total of over a year and a half with his new family. The family wishes to thank T.A.G.S. for allowing them to have Toby become such an important part of their family.Toby a.k.a. "Northern" will be greatly missed.
Darlene, Mike and Kobe, Sasha and Toby forever in our hearts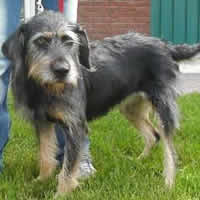 Riley
Sadly, Riley, a one year old Wire Haired Pointer Mix, had stomach cancer and was unable to undergo surgery. Riley had been previously abandoned at a kennel, she was a playful dog who loved people and dogs.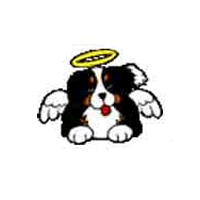 Sadly, two dogs were euthanized at a local animal services facility in April, 2003. Blue, was a male Labrador & Collie mix, approximately 8 months old with black & white colouring. Buster was a male Pitbull mix, approximately 2 years old with fawn & white colouring. Both dogs were very sweet but unfortunately the stress of being in the shelter for approximately 3 months finally took it's toll. Please remember the importance of Adopting and Fostering. Far too many dogs are placed in the unfortunate situation of life or death…they depend on people to show them the much needed love and attention that all animals deserve.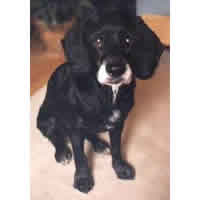 Guinness – March 18th
It's been said that dogs are the biggest con men in human history. They drop into your life, re-arrange your daily schedule, steal the food off your plate, pee in your living room, and then leave you smiling about it in the end. Guinness re-arranged our lives two years ago when we adopted her from TAGS. This past February, shortly into her ninth year, she developed a backache that, despite two operations, lead to paralysis. By the time she passed away on March 18th, Guinness had spent almost two weeks in hospital – more than enough time for this sweet-natured, brown-eyed Beagle cross to win the hearts of the veterinary staff that cared for her. As saddened as we are about the loss of our little friend, we can't help but smile a little. Despite her condition, Guinness managed to steal a few more hearts along the way. She will be missed terribly.
Goodbye buddy. Yvan & Jacinthe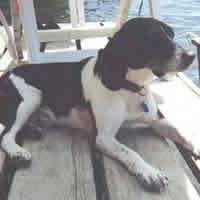 Friday Pancake – March 17th, 2003
My little fighter, Friday Pancake, bid us a farewell on March 17, 2003. He lives within my heart now and always will.
Friday had many friends and admirers in the short time that we knew him – beginning with you, Paula, when you saved his life last spring after spotting him wandering dangerously close to the streetcar tracks on Queen West. I will always be grateful to you for gathering him up and calling me at the Humane Society right away. I am a better person for knowing and loving sweet Friday. Unfortunately, Friday had been diagnosed with congestive heart failure and it was not expected that he would live more than a year. So, 8 months ago, he found a permanent home with me and my family. Things had gotten worse over the last couple months but I kept hoping and even expecting him to be with us for longer – you always seem to want more time – there is never enough time with the ones you love. I took him to the vet after work on Monday – thought maybe they could give him some other pill but… It was clear to us, for a number of reasons, that he had been mistreated in his past. We were so happy to give him the love he deserved and to watch him gain confidence and find happiness with us. He was 10+ years old but no matter how old a dog gets, they always carry with them a little inner puppy. For Friday, it was an obsession with ropes! He loved ropes – it became a tradition for me to bring him home a rope toy from the pet store every couple weeks. He had quite a collection at the end and they always seemed to wind up on his favourite chair in the living room – where they still are. Because, maybe, the next foster dog will love ropes too…
Marna & Family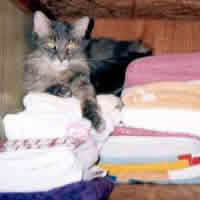 Soldier – January 30th, 2003.
To a great little buddy. You were always there for us no matter what, especially for Darryl at a time in his life when he needed you most. Under his arm for hours letting all his tears soak into your furry back. Thanks for being there little dude. We miss you so much and will never forget you. January 30th, 2003.
Mom and Dad, Rocky and Sable.
Ebony – December, 2002.
Back in April of 1991, T.A.G.S. adopted out a beautiful 6 month old Labrador & Siberian Husky Cross named Ebony to a wonderful and loving family. Sadly, Ebony died in December, 2002 of a tumor located on her spleen. Ebony has left behind many wonderful memories. The family has thanked The Animal Guardian Society for allowing them the privilege of spending the past twelve years with this wonderful dog. Everyone at T.A.G.S. sends the family their condolences and would like to thank them for giving a great little puppy a second chance, so many years ago.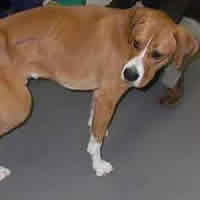 Tyler – November 6th, 2002
Sadly, a beautiful dog that was diagnosed with cancer, was unable to survive to see happier days. The stray dog, named Tyler, was picked up by the Animal Control in Oshawa. They worked hard on raising funds for critical tests that were performed to properly diagnose the growth on his leg. Unfortunately, Tyler's prognosis came back very poor and he had to be euthanized on Wednesday, November 6th, 2002. All funds that were raised for Tyler, will be appropriately used for other animals in similar circumstances. It seems that Tyler, a Boxer and Hound mix, had lived a short and difficult life…he is no longer in any discomfort. Everyone who met him will always remember this brave and loving dog.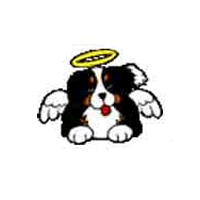 It is with great sadness that we pass along news of a tragedy in our agility community. On her way home from yesterday's (October 6/02) Rat Pack trial, our friend Pat Thomas was killed in an accident near Bolton. She was travelling with Sparky, her Papillon. Pat was well-known among agility competitors in southern Ontario. She was an instrumental member of the Nationals Host Committee, and was responsible for staging the Opening Ceremonies at the event. Pat operated Brooklin Kennels just north of Whitby, Ontario. Kathryn, Lane and Teddy The Agility Farm Blackstock, Ontario Note: Miraculously, the dog "Sparky" is doing well.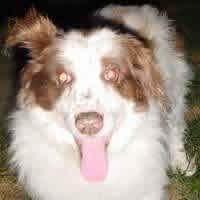 Brytni – September 4th, 2002
Brytni, who was adopted many years ago through T.A.G.S. sadly just past away on September 4th, 2002. She was a beautiful dog who had a tough start in life, but thanks to the family who adopted her, she was able to live her last ten and a half years very well taken care of in a loving home. Brytni had been diagnosed with Cushings disease. Her family will always remember how brave & heroic she was throughout her life and even until the very end. She will be greatly missed by all who knew her. Her family is left with many great memories of Brytni. Below is a picture of Brytni, taken only two weeks before her death.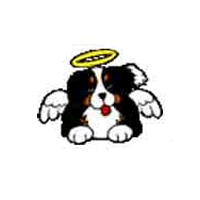 Benjamin – May 31st, 2002
Sadly, a dog passed away at the Oshawa Animal Services on Friday, May 31st, 2002. This dog, a senior collie mix named Benjamin, was found in a ditch a few days prior and it was obvious that he was in a great deal of pain and would require immediate surgery. T.A.G.S. managed to find a donor on very short notice who was willing to fund the necessary surgery. However, due to the Animal Services policies, the animal was required to finish a 72 hour stay at the shelter before being released. As an unfortunate result, this brave dog was left to suffer in pain until he passed away. Benjamin's death was unnecessary. We owe it to Benjamin to make certain that this type of situation does not happen again.
McLellan, Patricia (nee Bonner)
It is with deep sadness that we annouce the death of Patricia, age 64, on Sunday April 28th, 2002 at Lakeridge Health Oshawa, with her loving children at her side. Predeceased by her beloved husband Douglas. Devoted mother of son Brett, daughter Tracy and son-in-law Claus. Cherished companion of Don Blight. Adoring grandmother of Taylor and Maya. Loving sister of Betty (Jake), Pearl (Bobby), James (Mary), and Illene (Robert) and sister-in-law of Jean. Patricia will be missed by her nieces and nephews and their children, as well as her beloved pets. Funeral services will be held on Wednesday, May 1, at St. George's Anglican Church, 51 Centre St. S. (at Bagot), Oshawa, at 2 p.m. A memorial celebration of Patricia's life will follow at the Oshawa Golf Club, 160 Alexandra, at 3:30 p.m. The family is profoundly grateful to the doctors and nursing staff at Lakeridge Health Oshawa Oncology departments for the high quality of tender care Patricia received. Donations to the Cancer Centre at Lakeridge Health Oshawa or to T.A.G.S. Animal Rescue Service would be greatly appreciated.
As printed in Whitby-Oshawa This Week newspaper, Wedneday, May 1st, 2002.