The Animal Guardian Society makes the news with its fresh approach and new ideas in the world of rescuing animals. Please contact us if you would like to cover an event or interview our organization.
New foster home program: Domestic Violence Foster Program for abused women.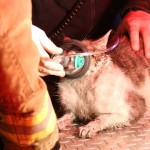 Cat rescued from fire in Oshawa
In December 2014, TAGS donated Wag'N Pet oxygen mask kits to Oshawa Fire Services. Recently, one of these masks was use to save a cat from a fire.  Read more here.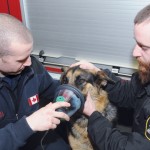 TAGS has donated a pet oxygen mask kit to the Pickering Fire Department for their newest truck.  These masks will assist animals in an emergency situation, before veterinary care can be accessed.  All the other fire vehicles had already been equipped with such masks.
Read more here….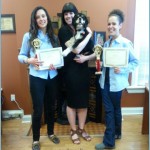 Congratulations to Denise (left) and Sandy (right)! They were recognized by Tammy Lee Hanlon – State Farm Agent for their excellent volunteer service with TAGS.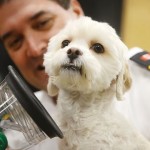 TAGS donated eight Wag'N Pet oxygen mask kits to Oshawa Fire Services. The kits can be used both on conscious pets that have suffered from smoke inhalation and pets that need to be resuscitated after losing consciousness from exposure to the dangerous toxic fumes. They come with three different size masks that can be used on dogs, cats, ferrets, rabbits, guinea pigs, birds and more.  Read more here….

TAGS cares about not only animals but also students. We decided to cheer them up during their finals at UOIT. Studies show that you can significantly lower your stress level by petting animals.
The article in the newspaper about Kathy Asling finding a puppy. This is how TAGS started 26 years ago…