Foster homes are the difference between life and death to an animal in need.
One of the most important and rewarding jobs that a volunteer can do is to serve as a foster home for an animal before he or she is placed in a forever home. The Animal Guardian Society (TAGS) does not have a shelter facility;  therefore, we rely on volunteer foster parents to care for our rescued animals.
If you have ever said, "It's so sad, but there's nothing I can do." Well, fortunately, you can do something without making a lifetime commitment or taking on additional financial responsibility. Becoming a foster parent can be challenging, but it's always rewarding!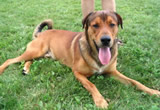 Our program provides:
Medical care
Food/treats
Bedding
Grooming
Training
Our program will provide you with an orientation training session. With the support and help of other volunteers and experienced foster homes, you will be helping to save the life of an animal in need.
_______________________________________________________
Are you considering fostering but don't know where to start?
Fostering FAQ
TAGS volunteers and foster parents are ready to help you set up for your first experience saving a dog's (or cat's) life!
How do I know if I qualify to be a foster parent?
Do you love pets? Do you have a house or an apartment with enough space in it? Do you have enough time to walk your foster dog and spend quality time with him or her on a daily basis? If your answers are yes to these questions, then you probably qualify. Finding a perfect foster match is an important part of the foster program. By getting to know foster families better, we can help to choose the foster dog or cat that best suits the family. Foster animals come from all walks of life, some with history, most without. As is our goal with our adoption process, we want to work with our foster families to ensure that their experience as a foster is one that proves to be rewarding.
What do I need to do to apply?
Transportation is an important thing to consider when fostering. Your foster dog will need you to get them to the vet, meet and greets and training. Please ensure you have access to transportation prior to submitting your application to foster.
Is this considered a form of volunteering?
Yes! Many people are not able to make time for volunteering in the traditional way, but fostering is a great opportunity for you to help out without having to change your daily routine a whole lot.
What if I already have a dog?
That shouldn't be a problem. It often even helps to have another dog for your foster dog to socialize with.
What if I have a cat that doesn't like dogs?
You can either try to slowly allow your cat to get used to the presence of a dog or foster a suitable cat.
Can I foster only cats?
Yes! If you prefer, you can apply to be a foster home for cats. TAGS doesn't have many, but there is always a need to save some.
How fast will I get a dog?
It depends. Almost daily, we get notifications about dogs that are available to take from pounds, so it could happen as quickly as a couple of days after approval.
Are these dogs vetted/groomed before or after I get them?
We always try our best to have the new dogs checked out by a vet beforehand. However, sometimes there are emergency cases, in which we must place a dog somewhere before he or she gets a veterinary appointment.
How much of the expenses are covered by TAGS?
100% of the expenses are covered by TAGS, including medical care, food and treats, bedding, grooming and training.
What kind of dog food does TAGS use?
TAGS uses high-quality dog foods.
How do I attain the dog food?
You can pick up your share from our dog park. Please ask for directions.
What other duties do I have as a foster parent?
Other than providing a loving foster home and doing some basic training (our training experts can help) with your foster dog, you are required to transport your pet to either the Whitby or Oshawa location of PetSmart for a dog showcase at least once a month. TAGS presents its adoptable pets at PetSmart every weekend so that people can get to know our organization and animals a little better. There are also other events to which you may be required to bring your foster dog—for example, TV promotions or a puppy room event for university students, if your schedule allows.
Can I rename my foster dog?
Yes. Actually, our foster parents made up a Scrabble-like game to give more creative names to the newcomer dogs. But if you want, you can keep his or her original name.
What if I want to adopt my foster dog?
TAGS has a rule that you cannot adopt your first foster dog. But you can adopt your second (or any subsequent) one. It's important to understand that by fostering, you are saving not just the fostered dog's life but potentially the life of another dog, too, who is still in a shelter waiting for a foster home to become available.
Poem for Rescuers and Foster Parents
There I sat, alone and afraid,
You got a call and came right to my aid.
You bundled me up with blankets and love.
And, when I needed it most, you gave me a hug.
I learned that the world was not all that scary and cold.
That sometimes there is someone to have and to hold.
You taught me what love is, you helped me to mend.
You loved me and healed me and became my first friend.
And just when I thought you'd done all you do,
There came along not one new lesson, but two.
First you said, "Sweetheart, you're ready to go.
I've done all I can, and you've learned all I know."
Then you bundled me up with a blanket and kiss.
Along came a new family,
they even have kids!
They took me to their home, forever to stay.
At first I thought you sent me away.
Then that second lesson became perfectly clear.
No matter how far, you will always be near.
And so, Foster Mom, you know I've moved on.
I have a new home, with toys and a lawn.
But I'll never forget what I learned that first day.
You never really give your fosters away.
You gave me these thoughts to remember you by.
We may never meet again, and now I know why.
You'll remember I lived with you for a time.
I may not be yours, but you'll always be mine.
– Author Unknown
With your help, we CAN MAKE A DIFFERENCE!
Open your heart and home and give an animal a second chance! Learn how you can join our team and become a guardian angel for an animal!