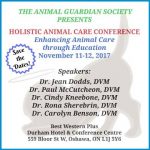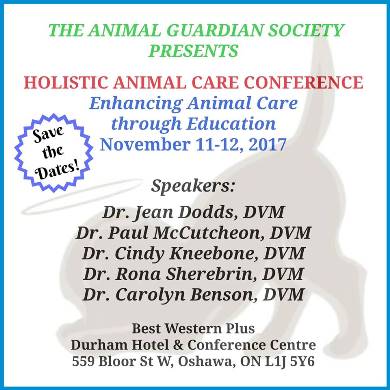 Holistic Care Animal Conference
•  Enhancing Animal Care through Education
November 11 & 12, 8:30 till 4:30
Location: Best Western Plus Durham Hotel & Conference Centre, 599 Bloor St. W., Oshawa.  For a map of the area, click here.
If you want the best possible health care for your pets, you won't want to miss this conference!
Topics include:
Introduction to Homeopathy for animals
Introduction to the essence of the Holistic approach and its philosophy
Comprehensive Medicine – the practice of everything
Aspects of stress – sources and treatment modalities
Oriental/Chinese medicine for pets
Acupuncture, herbs, nutrition and massage
Introduction to  Herbal Medicine (Western, Oriental, Ayurvedic, FirstNations)
Information needed to assist with choosing a practitioner and over-the-counter products.
Vaccines
Thyroiditis
Nutrition
Register today!!  You won't want to miss out on this event!!
FUNDRAISING EVENTS
Here is a list of our upcoming fundraising events in the Greater Toronto Area. We are continuously updating our event section. Check back often to see where you will find us.
HOW ABOUT HOLDING A FUNDRAISER FOR TAGS?
Holding a third party fundraising event can be a great way to support The Animal Guardian Society.  There is no limit  of interesting fundraising ideas from bake sales, a car wash, casual work day, garage sale, golf tournament, walk-a-thons all  the funds you raise will help to support the many animals that come to our program.
TAGS is 100% volunteer program, we have no paid staff so we always appreciate the support from our Community.  Without you we could not help the animals in need.
Please feel free to contact us anytime at tagsinfo@animalguardian.org
November 11 & 12, 2017 – Holistic Animal Care Conference with Guest Speaker, Dr. Jean Dodds, DVM
---
DRPS K-9 Calendar Sale
Proceeds from sales go to TAGS, Alzheimer Society Durham and Epilepsy Durham Region.  These make super Christmas gifts.  Get yours today!!  Available from TAGS or DRPS  Cost is  $20.
Artist Shree Bellur is offering part of the proceeds from her art sales to TAGS.
Art on tile – each design is unique and creatively handcrafted using ink (acrylic, watercolour, alcohol and resin).
A unique gift for any occasion!
Purchase a set of two tiles of your choice for $25 (6×6 inches and 3×6 inches).  Also included is a holding stand and gift bag. Also available in larger sizes (12×3 inches and 15×3 inches) for $20 (stand and gift bag incl.).
Special requests welcome!
Visit: http://shreebellur.com/art-pieces-for-sale-perfect-gift-for-holidays-or-any-occasion/
Contact Shree Bellur for more information.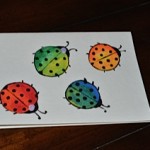 HANDMADE GREETING CARDS FOR ALL OCCASIONS
Personalized to your liking. Cost is $35 for a pack of 10 cards. $10 per pack will be donated to TAGS.  Click here to see samples.
Contact Shree at 416-277-0047.
Website: http://shreebellur.com
WONDERING WHAT BREED(S) YOUR PET IS?
Wonder no more! A simple cheek swab DNA test gives you the answer.
Discover every breed in your dog.
Gain insight into your dog's unique genetic background.
Purchase your Pet DNA Test Kit from TAGS for only $65. *Available at the TAGS Microchip Clinics and PetValu Adoptathons *

MICROCHIP YOUR PET
Join TAGS at these PET VALU store locations to have your pet microchipped for only $30.
Clinics are running in Durham Region. Click here for dates and locations.
BINGO AT THE RED BARN CHARITY BINGO HALL
Come out and enjoy playing bingo while supporting The Animal Guardian Society
Sundays at 3:45 p.m.
172 Wayne Court, Oshawa, ON L1G 3R2
Click here for directions.
We are currently looking for volunteers to help with our BINGO events.  Please click here for further information.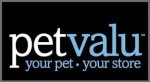 PetValu Parade of Pets—-Come and visit us at these PetValu locations
Saturdays from 1 till 3:30 pm
Nov 4 – 1 to 4 pm – PetValu Kendalwood, 1801 Dundas Street East, Whitby
Nov 11 – 1 to 4 pm – PetValu Harmony, 1445 Harmony Rd. North, Unit 400, Oshawa
Nov 18 – 1 to 4 pm – PetValu Whitby Shores, 619 Victoria St. West, Unit #6, Whitby
Dec 2 – 1 to 4 pm – PetValu Kendalwood, 1801 Dundas Street East, Whitby
Dec 9 – 1 to 4 pm – PetValu Harmony, 1445 Harmony Rd. North, Unit 400, Oshawa
Dec 16 – 1 to 4 pm – PetValu Whitby Shores, 619 Victoria St. West, Unit #6, Whitby