Intact Insurance Furry Friends 5K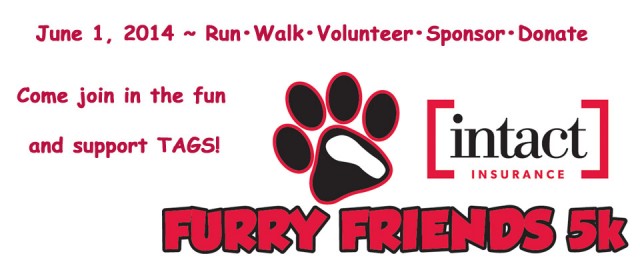 By Torianne Allen
On Sunday, June 1st, 2014, the next Intact Insurance Furry Friends 5K will take place. All proceeds will go towards The Humane Society of Durham Region, Homeward Bound Rescue and us, The Animal Guardian Society! You can run or walk the 5K, with or without your dog(s). It's up to you!
Registration is still open, so sign up today! 
The cost for a human to participate is $30, and you'll receive a race T-shirt and kit (Guaranteed to the first 600 people who register before May 15, 2014), race number, free professional race photo download and an entry into the prize draw!
To participate with your dog, the cost is $35. You'll receive everything listed above plus a race bandana for your pooch!
There is also a team entry available, visit the Furry Friends 5K website for more information about registering with a team.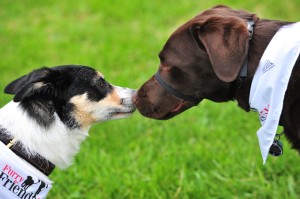 The race begins at Heydenshore Pavilion in Whitby and heads along the Lake Ontario waterfront before looping back and finishing back at the Pavilion. There will be lots of booths set up from various organizations, including a bake sale.
If you aren't able to attend on June 1, or if you'd rather support the event in other ways, consider donating or volunteering!
Volunteering is a big part of the success of our event. We rely on our volunteers to help with tasks on and before the race day, such as publicity, set up, pledge tables, water stations and mobility. If you wish to volunteer, or for more information about how you can help, please register online.
Click here to see more pictures from last year's event and start getting excited! We'll see you on June 1!
---
---