HEARTS FOR PAWS FESTIVAL!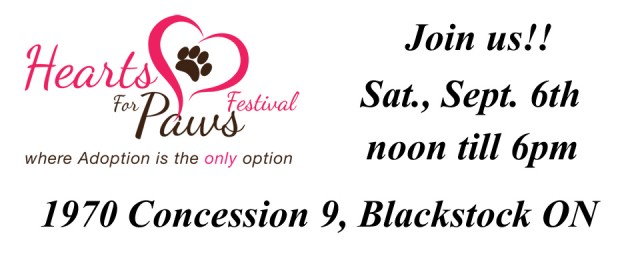 The Animal Guardian Society (TAGS) invites you to the 2nd Annual Hearts for Paws Festival! Our goal is to raise money for the animals in our program.
Who is invited?
Everyone! The event is kid-friendly and dog-friendly.
When is it? 
Saturday, September 6. It begins at 12:00p.m. and ends at 6:00p.m.

How much does it cost to go?
Advance tickets are $7.00 (email [email protected]), and tickets at the door are $10.00. * Kids under 10 are free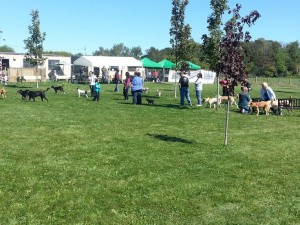 Can I bring my dog? 
Of course! This event is all about dogs, after all. The event site includes a fenced-in dog park, but we ask that every person supervise his or her own dog or arrange for someone else to do so. In other words, no dog should be in the park without supervision! Also – don't forget to poop & scoop!Where is it and how do I get there?
Paws n' Hearts is being held at the TAGS dog park. The address is 1970 Concession 9, Clarington ON. We suggest that you use this map instead of Googling the directions, as the address doesn't appear properly on Google.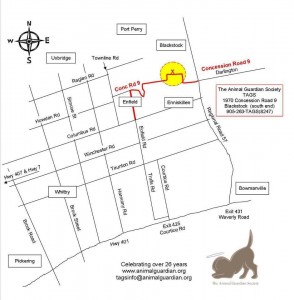 What can I do there?
Listen to live entertainment by Classic Rock cover bank "Loud 'n' Clear" and "Brooklin North" who will be playing a variety of cover songs from Blue Rodeo and the Eagles to John Lennon! Make sure you bring a lawn chair!
Visit the "Ask a Vet" booth
Watch the Adoptable Dogs Parade from 2:30-3:00p.m.! There will be a Foster Booth also, so if you are interested in becoming a Foster Parent with TAGS, you can speak directly to our current Fosters!

Bid on items in the silent auction (items include a 2GB iPod, a paid of TFC Tickets, paintings, gift certificates and more!)
Browse vendor booths and purchase items (not all are dog-related, and there will be a big variety)! PLUS Boston Pizza will be there!

Participate in the 50/50 draw and other contests running throughout the day.
Play doggy games with your furry friend(s).

Eat! (There will be burgers, hot dogs, chips and drinks for sale, including vegetarian options).
Purchase items from the Bake Sale
What else do I need to know?
Paws for Hearts will be a cash-only event. Please plan accordingly because there are no banks or ATMs near the TAGS dog park.
Bring your own reuse-able water bottle! Performance Water Systems will be providing filtered water to everyone all day long!
For tickets and vendor information, contact Kathy ([email protected]).
For other information, please ask in the comments!
Join our Facebook event for up-to-date information!
BONUS: Watch a video from last year's festival!
  SEE YOU NEXT WEEKEND!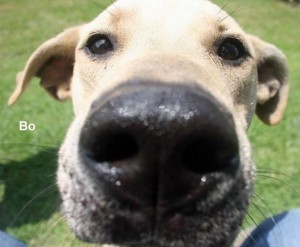 ---
---