Where do TAGS dogs come from?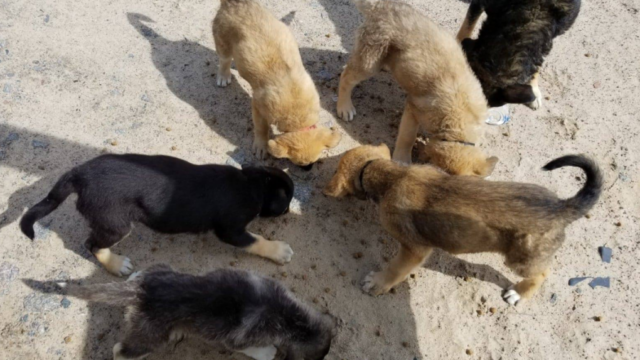 ~by Caroline, TAGS Volunteer
You may wonder where our beautiful TAGS rescue dogs and cats come from.  The answer is anywhere from Manitoba east to Quebec.
By far the majority of our dogs and cats come from Northern Manitoba.  They come from Northern Indigenous Communities where roaming dogs are the norm.  Manitoba has the most reserves of any Canadian province at 63.  Many are more than 8 hours north of Winnipeg and some are so remote that they have no road access.   Almost 100% of them have no access to veterinarian care.  For this reason there is a shocking over- population of dogs.
Most people in Canada don't know about the plight of these dogs.
These dogs are not sterilized or vaccinated due to the remoteness of where they live.  The average lifespan of a Northern Manitoba dog is under 2 years.  This is due to disease and sickness as well as injury from vehicles or fights with other animals.  Harsh weather conditions and starvation also claim many dogs living in these areas.
A female dog will give birth to many pups, many of which will not survive due to harsh weather conditions and disease.  And those pups that do survive, will repeat the cycle.
We work with front-line rescue partners in Manitoba who have relationships and agreements with the communities to help these dogs.  They work very hard to help by educating the citizens, sterilizing, vaccinating and feeding the dogs.  They will remove dogs from the community when required.
By the end of 2021 we would've helped over 250 northern dogs and cat in the past 4 years and in our experience, they are amazing companions.  They fit seamlessly into becoming part of a family and living inside.  Ask someone who has adopted a Northern beauty and you will understand how wonderful they are.
We also help our own Durham Region community by taking in owner surrenders.  There are many reasons why people give up their animals – financial, lifestyle, behaviour issues, changes in the family, etc.  It is not our job to judge these people but to determine if we can help these dogs.  They sometimes go into foster homes and sometimes the owner keeps them until we can rehome.
Some of our dogs come from Ontario and Quebec shelters as well.  Because people in Ontario are so aware of rescue we find our local shelters have good luck adopting out dogs in their care.  Sometimes they have dogs that require medical or behaviour help that can't be addressed in a shelter environment and if we have a suitable foster home, we will help.
In Quebec, many shelters are high-kill.  They are generally overflowing with dogs and cats as Quebec has the most pets per capita in Canada.  If we have a suitable foster, we love taking these dogs who travel along the 401 with a volunteer group of relay style drivers called Freedom Drivers.
We work with other reputable rescues occasionally to help with hoarding situation and puppy mill survivors.  These are some of the most unsocialized, terrified dogs and we love to help them when we can.
Dogs and cats in our care go into our amazing foster volunteer homes.  Fosters are the cornerstone of rescue and without them, we can not help any dogs as we do not have a shelter or kennel.  They work with the dog or cat to get them ready for adoption and are an integral part of helping to find their forever home.
---
---