Why I Volunteer: Written by our Hearts for Paws Lead!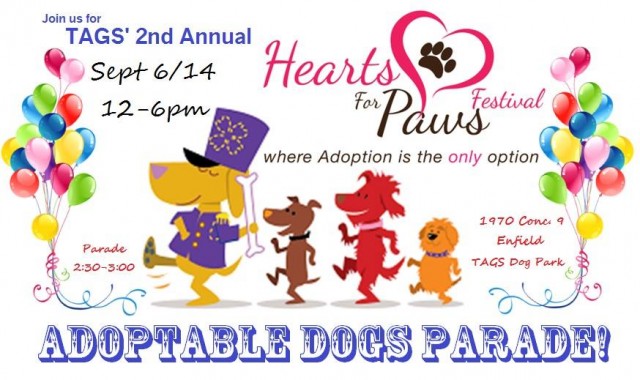 I am a TAGS Volunteer and this is my story.
I first heard of The Animal Guardian Society (TAGS) two years ago through a high school friend when he added me to their Facebook group. I was intrigued as I had heard of the term "rescue", but never really understood the meaning behind it. Was it the same as the term "pound" and "human society"? After exploring their Facebook group I followed a link to their webpage, and there I gained an understanding of what a rescue organization really is. I continued to follow TAGS through Facebook and when I decided to adopt, they were the first place I thought of!
It wasn't long before I found a dog I was interested in and submitted my adoption application form for her, and then the Adoption Process began!  Each step of the adoption process was so well thought out and the knowledge and professionalism the volunteers displayed was amazing. Made me feel very confident in the process and showed how much they truly care for these animals. After a thorough review, it was decided that she had found her "fur-ever" home with me.
Not only was I impressed and touched by the commitment and dedication that the TAGS volunteers showed, I was also so grateful and thankful that they had rescued my dog. At only 8 weeks old she and her littermates were left for dead when found malnourished and underweight, and flea and worm-infested. If it wasn't for one of TAGS' amazing foster homes, these pups wouldn't have made it. At this point in my TAGS experience I knew this was an organization I wanted to be a part of. It wasn't long after that, that I submitted my volunteer application.
Since joining the TAGS family in 2012 I have held a variety of positions, including: Volunteer Coordinator, Home Visits, PetSmart, Fundraising Committee member and even temporary Foster Home. The great thing about volunteering for TAGS is that your volunteer opportunities are endless. There are so many areas that you can get involved in. Hands on areas with the animals like: Home Visits, Meet and Greets, Fostering and PetSmart, to behind the scenes with our Social Media Committee, Marketing, Recruitment & Volunteer Engagement, Fundraising and much, much more. I love that you aren't limited to one particular area. They encourage growth within the organization and welcome new ideas. As of now I am a Home Visit volunteer and currently the lead for TAGS' 2nd Annual Hearts for Paws Festival on September 6th. This event is our largest internal event. Last year was a HUGE SUCCESS, having 300+ people attend, raising over $5,600 for animal welfare!!! If you can make it, we'd love for you to attend. For more info, check out this blog post and join our Facebook event!
I want to thank all the volunteers who were part of my first TAGS experience when I adopted my dog and all the others I have worked with during my 2+years of TAGS volunteer service.
Again, thank you for reading my story.
If you can't Adopt – Foster…
If you can't Foster – Sponsor…
If you can't Sponsor – Volunteer…
If you can't Volunteer – Donate…
If you can't Donate – Educate, Network and Share…
Everyone can do something to help animals in need.
---
---