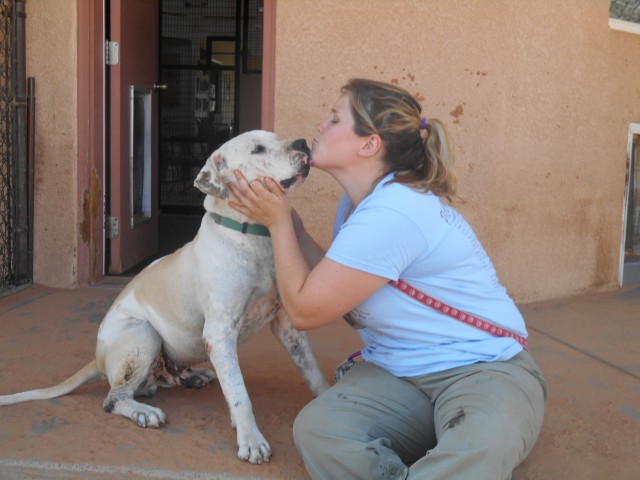 Our featured volunteer this month is Kara Olsen. She has been a volunteer with TAGS since December 2013. By quickly accepting new roles and offering help wherever and whenever it was needed, Kara has already become a well-rounded, irreplaceable member of our team. Thank you for everything you do Kara!
(The above photo is Kara with Big Bob. "He is the sweetest dog I have ever met," she says. "He was a street dog in Los Angeles and is so lucky he found his way to a rescue and not the pound.")
What encouraged you to become a volunteer with TAGS?
I spent almost 5 months volunteering with dogs of all kinds at Best Friends Animal Society in Utah and when I returned home I felt a void that could only be filled by getting involved with animal rescue. I was told about TAGS by a few people and I looked them up online and applied. I also adopted a beautiful Rottweiler named Marly when I was in Utah and I know first-hand how adopting a dog is a life changing/beneficial experience for both the adopter and the dog.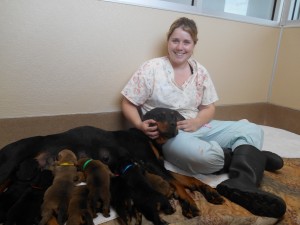 Kara with Marly the first day they met.
Marly was dumped in a field with 9 puppies and was
20 pounds underweight.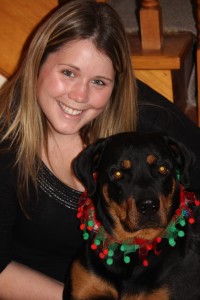 Kara and Marly at Christmas. Kara adopted her in November
and they left Utah to live in Durham Region. 
What do you like about TAGS?
I like that TAGS believes in finding the right home for each dog and that they practice the positive reinforcement approach to training. I was impressed that they require mandatory training classes for each adopted dog because the reason dogs get returned to shelters and rescues is often because of behavioural problems that can be easily fixed with the right training. I always call myself "the crazy dog lady" and I love being a part of a group of people who 'get me' and don't think it is unusual to talk about dogs for hours on end.
Do you ever get discouraged?
Animal rescue can always have times that are discouraging. Nothing about it is perfect and it is discouraging when people do not take pet ownership seriously. It is also hard when a family might not be a right match with a particular dog because you always want everything to work out perfectly, and that is not how life works. J That being said, it is encouraging that so many people get together and volunteer their free time to help homeless animals find their forever families.
What are your roles at TAGS?
I currently do Meet and Greets, Bingo, PetSmart/Pet Valu shifts and participate in fundraising initiatives.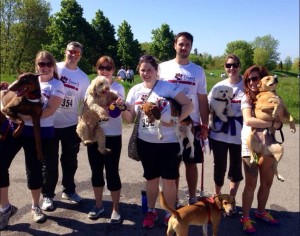 Kara and her team, Rocky's Lipstick and Friends,
at this year's Furry Friends 5K!
What are some of the memorable moments you have from volunteering with TAGS?
–       Every time I get to spend time with the dogs at TAGS is memorable for me. Every single one has a different personality and I enjoy observing them and interacting with them.
–       I enjoy meeting potential adopters and it makes me so happy when they come in that final day and sign the papers for their new dog.
–       I will always remember my first Meet & Greet that I did on my own. It was with Luna who is a beautiful heeler mix and she met a wonderful family who ended up falling in love with her and adopting her. I was so proud to be a part of Luna finding a loving home and I knew that I was spending my free time doing something truly important. Meet & Greets are my favourite because you get to see the moment that families first fall in love with their new pet.
Any other comments/things you would like to share about your experiences?
I am a huge lover of Pit bulls and hope there is a day when Ontario allows them to become valued members of our province again. I look forward to the day I can be a part of finding a Pit bull a loving, responsible family in the Durham Region. I believe that it will happen and I can't wait! They are the most loving and misunderstood type of dog and I will do what I can to help the public realize that.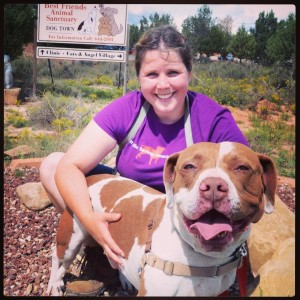 Kara with her furry friend Pepsi at Best Friends Animal
Society in Utah where she previously volunteered. He is a
Pit bull, Basset Hound, American Bulldog mix.
---
---