"GO ORANGE FOR ANIMALS" IN APRIL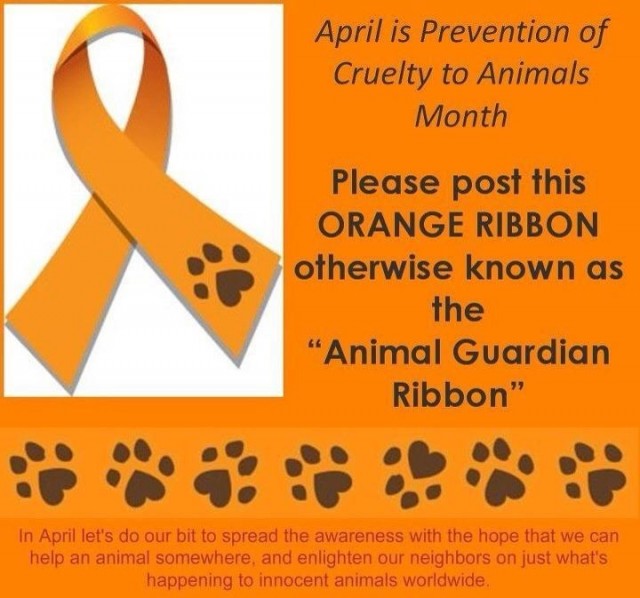 ~ by Nomi Berger
The Ontario SPCA provides front line protection for animals across Ontario by responding to nearly 16,000 animal cruelty complaints each year as well as rescuing untold numbers of injured, abandoned and abused animals.
And so, with their American counterpart, the ASCPA, they have designated April "Prevention of Cruelty to Animals" Month. A month during which everyone is encouraged to "Go Orange for Animals" to increase public awareness about these unconscionable, and usually unreported, incidents.
How YOU can help:
RAISE FUNDS
Using your personal Face Book account, create a fundraising page for a specific rescue group (such as TAGS) or shelter to celebrate an important occasion (birthday, graduation, anniversary, pet's birthday, etc.) then share it with family and friends. Or instead of gifts, ask them to make a donation in your name to the rescue or shelter of your choice.
ORANGE, ORANGE EVERYWHERE
Show your support by wearing something orange all month. For young and old. Female and male. For her: barrettes and bows, scarves and shoelaces, brooches and bracelets, tank tops and teddies, necklaces and nail polish. For him: ties, tie tacks and tee shirts, bow ties and baseball caps, socks, suspenders and sneakers, pocket scarves and pins on lapels. Or go BIG! Tie a broad orange ribbon around a tree in your yard for everyone to see – and hopefully imitate.
SUPPORT A SHELTER OR RESCUE
Drawing on your own, personal contacts, team up with a local shelter or rescue group and assist them at a "Go Orange for Animals" event such as an adoption day or weekend. Or set up your own donation drive – from jars of pennies, animals toys and pet food, to garage, yard and bake sales — and give the proceeds and/or supplies you've collected to the shelter or rescue you've selected.
MAKE ADOPTION YOUR ONLY OPTION
Both shelters and rescue groups have loving animals of every breed and age, size and color, personality and temperament, desperate to find loving homes. By opting to adopt, not shop, you're saving two lives: the life of the animal you adopt and the life of the animal taking its place. And please, spread the word!
IF YOU SEE IT, REPORT IT
Should you suspect or witness an act of cruelty towards an animal, please call the Ontario SPCA Hotline at 310-SPCA (7722), Crime Stoppers at 1-800-222-TIPS (8477), your local Ontario SPCA branch, affiliated SPCA, Humane Society or police.
The more information you have the better. If possible, photograph the act of abuse (cell phones and other devices will have the time and date stamped on each shot). If others have witnessed the same act of cruelty, ask for their cooperation by getting their names, contact information, and if possible, brief written statements. Make copies of everything for your own records before giving them to anyone else.
Whether you report the abuse in person or call it in, keep a record of the person you contact, the date, and the content and outcome of your discussion. Make it clear that you are interested in pursuing the case, and that you will help in any way you can.
Remember. ONE person CAN make a difference. If YOU speak out and speak up, imagine how many other "YOU'S" are doing and will do the same. Imagine what an enormous impact the effect of your combined voices can and will have on the lives of imperiled animals everywhere.
---
---