Fundraising Initiatives & Upcoming Events
We have some AMAZING fundraising initiatives on the go right now and, as usual, several
events
to get excited about. Please share, share, share with your family and friends! We appreciate your support and it goes a long way.
1. SPONSOR A DOG:
A one-time donation of $20 gets you a kit which includes a letter from the dog of your choice, stickers, a stuffed animal, and more! Orders can be placed by emailing sponsortagsdog [at] gmail.com. They are perfect for Valentine's Day and for teaching children about adoption. Click
here
for more information.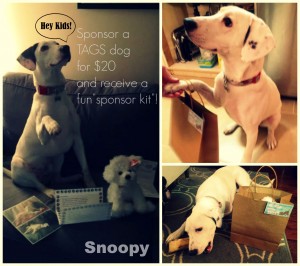 2. T-SHIRT CAMPAIGN:  This shirt has been specially designed by one of our volunteers and it features the one and only Boomer! There are also hoodies and long sleeves available if you check out the drop-down menu where it says "style." Click here to order!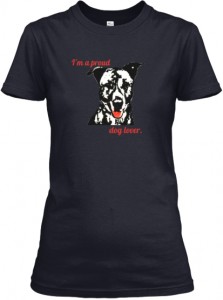 3. BOSTON PIZZA CELEBRITY SERVER NIGHT: Eat dinner at Boston Pizza at Garden and Taunton on March 19 between 5:00-8:00p.m. and 10% of the sales will go to TAGS!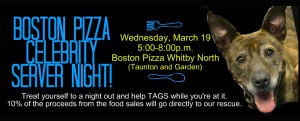 4. DEATH COMES KNOCKIN': This is a fundraiser unlike any other! Sinful Inflictions, a tattoo studio in downtown Whitby, is hosting a silent auction on Saturday, March 22nd. The owner, Jason Stieva, has graciously selected TAGS as the charity that will benefit from the event! What is being auctioned? Well, he has sent skulls around the world to be decorated by tattoo artists. Their creative touches will turn each skull into a beautiful work of art!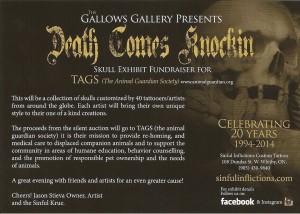 5. FURRY FRIENDS 5K: Registration is now open, the event is June 1! The event is put on by Intact Insurance and they have selected TAGS to be one of the charities benefiting from the event and we are thrilled to be a part of it. You can run or walk, with or without a dog. It's a very flexible and fun event! To register, click here.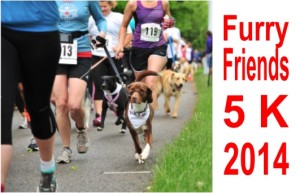 6.
THE SHYLA FUND
: Please consider donating to Shyla's cause! She is a very friendly dog with rotten luck. Her vet bills and expenses are ongoing, and we appreciate any and every contribution that can be made to help her.
---
---