We are thrilled to announce our newest fundraising campaign! We invite you to sponsor your favourite dog or cat from TAGS. You will receive a kit just for doing so!
For $20 you can…
Teach your kids about the importance of adoption, or
Sponsor a dog on behalf of your Valentine as a promise that one day you'll adopt a furry friend together, or
Treat yourself to an adorable kit, knowing that your contribution will help homeless pets right here in Durham Region.
…and we won't try to stop you if you'd like to do all three!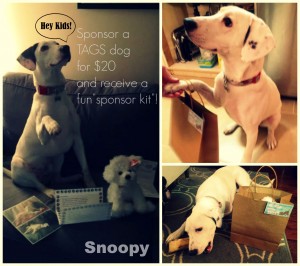 Snoopy posing with a kit he prepared.
<> <> <>
Ok, I'm ready to help make a difference in the lives of the animals in your program…
What animals can I choose from? 
You may choose any of our adoptable pets from our website.
How much does it cost?
The cost of a kit is $20.
Where do the proceeds go? 
Your contribution will go directly to helping the animals in our program. Our largest expenses by far are for veterinary bills, but we also spend money on food, equipment (leashes, crates, blankets), micro chipping, and the creation of promotional material.
What comes in the kit?
+ A letter addressed to you from the sponsored pet of choice telling you about their story and about their interests.  (A great teaching tool for kids)!
+ two photos of the sponsored pet in a photo sleeve
+ an adorable stuffed doggie to love and care for
+ a card explaining how your donation will be used, and about why adoption      is important
+ a sheet of fun dog stickers
How do I order a kit?
Send your order to [email protected]. Be sure to include the name of the person who the letter is for, the name of the dog you wish to sponsor, the location for the sponsor kit drop off, and a contact number, in the same format as the example form below: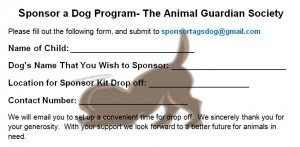 How will I receive my kit?
One of our volunteers will deliver it to you at a location of your choice within Pickering, Ajax, Whitby, Oshawa, Courtice and Bowmanville. If you live outside of these areas, please inquire about shipping when you place your order. Please note that there will be a shipping fee on top of the $20 donation in this case.
How do I pay for my kit?
In person when the kit is delivered to you. Please be prepared to pay with cash. If you are receiving your kit in the mail, please inquire with [email protected] about payment.
What happens if the animal I choose gets adopted?
You will still receive a letter and photo from the pet of your choice, of course! The proceeds from this fundraiser are for all of our adoptable pets, not just the one that you have decided to sponsor. The act of selecting a certain pet is just for fun!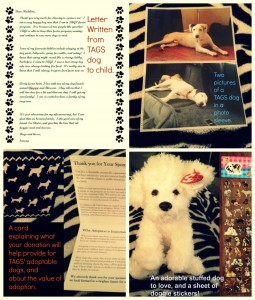 Please click on any of the pictures above to view a larger version. We sincerely thank you for your sponsorship.  With your support we look forward to a brighter future for animals in need.
---
---