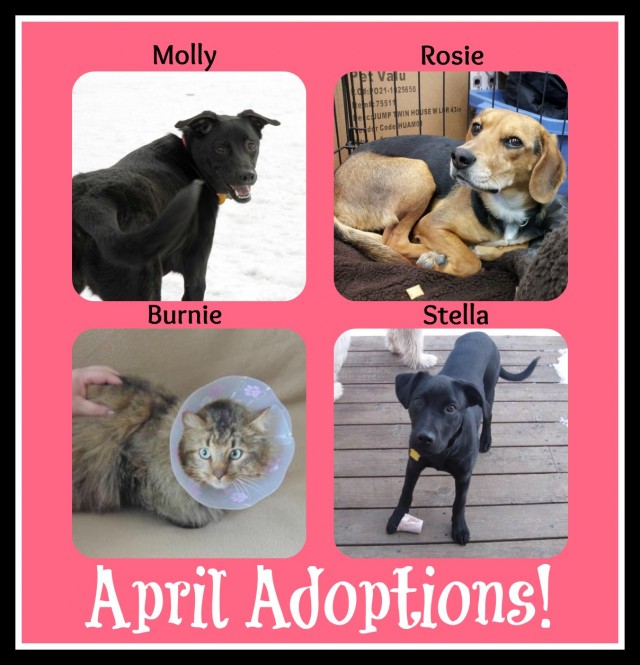 Congratulations to all four animals who found new
homes in April! If you are interested in adopting a
rescue, please visit our adoptable pets page.
It's always changing! 
Molly is a 1.5 year old lab mix who arrived at TAGS when her owner decided she wasn't able to give her the life she deserved. Molly used to spend all of her time crated and didn't get much exercise or playtime. This was hard for her since she is still so young and playful! Now happily adopted and living with a new family, Molly has quickly become the newest best friend to an 11-year-old kid. We're sure they are going to have lots of fun adventures as they grow up together.
Rosie is an adorable, young beagle mix. Rosie is a very timid girl and shows signs of previously being abused. She was actually in the TAGS program for three months before she was even listed on the website because before that, she was not considered to be adoptable because she was so scared of humans. Thanks to the love, patience and commitment of her foster momma, and the teachings of the other foster dogs living with Rosie, she has begun to learn how to trust again, but she still has a long way to go. Fortunately, an amazing applicant came along whose last dog was also an abused beagle. It was clear from the beginning that she and Rosie had a connection and it has already strengthened in the few weeks Rosie has lived there: when her new mom was home with a migraine, Rosie got up on the bed and gently licked her eyelids, where the headaches start. TAGS has no doubt that Rosie will thrive under this woman's care and we are so happy that she has found a home where she will never be mistreated ever again.
Burnie (now named Vin Diesel) is a big, beautiful, long-hair male tabby who was found as a stray. He had been injured by another animal resulting in the need for surgery and stitches to his neck. Vinnie recovered from this accident while living in his foster home and quickly grew accustomed to the pampered, indoor cat life. He bonded with his foster dad in no time so it was soon decided that he should stay there for good! Instead of fighting outside with other animals, Vinnie now enjoys life inside with new cat sisters Maggie May (a rescue from the Humane Society who would like to be petted constantly, please and thank you) and Uma Thurman (a rescue from India who is the smallest of the trio but nevertheless rules the roost).
Stella (now named Cinder) is an energetic young female lab. She loves other dogs, kids, and anything that involves having fun. She has been adopted by a family who is going to continue her puppy training. She's already become such an integral part of her new family that it was like she was always there. She loves playing with her human siblings and has frequent play dates with her doggie cousin.
---
---