You've Cat to be Kitten Me!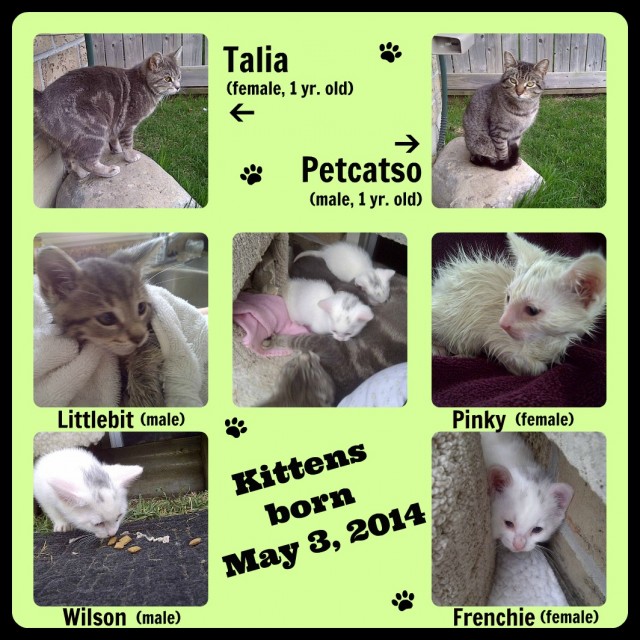 It's a CATastrophe! We have a whole family of cats that need to be put in a foster or forever home as soon as possible! For more pictures of this family, check out this album.
The momma is Talia. She is just over a year old. She loves to be petted (even on her belly!) but is not a lap cat. She has been living outside for her whole life, but is ready to settle into a nice, comfy house where she will be safe. She weighs about 6 pounds. She has just recently been separated from her kittens, and when she is ready she will be spayed.
Uncle Petcatso is Talia's brother. He and Talia have stuck together for their whole lives and are very closely bonded. We would love to see them adopted together. Petcatso is more "wild" than Talia and will need someone patient to adopt him and make him feel safe. He is a good-natured, healthy boy who was very helpful with his nieces and nephews when they were small, and could often be seen guarding them or bringing his sister food. Petcatso weighs about 9 pounds, and has been neutered by TAGS.
THE KITTENS
Littlebit: Named simply because this sweet faced boy looks a little bit like his mama. Littlebit is very playful with his siblings and on his own. His markings are so similar to his mama…except for his belly, he has little polka dots! A-Dor-A-Ble. Littlebit is a touch more cautious than the others but is so sweet and playful. He loves the little stuffed mouse and can often be found curled up under one of his siblings when sleeping.
There are 3 white kittens, all very similar at first appearance.
Wilson: He has a significantly darker patch of grey on top of his head. It reminds his rescuer of the volleyball when dressed up from the movie "Castaway" with Tom Hanks, so Wilson became his name. He is so playful…and wait until you hear him purr! Wilson and his brother Littlebit are the two boys. Wilson seems to be the most trusting and the 'lead' kitten. Always the first one to come when Talia calls.
Pinky: This shy girl got her name mostly because her nose is significantly pinker than the other three white beauties. She is so playful with her siblings. Even though she is more shy than her siblings, once she is in your arms she settles right in. A little snugglebug, she nestles into your neck and just loves the love.
Frenchie: This kitten has a similar light grey "U" shape on her head, however it extends onto the forehead with two other smaller patches. It reminded her rescuer of the stand of the Eiffel tower, so Frenchie is her name! This girl is a bit of a follower and goes along with whatever her litter mates are up to. She seems a bit frightened and tries to spiderman her way out of your arms….until she scoots her sweet face into your neck and curls up just below your shoulder. There is no other way to describe this sweet girl other than…lovely, just lovely.
<> <> <>
 Apply to ADOPT a kitten or cat at
https://animalguardian.org//…/adoption-applications/ 

Apply to FOSTER a kitten or cat at
https://animalguardian.org//how-to-help/foster/
See MORE PICTURES of Talia's kittens HERE.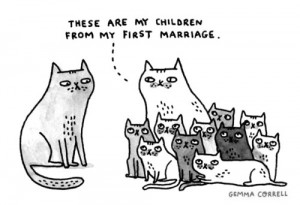 ---
---