Why I Volunteer: Courtney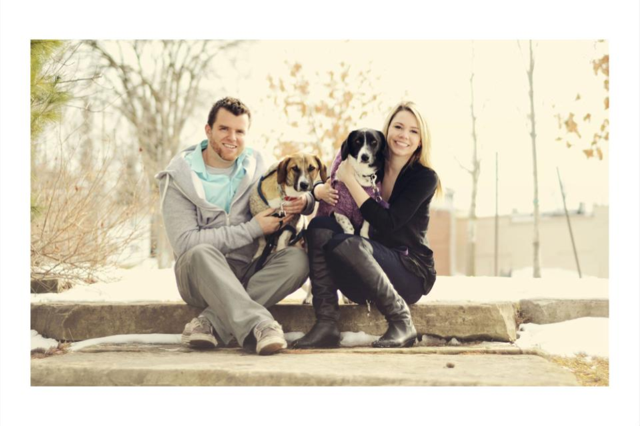 Courtney began volunteering with TAGS in the Fall of 2012. Since then, she has volunteered her time by coming up with several amazing fundraising initiatives, taking shifts at PetSmart and Pet Valu, doing home visits, taking pictures and writing content for social media, and, on top of all of that, she is a full-time foster parent. Read below to find out more about what keeps Courtney engaged in the world of rescue. 
When my boyfriend and I first started discussing bringing a dog into our home, we would have never anticipated that we would end up adopting two dogs, bringing eight consecutive foster dogs into our home, or spending many hours as active volunteers, strongly advocating for rescue dogs.
Our initial interaction with TAGS was at PetSmart, where my boyfriend and I went to meet a litter of three adorable, four-month-old, Basset Hound/ Border Collie mixed puppies.  We spoke with the TAGS volunteers about the program, and I remember being shocked to hear that thousands of highly adoptable dogs are euthanized every year, due to the haunting truth that there is simply just not enough space for them in shelters.
Being much more informed, on went our journey, and we ended up adopting two puppies from the litter, Chappie and Blossom (in picture above).  While going through the adoption process, we spent a lot of time speaking with Chappie and Blossom's foster mom, and quickly realized that she was inspiring us to make a life change.  After meeting her for the first time, I remember driving home with my boyfriend and having a discussion with him about how enlightening it was to meet someone who was helping dogs out of the goodness of her heart.  We discussed how it is not often that you see someone give up so much of their time, solely for the well-being of another.  She made us question the way we were living our lives, and made us want to give back and do something for others.
Any volunteer work I have ever done has been rewarding, but none more than fostering.  A lot of people think that they cannot foster because giving up the dog to a new home would be far too difficult.  I too felt this way before I understood the extent of how badly another dog needed the space in our home.  It is also beyond rewarding to see the dog you spent time fostering in a loving forever home where they are happy.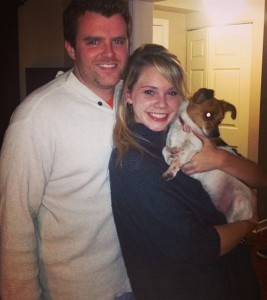 With Diesel when they were his foster parents.
Fostering also brings out the best in our dogs.  Often the dogs that come into our home are frightened.  Being the confident dogs that Chappie and Blossom are, they can quickly help bring a dog out of their shell.  I can think of one foster dog that we had, who had completely given up on a walk, and curled up into a ball on the gravel.  Chappie and Blossom trotted over, gave a few kisses for confidence, and the foster dog got up and rejoined the pack, feeling safe again.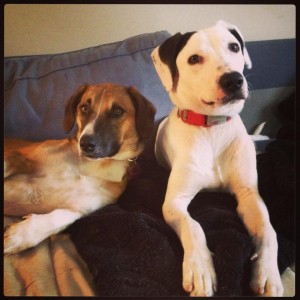 Chappie and Snoopy.

Bringing a foster dog into our home also teaches our dogs to become better canine citizens.  Bringing a new dog into our home helps our dogs socialize.  They constantly need to share their toys, home, and parents with the "newcomer."  They get used to dogs of multiple personalities, shapes, and sizes.  Whether they are large or small, outgoing or shy, our dogs learn to adapt.  I recently read a book that said the intelligence of a dog is measured by their adaptability. So I guess I can say that fostering helps make Chappie and Blossom smarter.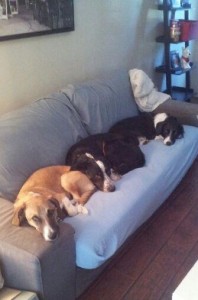 Chappie and Blossom share the couch
with their foster brother Weston.
I am incredibly thankful for a supportive family, and for two remarkable dogs, who are as much a "foster mommy" and "foster daddy" as we are.  I encourage anyone passionate about helping rescue dogs to get involved in one way or another.  I promise it will be filled with many positive experiences. I heard somewhere once that volunteering will give you far more satisfaction than earning money from a second job. Volunteering feeds your heart and soul, and this is something that money cannot buy.
> > Find out more about how YOU can become a foster parent for an adoptable cat or dog on our website. We can't rescue these animals without foster parents like Courtney and Ty. 
---
---