Once upon a time, in a town not so far away, a dirty, thin, black-and-white cat was found wandering around in someone's garden.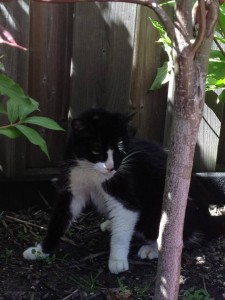 Townspeople flocked to the scene to have a look at the magnificent animal with piercing green eyes, wondering how it came to end up in this particular garden on this particular day.
"Perhaps it is just visiting, and will go home soon" said one gentleman.
"I think it probably got out undetected! We should look for the owner!" exclaimed a lady.
"Yes, but it's so dirty and thin, why hasn't anyone been by to look for it?" pointed out another onlooker.
"MAYBE IT IS A SPY!" shouted a little boy.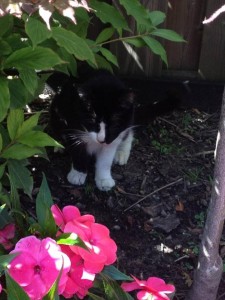 After many more ideas were tossed around, the townspeople decided to hold a meeting to decide what to do about this little creature. Since everyone in the entire town was in attendance, as they are in tales like these, it was clear the furry feline was not being missed by anyone in particular and could not simply be returned home. (It still remains unclear as to whether the feline in question is a spy or not.)
Therefore, they decided to focus their efforts on finding a new home for the feline, because life in a garden, while it has some perks, would surely not do once the weather turned cold.
The townspeople realized that they would need to learn more about this creature before they could find someone to adopt it, so they consulted an expert – the town's veterinarian.
One of the town's kindest beings (aka a KB) was chosen as the person who would retrieve the cat, who might be easily frightened. Even when the KB saw the creature up close, it was difficult for her to tell if the cat was male or female, old or young, or healthy or unhealthy.
Nevertheless, one thing was clear: this kitty once knew love! The puss immediately brightened upon contact, clearly thrilled to finally have someone give them head scratches.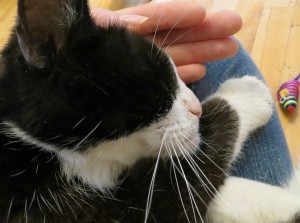 The KB graciously said she would allow the cat to live with her temporarily while the townspeople looked for a forever home. She also stepped up and said she would take the kitty to the vet on behalf of the townspeople. At the vet visit, many mysteries were solved, and a lot was learned about the feline.
The cat:
+ is female
+ is about 11 or 12 years old
+ has been spayed
+ has only four teeth
+ has a heart murmur (stage 3 of 6)
+ has a swollen lip (cause unknown)
+ is not micro-chipped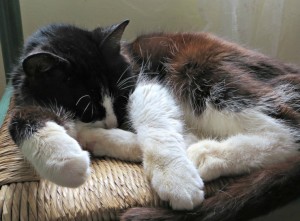 Once it was revealed that the kitty was dealing with some medical issues, the vet and the KB saw to it right away that she have a makeover. To lift her spirits, she was immediately given a bath, got her fur brushed, and had her nails done.  Then, she was treated for fleas, given an injection for her swollen lip, and had her urine tested. Not all aspects of the makeover were glamorous.
The KB took the kitty home, where she continued to learn about her as they got to know one another. Although she only has four teeth, the puss has a hearty appetite and will eat dry food mixed with wet food without any fuss. She loves attention, and is very loving. She enjoys lounging around and relaxing in her bed for many hours of the day. She doesn't mind being picked up and has no issues going into a carrier. Sometimes she has trouble with her back legs when she jumps up or walks quickly, a situation that will be investigated by the vet shortly. It doesn't seem to bother her, but it does look awkward and the KB wants to make sure she is comfortable during her stay.
Another thing the KB noticed was how the kitty's dark fur patches seemed to take on a brownish red hue in the sunlight!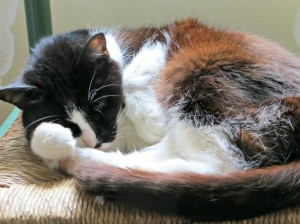 Now that they had become acquainted, the KB knew it was time the puss had a name! The KB wanted to call her something that would suit her gentle, friendly personality, and also something that would symbolize the journey she was on as a stray cat looking for the purrfect forever home.
And then, she had it!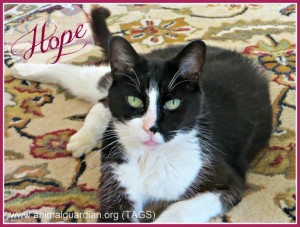 Hope. Hope would be the perfect name for this friendly cat who once knew love but somehow found herself lost and alone. The perfect name for a feline whose odds of being adopted are stacked against her due to her age and existing health conditions. The perfect name for a puss who had the good fortune to find herself in the care of a KB while she waits for her happily ever after…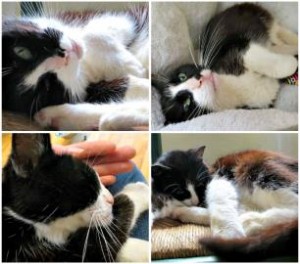 To be continued…
<> <> <>
Help Hope find her happy ending by sharing her story and her bio with your friends and family! She is up for adoption on our adoptable pets page for $100.
---
---