Where Do TAGS Dogs Come From?
Many people ask "Where do you get all of these dogs?" The easy answer is the pound. However, to be more precise, TAGS dogs come from one of three places (in no particular order): owner surrenders, local pounds, and shelters or pounds in the United States.
However, before we can welcome a new dog into the program, we have to make sure we have an open foster home. Since TAGS does not have a shelter, we must have an open foster home available to have a place for the dog to go.
Owner Surrenders – These dogs already have homes, however they are looking to be re-homed into a better situation.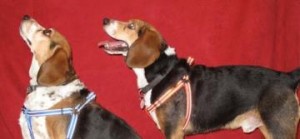 Cheech and Chong had an owner for the first 7 years of their lives. Unfortunately, he can no longer take care of them and instead of abandoning them at a shelter, decided to see to it that they found a good home through rescue. 
Local Pounds – We often get phone calls or emails from a local pounds saying that a dog is "available" for rescue. While many of our dogs come from the Whitby Animal Control, we also get calls from throughout Ontario, including Windsor Humane Society, Quinte pound, Sudbury and District pound, and finally, Clarington pound.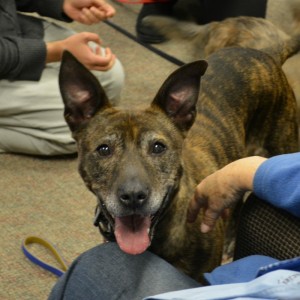 Brandy was abandoned at our local pound and is now in the
TAGS program waiting to be adopted. She's a lovely, settled girl
at 6 years of age and loves people. 
United States – The third source of TAGS dogs are shelters and pounds in the United States, usually Tennessee or Kentucky. However, this is happening less often as a result of stricter rules at the border: The new rules require you to have a commercial license to bring a dog under 8 months old over the border.

Riley is a relatively new arrival to TAGS. This energetic 3-year-old is a boxer mix who we rescued from a shelter in Tennessee. She's beautiful inside and out and will make a great addition to a family once she gets adopted.
Many people believe TAGS should be committed only to pounds in the Durham Region. TAGS feels that if we have an open foster home, the location of the dog should be irrelevant. Another reason for saving from Tennessee and Kentucky is the method of euthanasia in those states is gas chamber, a particularly primitive method, especially when we have an open foster home available.
The unfortunate truth about rescue is that there are always more dogs available than there are places to put them. However, the more foster homes we have, the more dogs we can save.
If you would like to open your home and your heart to an animal in need of a foster home, please read more about our foster program and apply online.
[This post was written by one of our volunteer bloggers, Nick Iordanis]
---
---