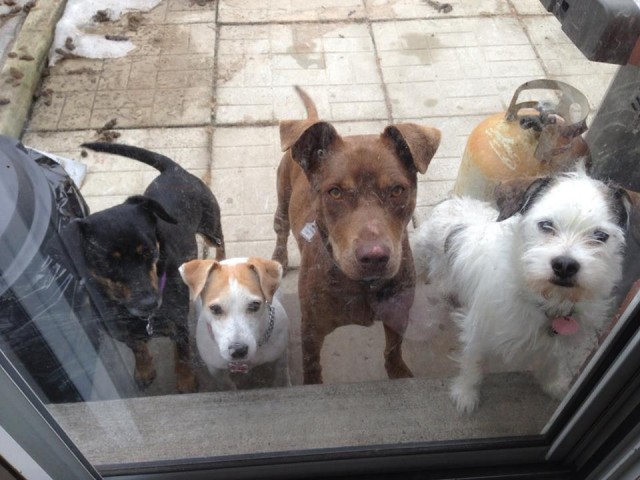 Pictured: Samantha with her foster siblings.
Samantha is a two-year old Doberman mix who weighs approximately 40 pounds.
Samantha has had a lot of ups and downs in her short life, and through them all she has emerged as a survivor: Samantha was hit by a car last year in Tennessee where she was living before she came to TAGS. A nearby shelter was called to come and pick her up, and they just knew she was worth saving because of her spirit and strength. (This is the same shelter where we have gotten lots of our other rescues from, such as recently adopted dogs Pretty Girl, Gage and Addie).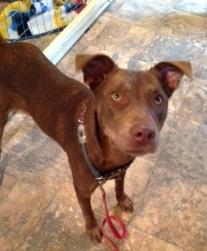 Samantha underwent water therapy where she made rapid improvement and lived in a foster home that was patient with her as she slowly built up her muscles again. Today, she is a healthy, active dog again! She can walk, run, and play. She loves learning and knows "sit" and "down." Due to her injury, every now and again when she gets excited her back leg will kick out, sort of like she's doing a jig! It doesn't slow her down one bit, physically or emotionally: a representative from the shelter in Tennessee says she is the happiest dog she has ever met.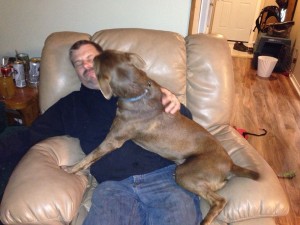 Now that she's living in Canada in a foster home, her foster mom can say the same thing. Samantha loves to give kisses (see above), loves walks and gets along very well with her foster brothers and sisters. She has a great time playing with them (see video), eating with them, and just hanging out.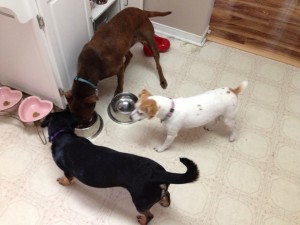 Samantha's foster siblings watch closely
to see if she'll drop a piece of kibble!
She also likes her human foster brother an awful lot as well, and after just a few days in her foster home she braved going up a flight of stairs just to be with him. This shows how quickly she can bond with new people, and how strong her muscles have become!
Samantha would also love to play with cats too if they would let her. Samantha is a beautiful dog inside and out and really, truly deserves a family of her own so she can finally settle into being a dog!
---
---