What Do Pizza & Skulls Have In Common?
...nothing really, except that they are both related to exciting events coming up next week! 

First up, we have our Boston Pizza Celebrity Server Night on Wednesday, March 19. All you have to do to support TAGS is come to Boston Pizza (Taunton/Garden in Whitby) between 5:00p.m. and 8:00p.m,. for a great meal with your friends and family, and leave your food receipt in the box when you leave. TAGS gets 10% of the total bill, excluding alcohol.
Some of our amazing volunteers will be working alongside the Boston Pizza servers to help. We can't wait to see you and meet some of our supporters.
Extra bonus for Toronto Maple Leafs fans: They take on Tampa Bay Lightning at 7:00p.m.!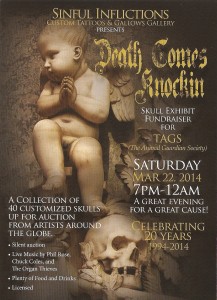 Then, on Saturday, March 22, join us at Sinful Inflictions in downtown Whitby. Jason Stieva, the owner of the award-winning tattoo parlour, is hosting "Death Comes Knockin,'" a skull exhibit fundraiser. He has generously decided to donate all proceeds to our organization. It begins at 7:00p.m. and ends at midnight.
This will be a collection of 40 customized skulls up for auction from tattooists & artists around the globe. Each artist will bring their own unique style to their one of a kind creations. There will be a silent auction – The skulls will have a starting bid of $150 and go up in $25 increments.The exhibit will be on display for two weeks afterwards finishing on Saturday April 5th.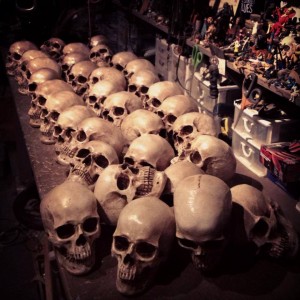 (Above) Skulls before they were sent to artists to be decorated.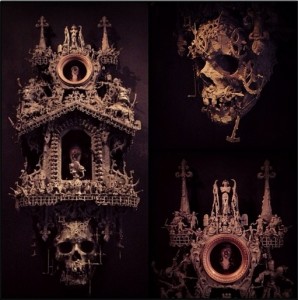 (Above) Jason Stieva's completed skull sculpture.
There will also be live music from The Organ Thieves, plus opening acts by Chuck Coles and Phil Rose. The exhibit will be licensed with plenty of food catered by Los Cobos Cantina & Grill in Whitby.
<> <> <>
Thank you for your support.
We can't wait to see you next week!
---
---