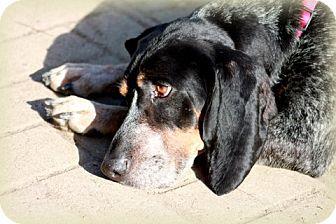 *Molly is listed on our website as a courtesy post. She is with Coonhound Rescue.***
Hi!
I'm Molly. I am an 8 year old lady looking for a home. I am a Bluetick Coonhound, (possibly mixed with Hound) from Ohio. I am spayed, house-trained, up to date with shots, good with kids, good with dogs, and good with cats. Basically, I am happy to be around anyone who shows me kindness. I am pretty much the perfect dog, but I do have some medical issues and special needs, which you can find out more about by reading my story.
I haven't had an easy life, you see. I used to live chained to a doghouse surrounded by filth, with only a few pieces of straw for a bed, permitted off of my chain only occasionally to hunt. Now that I'm 8 years old, it seems I have outlived my "usefulness." Despite how I was treated, I was always loyal to my owner by being a good dog and doing what was expected of me. Unfortunately, because of my age, I became a burden. I tried my best to keep being a fast dog, one who could stick with a scent until the end, but my energy levels have lowered. I still get spurts of energy, but it's not the same as when I was a younger pup.
Before I knew it, I was at risk of being shot or perishing (as others had) through another frigid winter. The night the volunteers brought me into rescue, I had to be rushed to the Emergency Vet because I had been neglected for so long and had developed many health issues. With the determination and dedication of volunteers from the Mid Ohio Animal Welfare League and the Ohio Lurcher Project, I pulled through. My parasites were treated; I gained enough weight to be spayed, received my vaccinations and microchip and had my lumps and bumps removed. Unfortunately, the vets determined that one of my lumps was malignant and it was removed entirely. There is no evidence that the disease has spread at this time.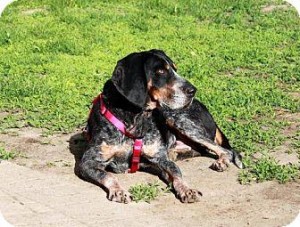 In foster care in Ohio, I warmed the hearts of everyone I met. I have been doing the same in Ontario! This is what my foster mom has said about me: "Her tail wags in circles when she hears the sound of her name spoken with kindness and love and she just basks in any attention and affection shown her. She'll gently place her paw on your lap for just a little more TLC. Molly has been wonderful with other dogs and cats and all of the new people she has met. She quickly found the comfiest spot on the couch too. She is great in her crate at night and has had no accidents in the house. True to her background and breed, Molly LOVES her food – and anyone else's! She never guards or growls, she just has no sense of personal space and tries her hardest to convince you to share. Molly is a gentle and sweet soul so deserving of the good life: a family of her own who will love and care for her, a warm bed and nutritious food; regular veterinary care and the opportunity to socialize with other dogs in the freedom and safety of an enclosed yard."
I am looking for a family who is kind, compassionate, and loving, and won't settle for anything less! That is because I feel I have been very patient, waiting for my life to make a change for the better. I hope that time is now, now that I have been "rescued."
Anyway,that's me. Thank you for reading my story today! If you or someone you know would like to adopt me, they should contact Gentle Jake's Coonhound Rescue.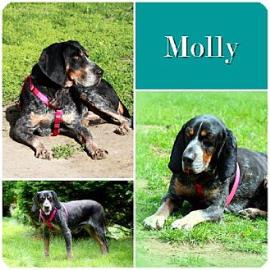 ---
---