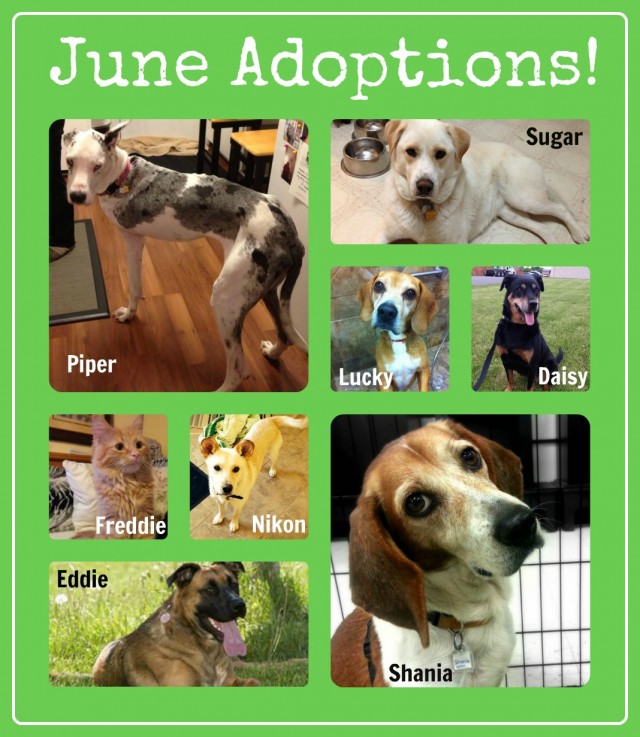 June was a great month for adoptions.
Congratulations to all of these pets and their new pet parents! 
Piper is a three-legged Great Dane who stole the heart of her adoptive mum as soon as they met. She is spoiled rotten there, where her special needs are understood and accommodated for.
Freddie is an adorable, spunky young guy who loves to play with his new mom. To secure his place at his new home, he was sure to be friendly and respectful of the resident senior cat Snowball.
Nikon is a 2-year-old Shepherd mix weighing less than 40 pounds! He is very smart and gets along with anyone and everyone.
Eddie is a big love bug. He was up for adoption for awhile, waiting for the perfect family to come along. Now that they have, his love knows no bounds! (Literally. This guy thinks he's a lap dog sometimes!)
Sugar is a lab mix who loves to hug and play. She's easy going and up for doing whatever her new family wants to do!
Lucky is an outgoing Beagle mix rescued from a local pound the day after St. Patrick's Day. He is smart, adorable, and quirky. His new family would have adopted him sooner, but they were waiting for their backyard fence to be built. This beagle boy needs to be contained or who knows where his nose will take him!
Daisy is a senior Rottweiler mix rescued from Quebec. She quickly and effortlessly convinced her foster parents that she was already home, so they adopted her.
Shania finally found a home! This senior girl has been waiting for quite some time with not that much interest, but fortunately a family who has previously adopted from TAGS decided she would be a fantastic addition to their family. We are so excited for this shy senior lady. Yay!
Note: Unfortunately, although Samantha's adoption was previously announced, she is not included in the above picture. The family decided that she was not the best fit for them after all so she is once again in foster care at TAGS. However, for those of you who were interested in adopting this courageous, good-natured survivor, she is now available on our website again!
+ + +
Find your next furry friend on our ADOPTABLE PETS PAGE.
It is always changing.
We currently have cats, dogs, kittens, puppies…
…big breeds, medium breeds, long hair, short hair…
you name it, we've probably rescued it!
---
---