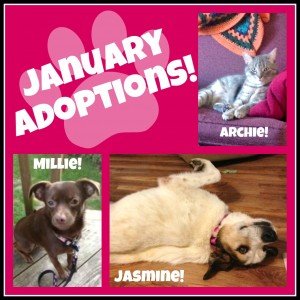 Archie has gone to live with a man and his young daughter. They came to meet Archie at Pet Valu Kendalwood because a friend of theirs, who is a volunteer with TAGS, knew they were looking for a new cat and thought Archie would suit them perfectly. She was right! They liked Archie right away and the little girl couldn't stop petting him.
Millie is a happy, bright little girl who loves walks and car rides. She is very friendly to everyone she meets! Millie is so wonderful, she became what they call a "foster failure." Her foster family loved her so much they couldn't bear to part with her,so she became a permanent member of the family.
Jasmine's adoption was very special. Not only was she our first adoption of 2014, but she's also a senior at 8 years of age. Seniors typically have a hard time getting adopted so we are thrilled for her! It is also special because she joined a family who have been looking for their first dog for quite some time. They practiced for the day they would have their very own dog for months by offering to walk the neighbour's dog, and dog-sitting for their aunt. When they met Jasmine during a PetSmart shift, they all liked her instantly because of her gentle manner and soulful expression. "You don't have to convince me," the husband said repeatedly.
<> <> <>
Congratulations to all three of our adopted pets and their new families! Visit our Adoptable Pets page to see who else is looking for a home.
---
---