Have a Howl This Hallowe'en!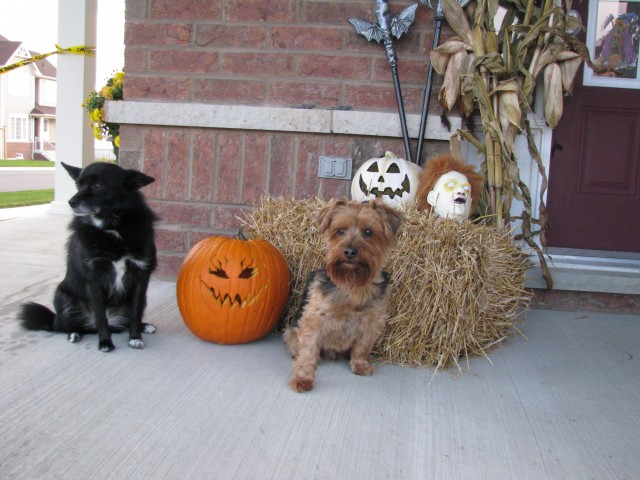 By Nomi Berger
Is it the sudden appearance of a smiling pumpkin on every porch that elicits that first startled "ah" of recognition? Is it the toffee-toned moon split by a band of black clouds that causes that first, shivery chill of remembrance? Is it the lengthening shadow that you yourself cast on the sidewalk that resets your mindset to recall?
Opt for any or all of the above, and the diagnosis is obvious: a clear case of Halloweenitis. Or in people speak: you miss Halloween. Most mature adults have, for years, cloaked this chronic condition in secrecy, with only occasional lapses. Like the impulse purchase of a bag of black and orange jelly beans or a hasty scoopful of candy corn.
Lately, however, like the teeming street scene in Michael Jackson's classic video "Thriller," all of you wannabe werewolves and witches, goblins and ghouls have been freed to face the musical limelight. Secure in the knowledge that there are hundreds of thousands of former trick or treaters who suffer from the same annual affliction.
With hundreds of websites devoted to the subject of human Halloweenism, is it any wonder then, that prescient providers of pet-themed products have carved out a giant jack-o-lantern sized slice of the pumpkin pie for themselves? Everything from specialty online stores to opulent pet boutiques and pet store chains now offer costumes, sweet and sassy, silly and scary, to discerning pet parents everywhere.
From "A" as in angel to "Z" as in zombie, select any letter of the alphabet, and you'll find a treasure trove – both virtual and real — of costumes, complete with accessories to clothe and cloak your dog. According to some pet store surveys (yes, there are pet store surveys now), the most popular costumes are pumpkins – no surprise there – and bees. Is that "B" as in … bee?
And since all costumed canines need an appropriate setting to strut their sartorial stuff, what better place than a party? Not just any party. One devilishly designated a Howloween party! When competing, hound-happy hostesses turn spectacular into spook-tacular and invite their human friends along with their canine companions to a fabulous fright night they'll never forget. When all of the pet parents suffering from Halloweenitis can live vicariously through their own dolled-up doggies by playing chaperone – not to mention second fiddle.
If there's a cottage industry for costumes, there's a profusion of pet-specific services ranging from party planners and photographers to pastry shops and paper products. Specially inscribed invitations are snail mailed — not emailed — early to be assured of snagging the doggie A-list for the requisite hour allotted to these doggie dos. Why an hour? Because even the most decked-out diva and gorgeously-garbed guy will grow pouty and have to potty after that.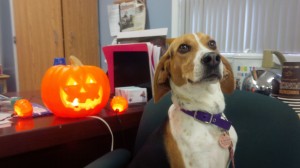 Izzy!
The simplest of decisions is the color scheme. Whether fabulous or functional, ordinary or ornate, it's down to basics: black and orange. From ceilings swathed in banks of inky helium balloons and walls awash with hanging cobwebs to floors patch-worked with carob cemeteries pierced by rawhide tombstones, ghoul must rule.
To keep canine chaos to a muted minimum, the only game in town is that good old-fashioned parlor game of bobbing for apples. But with a good-natured nod and a wink at today, a slight twist has been added: bobbing for frozen hot dogs or even tennis balls.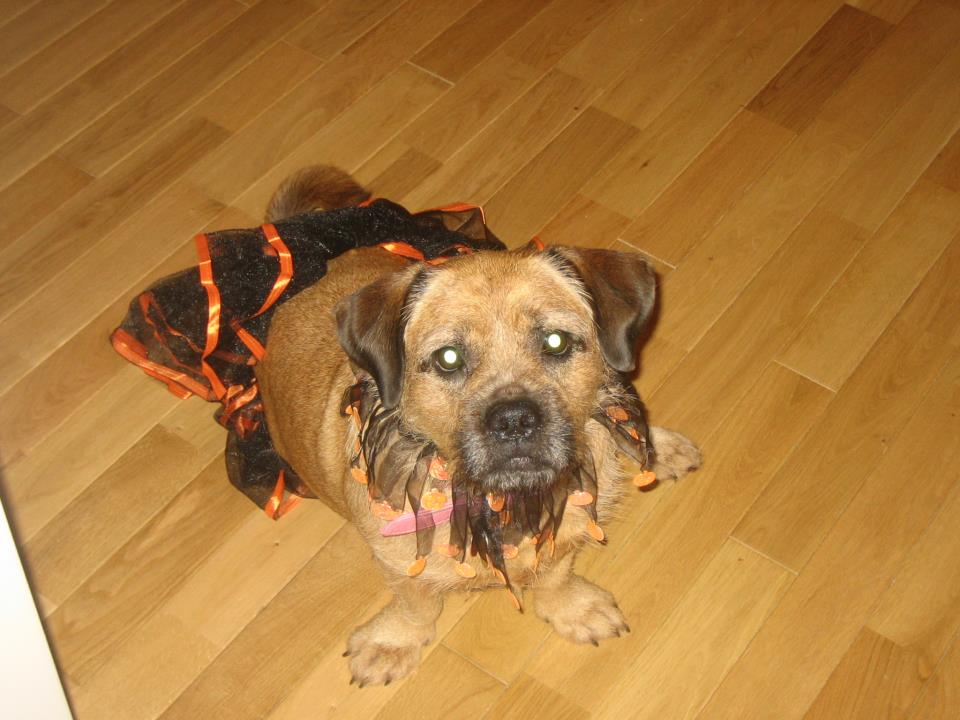 Tasty treats abound in Howloween-themed doggie bowls thoughtfully set at intervals on stools of varying heights. Cookies carved and glazed as witches and pumpkins, cats and brooms, skulls and bones. Frozen yogurt cupcakes and mini orange juice pupsicles, chilled blackberries and cantaloupe balls.
Then, precisely at the witching hour, as costumes wilt and canine manners fray, the Howloween hostess of the hour ensures that none of her partying pets leave empty pawed. To each departing chaperone, she hands a cellophane wrapped and black beribboned doggie bag bulging with Howloween treats. With a knowing wink and the admonition, "for canine consumption only," she opens the door and the ghosts of autumn present are released into the night.
When asked what the chaperones do while their costumed companions are having a barking good time, one well-heeled celebrant is known to have replied, "We stand around swapping stories about our dogs and why we love them so much. These events allow us to celebrate the community we have with other dog owners, who understand and share the bond we have with our dogs."
Because when the balloons deflate, the costumes are discarded and the last treat is devoured, what remains is what matters most: a love that needs no garnish.
---
---