Hope's Happily Ever After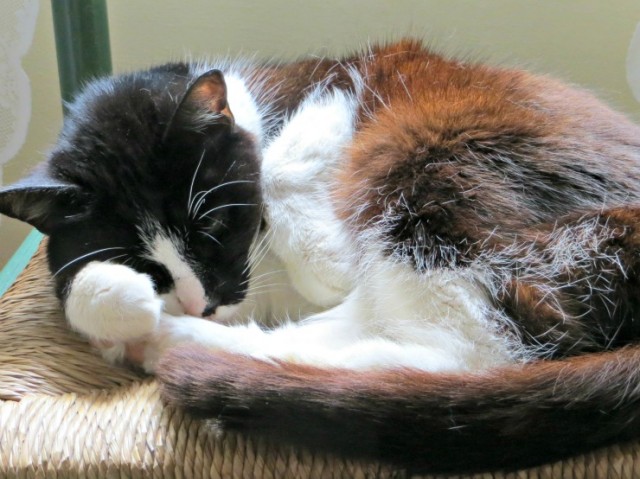 Once upon a time, in a town not so far away, a cat wandered into the
right garden at the right time. The cat was thin, unhealthy, and
evidently, homeless. But things were about to look up, way up.
(Before you continue, be sure to read about the first
part of her journey in A Tale About Hope.)
<> <> <>
Now that you are caught up, we are ready, and excited to share, the end of Hope's tale.
Hmm, now let's see, where did we leave off? Right, Hope was getting comfortable in her foster home and had just been gifted with her name and a comfy bed of her very own…
Hope loved being at her foster home, and immediately took to being an inside cat. In fact, she liked it so much it's likely she was an inside cat for many years before she ended up in the garden.  She spent her days enjoying the sunlight from the window and playing with her foster mom.
Unfortunately, Hope went through a few tough times, despite the fact that she was now being cared for. After a visit to the vet it was realized that Hope had some pretty serious health concerns, and would need medication. Being the calm girl she is, she took her medicine without much fuss. At 11 years of age, it's evident that Hope will always be a pet with medical needs, but if she continues to take her medication and be well cared for, she will live out the rest of her days happily.
While in foster care, Hope visited a few pet stores so that she might meet someone interested in adopting her. Her chances were improved by the fact that it was Adopt a Senior Pet Month, but due to her health issues and age, it wasn't looking like Hope was going to be adopted any time soon, and her foster mom, KB, began to wonder if Hope might live out her days with her instead of being adopted.
However, where there is Hope, there is faith, and where there is faith, miracles happen.
One day, a woman, we will call her NL for "Nicest Lady," messaged a TAGS volunteer and said she had a hole in her home, and in her heart, that she believed would best be filled by rescuing a cat. She had previously adopted a dog from TAGS to be friends with her other dog, but now she wanted to add a feline to the mix.
NL's message said she wanted to adopt a cat, specifically an older one, who may be having a hard time getting adopted. She said she had noticed Hope on the website, and liked her, but her one stipulation was that the cat would have to be ok with living with dogs. Other than that, NL was willing to adopt whichever cat needed her love and care the most.
The offer NL made was so wonderful, so thoughtful, that the KB and the other townspeople interested in Hope's well-being immediately sprung into action. Not too long after she sent her message, NL was able to meet Hope, and have her come stay with her for a little while. It didn't take long for the decision to become final: "She is a wonderful little soul and we are keeping her. The dogs are very intrigued with her. She is a bit intimidated by them but she will come around. Her windowsill is in her dining room 'cave.' It has only been a week, but I love this kitty."
It has been about 2 weeks since Hope went to stay with NL, and that love has only grown.
Congratulations Hope! Enjoy your happily ever after.
The End.
---
---