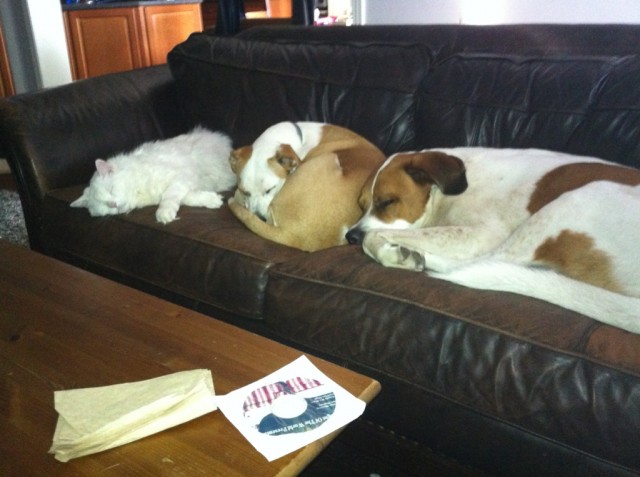 Willow was adopted in March 2014 and has been having a great summer with her new family. Recently, her new parents Christian and Daniela gave us an update about how she's doing.
Our 'first born' dog, a male Newf (Rexxor) passed away in February 2014 at the unfair age of a few months past 6 years and our St Bernard/Hound (Hondo) mix who grew up with him seemed to age quite quickly over the next couple of weeks.  We decided we had to find a companion for him as soon as possible, though we knew we would never be able to completely fill the hole Rexxor's passing left.
Originally we were looking at some of the larger dogs available on the TAGS site but, after we discussed our situation with them by e-mail they suggested we meet Willow, a much smaller Cattle Dog/Beagle who looked a bit like Hondo's little sister might.  We are not the most energetic people and were a bit wary of this mix as one of the main reasons we had big dogs in the first place was because we wanted mellow fellows who wouldn't need tons of walking/play time.  We're more the cuddling sort 🙂
We decided to meet Willow anyhow since we figured the TAGS people we were chatting with knew what they were talking about and since we were relatively new to having dogs we figured we should be open to  any breed.  The meeting went very well as she was very gentle and immediately rolled over and showed Hondo her belly.  Hondo was very aloof and distant, as was generally the case those days.  We figured he was still mourning so we set up a home visit to see how it would go.
Willow was still relatively gentle when she had free rein in the house but, she did push Hondo to play and he grumpily semi-obliged her.  We thought to ourselves that he really did need a good shove to get him back to his happier/more energetic self so more and more we started to warm to the idea that Willow might fit perfectly.  On the down side she was a bit too interested in our four cats and at the time, our senior kitty (our 'first born' cat) had cancer and we were just trying to keep her comfortable for her last few weeks.  Regardless, we decided to proceed to the extended visit with Willow.  She would occasionally chase the cats and if the cats were sleeping at a height she could get too they usually got a belly full of sniffing snout.  However, even when the cats swatted or grabbed her face and nipped her she would only gently pull away, there was clearly no harm meant.  We decided to try one more week since it seemed the cats were getting used to her and were more annoyed than actually scared.  While she did continue to be a bit annoying, we also started to see her sleeping next to each of the cats at different points and the cats seemed quite comfortable with that.
TAGS was great about letting us have those 2 trial weeks and in the end we decided to keep Willow.  At this point she is doing great.  She sleeps in our bed every night next to one of our cats.  When it's obvious we are finally done hitting snooze she will crawl up onto us and give us kisses and then a big yowly yawn and stretch before she chases her pal Cheetah downstairs, this seems to be the deal they have worked out.  She rules our house and grooms Hondo and he seems fine with that.  She pokes and prods him to play several times a day and it seems to be exactly what he needed.
He is much happier, more energetic on walks and generally more outgoing with people and other dogs.  Willow apparently also rules the day care we take them to a couple of days a week and is described as 'a very clear communicator with the trouble makers and very maternal with the young pups.  We have since started fostering an un-neutered male newf for Newf Friends as well and while Willow was a bit upset and in his face at first, two weeks later they get along great and play chase throughout the house and the park.  All of them love the water and the competition to save drowning sticks is fierce fun.  While we still can't trust Willow to not chase skateboarders or squirrely/bunny type animals she has otherwise proven that a cross of two very energetic breeds can still fit into a mellow household quite well.  She has been a life-saver for Hondo and a revelation for us.  Thanks TAGS!
---
---