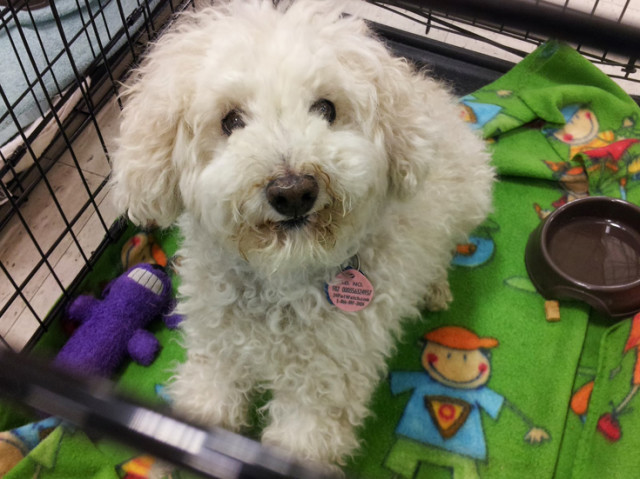 Quincy is a 10 year old Bichon Frise/Miniature Poodle mix. He was found as a stray with very rotten and damaged teeth, so the decision was made to have them removed. Quincy seems to be happier without them, but this "difference," along with others, made it difficult for him to find a home. Luckily, after being in the TAGS program for over six months, he was adopted by Sandra and family in March 2014. 
You are a volunteer and foster parent at TAGS, but Quincy wasn't even your foster! So how did you come to realize you wanted to adopt him?  
The answer is tied in with how I first became involved with TAGS. I was looking to adopt a dog and my kids suggested a rescue. I'm a relatively new to dog ownership. I've owned a couple of breeder supplied dogs over the years and felt confident at this stage that I could handle a rescue. Although there were several wonderful dogs on the website, I didn't see exactly what I was looking for. As I kept reading I became aware of the great need for foster families. I thought, what a great opportunity to "try out" other breeds of dogs to see what is a good fit, while at the same time helping out dogs in need. So I applied, and we welcomed Peachie into our home three weeks later.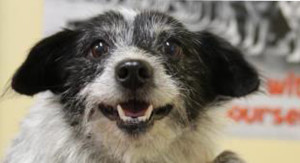 Peachie
I first met Quincy at PetSmart as I was dropping Peachie off for her showcase in the store. I noticed Quincy right away. He was adorable, if a little bigger than I was looking for. I'd seen his profile and knew of his special needs. I thought, if only he were a bit smaller and less intimidating to Murphy, my 10 pound Havanese, who was more comfortable around other small dogs. But after I left, Quincy kept tugging at my heartstrings. I canvassed friends and coworkers to see if anyone could take him. I even had one friend eager to apply, but she lived outside the boundaries that TAGS operates within (Durham Region) and didn't qualify.
Did you apply for any other dogs? 
I didn't apply for another dog, just kept taking in foster dogs. And each time I'd take them to PetSmart, there Quincy would be, smiling back at me from the poster board of adoptable pets. He was still waiting for his forever family, one willing to take on a dog with special needs. Not that I felt his needs were all that special.
Quincy is a special dog, because he's a senior and he doesn't have any teeth. Did knowing this affect your decision to adopt him (i.e. did it make you WANT to adopt him, or was it something you had to consider before officially taking the plunge?)
Quincy's special needs didn't affect my decision at all. He was just larger than I wanted. But as I watched family after family pass him over because he had a nervous tic and no teeth and happened to be a wise old guy, I began to get offended on his behalf. I had Tourette's as a child and my son has it now. We both still have nervous tics. Trust me, Quincy's pale in comparison. And no teeth just meant no dental bills at the vet, a bonus as far I was concerned. Over the months I'd come quite attached to him, though I hadn't seen him in person since that first day at PetSmart. Then I saw a photo of Quincy freshly groomed. He looked so much smaller! I started making inquiries. He was still bigger than I thought I wanted, but so were some of the foster dogs I'd taken in so far and Murphy was fine with them. In fact, he was quite tuned in to their sometimes emotional transitions and made allowances for it in how he treated them. He's an alpha dog, but he immediately responded to Peachie's trembling fear by backing off and letting her take the lead at first. I started to wonder what I was so concerned about. So I sent in the email and the rest is history.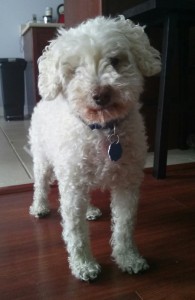 What were Quincy's first days with you like? How is he doing now? 
Quincy spent a lot of time crying at first. It was difficult for us because one of Quincy's challenges is that he doesn't like to be touched. We had to figure out another way to provide comfort. And that was by giving him space. It was hard. It went against every natural mother's instinct I had. I just wanted to hug the little guy. But space was exactly what he needed, which eventually lead to trust. He came up to us and asked for a cuddle. For him that meant his standing and putting his front paws on our knees as we were sitting. Then he'd paw at our hand to get a scratch behind the ear. Just a short one, and we couldn't let it drift too far down his back or he'd get anxious and jump down. The first cuddle was so rewarding. He's still the same today – he has to come to us. But now he comes for cuddles all day long. ☺ Sometimes he'll even jump up in my lap for a 10 minute snuggle-fest. Those are the best.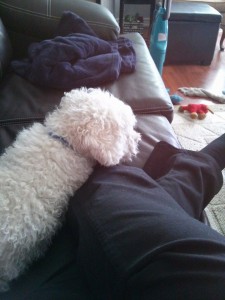 On that note, do Quincy's special needs seem to affect him at all?  
When I first took him in his foster mom recommend softening his kibble with a beef broth. But Quincy didn't want any part of it. Murphy eats regular old hard kibble and Quincy is determined to do the same. Other than understanding that Quincy's not a lap dog by personality (which pleases Murphy no end since his very favorite spot is in my lap) Quincy is like any other dog and that's how we treat him.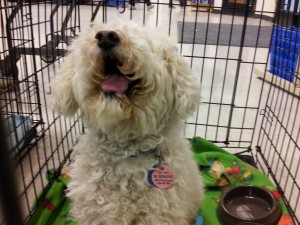 Quincy showing off his (lack of) pearly whites
Tell us some funny/quirky/endearing stories about him.
Quincy likes to sleep on his bed in the living room. He has the run of the house, though, and does his "rounds" every night as he comes up to say goodnight, He does a perimeter check of each room, right down to the closets and doesn't go back downstairs until he's assured all is well. If someone gets up for any reason he comes upstairs and herds them back into bed. I think he was a Border Collie in a past life. ☺
One of the funniest things about Quincy is that he hasn't quite grown into his legs. I know, he's 11 years old but he's like a puppy, all awkward and gangly. Sometime all four legs go out at once and he does a little belly flop. And he always has a look of surprise on his face when it happens. LOL I've added a few area rugs to help him get his footing,
I'm still taking in foster dogs. I can't tell you how proud I am of Quincy when yet another new dog comes into his home. He's cautious at first and takes a while to interact but then he's in there with the rest of them.
Any other facts or anecdotes about your adoption experience that you would like to share?
I'm forever grateful for the day it dawned on me that Quincy was the right fit for our family. I don't know why I ever let size be a factor. He's perfect in every way. Now I watch him take new fosters under his wing and show them the ropes. How cool is that? His confidence grows daily. Quincy teaches us about love, acceptance and courage each and every day.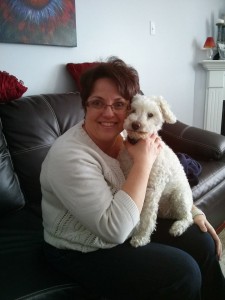 Sandra and Quincy
---
---