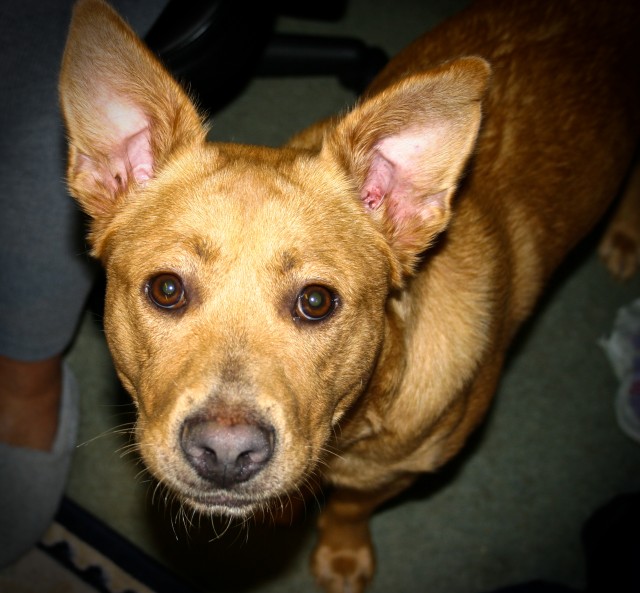 TAGS rescued Phoebe from a local pound back in the Fall of 2009.  She ended up at the pound after being found as a stray in Uxbridge. Phoebe is a mix but no one has ever quite figured out what she is a mix of! Her owner, Duncan Campbell, jokes that she's "part Lab, part…whatever."
Duncan's family had already been in contact with TAGS before Phoebe came along. They knew they did not want a puppy because they didn't want to go through the "trials and tribulations of training from scratch." TAGS had them in mind for the next dog that came along that fit their lifestyle and what they were looking for.
The thing is, when Phoebe was first rescued by TAGS, she wasn't ready to go to Duncan and his family right away because she was expecting puppies!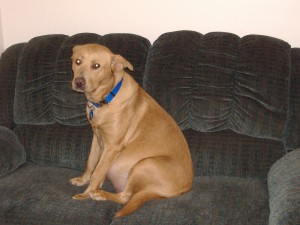 "Get these puppies out of me!"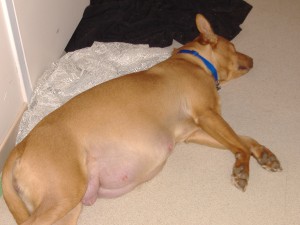 The night before the puppies were born.
Once Phoebe had finished nursing her puppies and they were all adopted, TAGS called the Campbell family. Phoebe was ready to officially have her fresh start.
When asked what made Duncan decide he wanted to adopt Phoebe, he said, simply, "I love all dogs. She seemed very much to want me as well." Now, over four years later, Phoebe still wants Duncan close by: she follows Duncan around all the time, watching him constantly.
Since Phoebe was adopted over four years ago, Duncan doesn't recall exactly how her first few days went, but he does remember the moment he knew Phoebe had accepted them: It was when she jumped into bed with Duncan and his wife.
Phoebe with her puppies! (October 2009)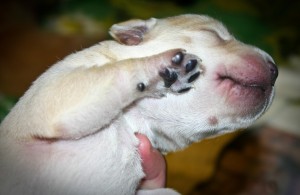 High-five!
In the time they've had Phoebe, Duncan has come to learn that Phoebe is very protective, and perceptive. He says there was one time a young man (a younger brother of an old boyfriend of his daughter's) who visited the house. Duncan recalls that Phoebe could tell he didn't like the young man very much. Duncan was on the porch speaking to the man and Phoebe would not let Duncan out of her sight. Moreover, she tried to stay physically in between them during the whole conversation. Phoebe also shows her protective side when it comes to Duncan's granddaughter, who lives with them.
Another interesting quality Phoebe has is her herding instinct. Duncan says he remembers many occasions where she has taken it upon herself to herd all of the other dogs into a group at the dog park. He says the other owners weren't always appreciative!
Phoebe also has very good hunting skills. Duncan remembers one time the family was in the back yard and two squirrels were on the back fence: "One made the mistake of poking her/his head through the fence instead of running away on top of it. Phoebe had it in an instant.  Not what I expected but she obviously had to be able to hunt to survive after being abandoned in Uxbridge."
Luckily, Phoebe doesn't try to hunt her furry friends: Phoebe lives with two cats, and Duncan's son-in-law has a big dog. Duncan says the dogs get along famously, and play like puppies whenever they see each other. However, Phoebe is scared of one of the cats.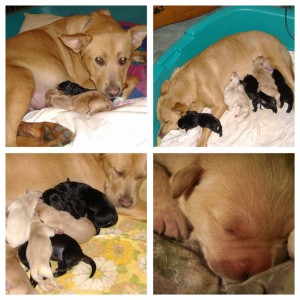 Please click on the image to view a larger version.
(Thank you to Duncan and his wife Edie Campbell for sharing these stories about their furry friend, Phoebe. In addition to being adoptive parents, the Campbells are also volunteers with TAGS: You might see them at one of our Bingo nights!)
---
---