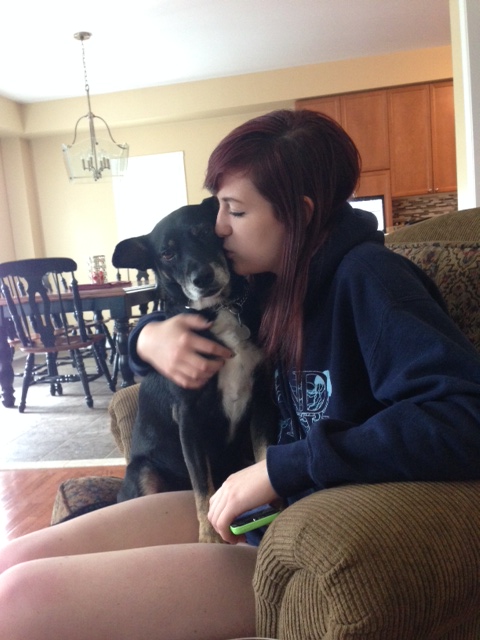 Megan, a 3-year-old Hound mix, was adopted in September. Read below to find out how she's doing in her new home!
When Sarah and I first met Megan we fell in love. Such a sweet and calm temperament and such a little lady. When she came home with us we were so happy to have her. The first night at bedtime she jumped right up on my bed and snuggled down between the pillows. She looked so peaceful I did not have the heart to move her into her crate. I soon discovered however that she snores like a 40 year old trucker!! After 3 weeks of sleep deprivation I had to do something. I put a nice blanket on a chair in my bedroom and asked her to sleep there. I only had to ask twice and she stayed there the rest of the night. Now she sleeps on the chair and does not stir in the morning until she hears me.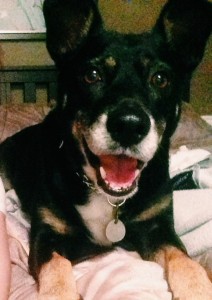 One of the things that became quite clear very early is how anxious she becomes whenever I am out of her sight. When I would leave her to go to work and leave her out of her crate she would mess all over the house. When I put her in her crate she would rip any blanket or towel that was in it to shreds.
I started coming home and taking her for walks as often as I could and not putting her in her crate. This seems to help and she hasn't been in her crate or messed in the house for 3 weeks!
I am gradually noticing a reduction in her anxiety. When I took her to a dog park before she would not play, just stick near me. Now, she runs around and plays with other dogs. She wags her tail much more often and is not afraid of visitors. She will let me out of her sight in the house now instead of looking for me constantly.
And she learned how to sit in training class!! Thanks to the gentle leader and lots of help from a TAGS volunteer she now will sit on command 🙂
She is a sweet and gentle dog and it is so nice to see her relax and become comfortable and at peace in her forever home.
Lorraine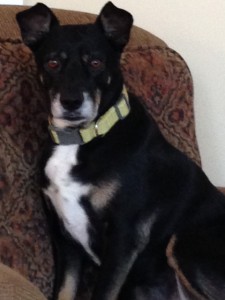 ---
---