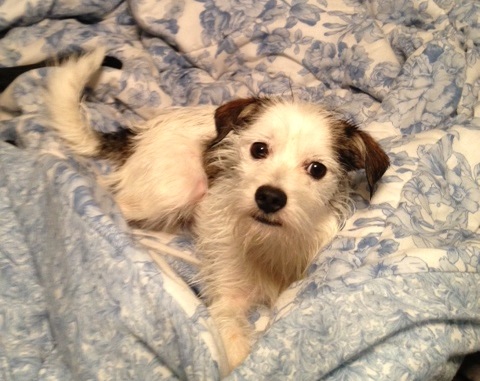 Colt is a 15 month old terrier mix from Tennessee. He was adopted by Julie White and her family last November. Since then, he has proven himself to be an important, playful, fun member of the pack. Sometimes he's a bit too fun though, and gets himself into a lot of trouble!
Post written by Torianne Allen.
What was Colt like when you first got him?
He became attached to us very quickly especially to my husband. He picked us to trust and was comfortable right away. He was a very shy boy with new people, unsure about them and he would hide behind us to protect him.
The first few days he was very quiet and didn't play with my dogs. He seemed unsure of his new situation as he was previously a stray and just needed to get comfortable with everyone and his new surroundings.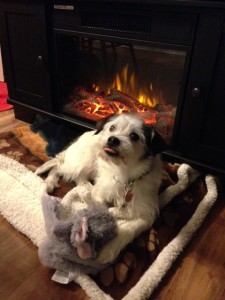 When did he open up to you?
After a few days, he came out of his shell wanting to play and run around with the others. He quickly learned to be a young playful dog again and had nothing to fear any more but he continued to be shy with new people.
We quickly got to see firsthand how silly this little boy was, making us laugh all the time. With his cute little face he would do bad stuff and of course we couldn't do anything but laugh and correct him.
How does Colt interact with your other dogs now?
He loves to play rough with the others but as soon as things get to be too much he runs for cover jumping on us to rescue him! He stirs the pot and can't take the heat. (lol)
He has a tight bond with my dog Jill (read her Happy Tail here!) and they do everything together… sleep, play tug a war, etc.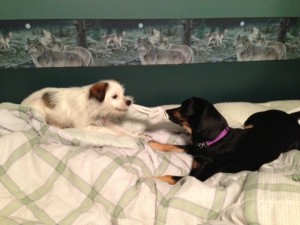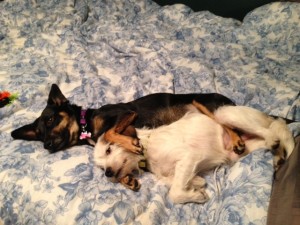 Name some funny things about Colt's personality.
Colt can be quite the little brat. He's lucky we love him so much. Here are just a few examples of what he does in his spare time:
– He LOVES toilet paper rolls. He runs around the house prancing around then he lays on our bed with them, making a cardboard mess.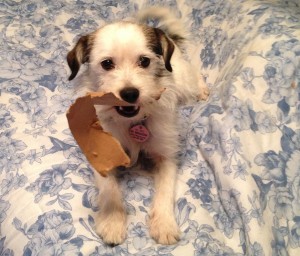 – He has a knack for finding tissues in the garbage… you bet he will make a mess with it, little pieces everywhere.
– He likes to chew. While you're sleeping he will lay quietly beside you and calmly chew on your comforter like he's doing nothing wrong and give you his cute look!
– He's a thief! Don't leave food out for a second… he will casually go and help himself while being quiet and sneaky.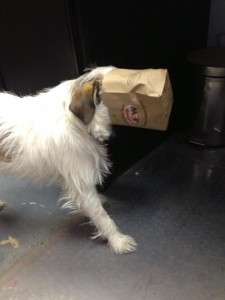 – He is an escape artist. The back yard has to be Fort Knox…. if the others aren't playing with Colt he will sneak under the fence to check out my neighbour's yard. We learned quickly that our secured fence wasn't Colt-proof. I took my eyes off him for 2 seconds while texting someone and he was prancing in my neighbour's yard, so proud of himself!
If you could describe him in a way that you wouldn't typically describe a dog, what would you say?
He's is like a 2 year old that keeps you on your toes! We had to make a few changes for Colt to keep him out of mischief and to keep him safe as we all have to do at times with dogs, or kids.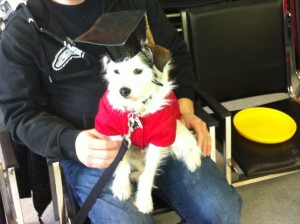 Against all odds, Colt graduated from his TAGS
training course after getting adopted.
What is the number one feeling you get when you think about Colt?
We couldn't picture our home without him. It was meant to be for us to meet and make him family.
Colt is such a great fit with our family, we all just love this silly guy including the other dogs. He loves his new life, home, family and we can't wait to bring him to our trailer this summer for some new fun!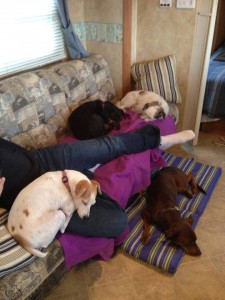 Colt with his family.
 Colt at the trailer!
---
---