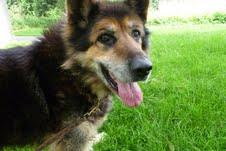 This post was written by Becky's new fur-mom, Christina. Thank you so much for sharing this with us, Christina, and for opening up your heart to Becky, Roux and Sasha.
Dogs have always been a part of both my husband and my life. The bond you share with a beloved pet is unlike any other and we wanted this to be a part of our children's lives. We waited until our children were old enough to understand the significant responsibility of caring for another life. We wanted them to be able to appreciate that adopting a dog was not just providing a dog with a home, but giving the dog what they deserve – respect, nurturing, and love. Adoption was our only consideration – we have adopted dogs through the Toronto Humane Society growing up and as a couple. They are victims and the most in need of love.
Becky is the third dog we adopted through TAGS. Our first, a beautiful Sheppard /Husky dog named Sasha, developed cancer after 6 months of joining our family. It spread rapidly to her lungs and after many tears and discussions together as a family, we decided to put her down before her cancer caused her further pain. After losing Sasha, we felt even more strongly the need to have our children grow up with a dog and experience that unique and privileged bond we had only just begun to share with Sasha. Again, as a family, we decided to connect with TAGS and we adopted Roux – a one year old Shepard/ Rottweiler cross. (Previously named Ryella – see her adoption announcement here.) She is a great dog and we all took part in the puppy classes TAGS offered, the children learning right along with Roux!
As our relationship with Roux grew, our thoughts of Sasha started to move from loss and sadness to memories of adventure and happiness, I began to feel that although we provided a home and loving family to our dogs, we gained so much more in return. Their love was unconditional and limitless. I am always visiting the TAGS website and came across a description of Becky. She was a 15 year old Malamute/Sheppard who was picked up from the streets by a Whitby pound. TAGS saw her potential, despite her feces covered fur and elderly, emaciated body. Even the pound staff tried to discourage the adoption to TAGS, believeing no-one would want her. Of course, TAGS refused to be dissuaded and took her back to the shelter and shortly thereafter, to her foster family.
After reading her description, I knew that it would be hard for TAGS to find a home for Becky, given her advanced age so I proposed the idea of adopting her to my family. We discussed that due to age, she may not be with us long but that we were not just adopting her for what we could gain, but for Becky herself; to give her the quality of life she deserved. The children took this proposal head-on and were excited to find ways to spoil her and fill her days – no matter how many – with snuggles and walks and toys! We arranged a Meet & Greet with TAGS and our family of 6, including Roux, all drove out to meet her. We immediately fell in love with her strong and silent composure and kind eyes. Roux was equally as impressed! As she was well into her senior years, we did not need to take training classes and, as it turned out, we had no need for them as her calm and loyal nature only wanted to please.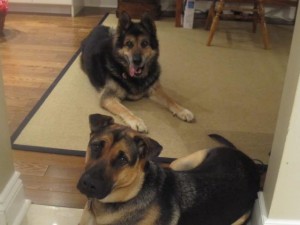 We brought Becky home and at first, she was unable to climb the stairs so I slept downstairs on the couch to help her feel safe and welcomed. We took it slow at first, trying to gage how active she liked to be and how long to walk her. She was content with going for short walks and would turn around and lead us home when she had enough! The kids fed her and walked her and made a point of sitting with her they could become familiar with each other. We also wanted Roux to feel she was included in this transition. We would drive them to a park together, finding some shade for Becky to lie in while my husband threw a ball over and over again for our young Roux! She would never tire of a game of toss and Becky would happily rest in the shade and oversee the activities, occasionally galloping toward the fun before retreating to her resting place!
After a few days, she attempted the stairs and began to follow us upstairs when we would headed to bed. Soon, Becky became an integral member of our family and added a quiet calm to our often chaotic world! We have had her since the summer now and she has enjoyed trips to the cottage, travelling in a boat and wading in the water with Roux. She loves to ride in the car and every time we take her for a walk, she must first circle the van and pause at the door, looking up hopefully at us to see if we are going for a drive! We like to take Becky and Roux to the park together and let them play off -lead. Roux, of course, can run circles around Becky but she doesn't let her wobbly gait stop her from lumbering along after Roux, tail wagging, letting out her gravelly bark to snatch Roux's ball or catch up to her. Sometimes, she is like a pup on these walks and it's all you can do to coax her home!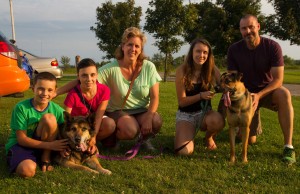 Becky and I have a developed a special closeness and from the moment my feet hit the floor in the morning, she is following behind me. If I sit down for a meal or head upstairs she is close behind me. As her strength is limited and her eyesight unreliable, we always walk beside her up and down the stairs so she feels safe. This works for our carpeted stairs to the third floor but our basement stairs are not carpeted and are also quite steep. We are constantly shutting the door at the top of the stairs to prevent Becky from following me down and potentially slipping. Now, she won't let a few slippery stairs stand in her way and, when I am not fast enough to close the door behind me when I head downstairs, she'll slowly plod down each stair, looking ahead and judging the space between each step to reach me! When she finds me, she'll lie at my feet and then follow me back upstairs continuing to shadow me wherever I go.
Becky balances Roux's typical puppy antics and emits a peaceful calm that Roux has yet to appreciate! Our children understand that Becky and Roux's needs are very different and they have gained great insight into how to modify and adapt their interactions. Most importantly, the children have seen how their love can breathe new life into a dog that would otherwise be considered too old for adoption.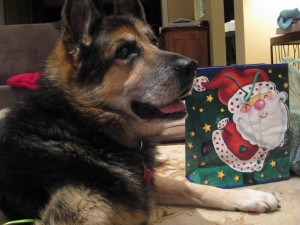 We are going on five months since we brought Becky home and she is a sweet and loving girl – we can't imagine our lives without her. She and Roux make a super welcoming committee every evening when we come home from work – tails wagging, barking and snuffling at us as soon as the door is opened! No matter how long we have been away, they greet us as if they haven't seen us for a lifetime and we are their best friends! The same daily greeting is offered to our 3 kids when they arrive home a few hours before us. I am always reassured to know that Rose, Georgia, and Walter have these 2 great dogs to sound the alarm should anyone come to the door. Becky doesn't realize she has no teeth and wouldn't pose much of a threat!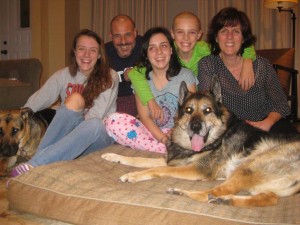 While both Roux and Sasha hold a special place in our hearts, Becky is unique. She offers our children an invaluable glimpse into the senior years of a dog's life and although she has no doubt had a long and difficult past, Becky retains no bitterness or resentment. This fortitude and peace comes from the inherent good in all dogs, her maturity and her collective life experiences. By adopting Becky, we hope our three children will realize the significance of this potential future for Roux and will continue to offer both her and Becky the unfaltering love, compassion, and respect they deserve .:)
---
---