Featured Adoptable Pet: Toby (with VIDEO!)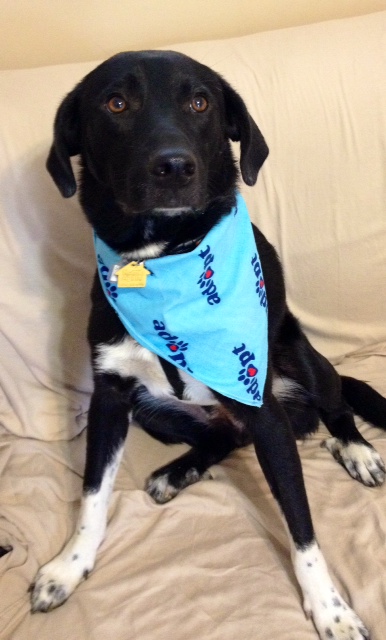 Summertime is quickly approaching, and what goes together better than summertime and dogs? 
Our featured pet
Toby
is a one-year-old Border Collie/Labrador mix who enjoys hiking, playing with all types of dogs, and discovering new things. Toby would be a great addition to any family who is active, loving, and patient.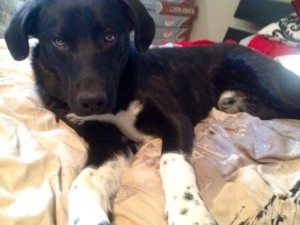 Toby needs to live with someone who is patient because he is fearful of loud noises and it takes him time to adjust to new noises around him. He is afraid of new places and people, especially men. However, if you are patient he will come around eventually to give you a sniff.
Once Toby is comfortable, he will show you his young, silly side. He gets very excited in the morning when he is greeted and when his foster mom returns home from being out. He greets those he loves with a wiggly bum. When he's really excited he throws his paws and head into the air. Want to see his wiggly ways for yourself? Watch: Video_1
Toby lives with a dog named Sully at his foster home. They have become great buddies and bonded quickly. Toby loves playing with his brother and feels more confident having him by his side! In addition to Sully, Toby has met quite a few new doggie friends! Big or small, young or older, Toby loves them and wants to play. According to his foster mom, he is very happy having other dogs around and gets along so well with every one so far.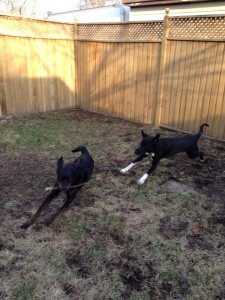 Toby chasing Sully
Toby has a couple "quirks."  When he follows his foster mom into the living room he will give her a couple "nose bumps" in the bum to let her know he's behind me! So silly! Toby also likes to "hoard" toys on the couch or in his crate. He builds a "toy mountain," but will still share his toys when his brother comes to grab one.
To see a video of Toby playing with Sully and another friend, click here: Playing (Toby is the one with the white markings on his legs. When he arrived at TAGS from the United States his name was Socks because of these markings! However, he got a new name with his new start and is now called Toby.)
Toby is house trained and crate trained. He loves going for walks, and he is working on becoming better at being on a leash. He tends to pull, and this is partially due to excitement, and also from a bit of fear. This is something he is working on in his foster home.
Overall, Toby has a great temperament. Like most young dogs, he is silly, playful, inquisitive, and an avid squeaky toy enthusiast. With a little patience and a consistent routine, Toby will easily gain the confidence he needs in order to reach his full potential as a loving companion. Toby would love to play ball, go for a walk, or cuddle on the couch, depending of course on what you would like to do today.
In his foster home, Toby the wonder dog has quickly befriended his foster mom's other dog, and has become an easy addition to their routine. Toby is used to living with women, based on his history, however his foster mother has reported that with some time and bonding, Toby without a doubt has the ability to become accustomed to men in his life.
The top 3 things people should know if they are interested in adopting Toby:
Toby needs patience. It takes him time to be comfortable with new people. Everyday he makes improvements with being brave, but you have to appreciate the small changes. All he needs is love, patience, and some confidence building. 

Toby is afraid if men most of all. So he will likely do best in a home that has a single woman or a couple. He definitely needs a "mommy."  He is more comfortable with women, which will help him settle into a home. Again patience is needed.
Thirdly, Toby needs a brother or a sister. Having another dog in the home is ideal. He feels much more comfortable and confident with Sully by his side.
---
---