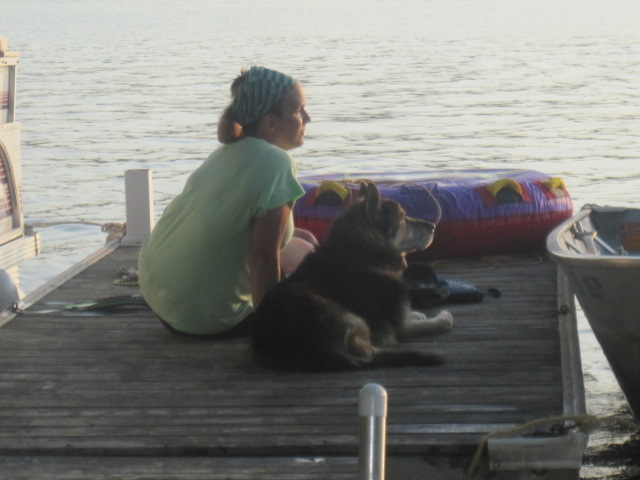 Written by Christina Smallbridge
We adopted our beautiful girl Becky, one year ago this month (See Becky's Happy Tail). Our family chose Becky because she was a senior dog at 15 years of age. We had the privilege of adopting 2 previous dogs from TAGS and our lives were enriched by the unconditional love and devotion they showed us every day. We knew it would be difficult for Becky to find a family of her own and decided it was our turn to offer Becky that same unconditional love and devotion she so deserved, no matter how long that may be. We were going to fill her days with happiness, love, and compassion.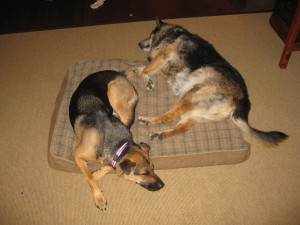 Good friends with Roux.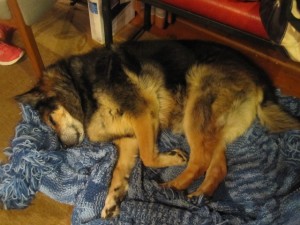 Nap time is the best time.
Becky's transition to our family was instant. It felt as if she'd always been a part of our family and she was quickly enveloped in our lives. At Halloween, we adorned her with bells and a frilly collar as she accompanied our children trick-or-treating. She received her first stocking at Christmas, brimming with her favourite liver treats and plush toys. On Valentine's Day, Becky gobbled up the special doggy heart-shaped cookies the children chose for her, making us wonder if having no teeth really mattered when you're motivated! She was with us to celebrate our birthdays and attempt a gravelly "Harumph" while we sang! But none of these moments compared to the pure joy Becky felt during the 3 hour car ride and 30 minute boat ride to our cottage this summer. With her nose dripping from the constant wind and amazing smells of the outdoors, her ears upright as if receiving messages meant only for her, and her eyes squinting blissfully in the sun as  its healing warmth breathed life into her tired bones, Becky simply radiated contentment.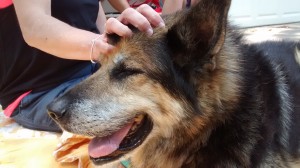 Ooh… that's the spot!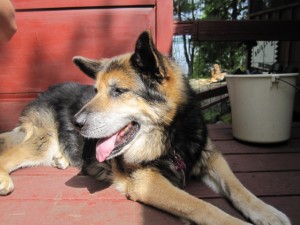 Enjoying the sun's warmth.
When we returned from the cottage, her health began to deteriorate and we watched helplessly as day by day, she gradually became less and less mobile. We held her up so she could relieve herself as she haltingly struggled to take a step. Eventually, she had no sensation in her lower body and was unable to stand. We never left her alone and tried to make her comfortable by brushing her heavy coat and sitting with her until she finished her meals.
Then we remembered. We adopted Becky to give her the love and compassion she deserved. She did not deserve to live so incapacitated; we were prolonging her life because we did not want to say goodbye. In our deep connection with this wonderful dog, we'd lost sight of what was best for Becky. As a family we made the decision to uphold our promise of unconditional love and compassion. On August 7, 2014, we held Becky in our arms and watched as her breathing became deeper and her body relaxed. Our children kissed and hugged her as her spirit left peacefully and effortlessly. And she was very happy and loved very much.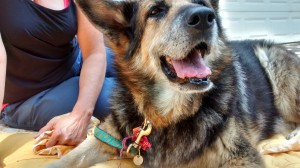 Thank you to the Smallbridge family for opening up your hearts and home to all three of the dogs you have adopted from TAGS: Becky, Roux, and Sasha. Your compassion for rescued dogs is inspiring and knows no bounds. 
---
---