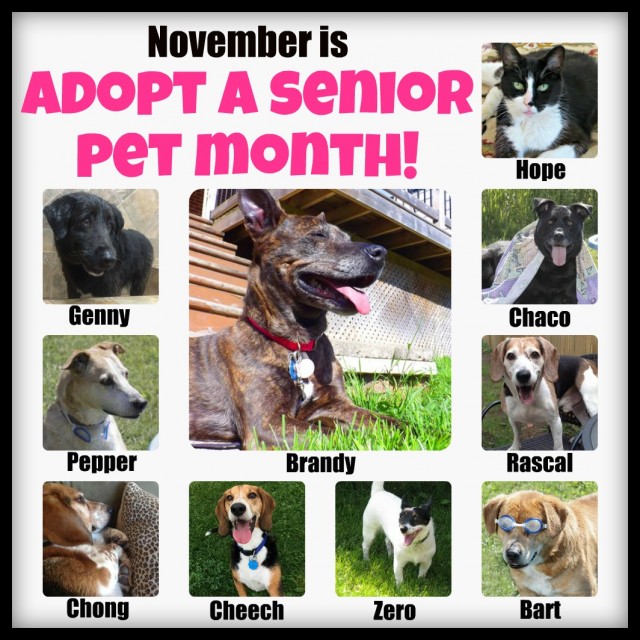 The TAGS adoption process takes a couple of weeks. First, you submit your application, and then, upon approval, you will have your "Meet and Greet," hopefully within that week. Next comes the Home Visit, where TAGS volunteers interview you in your home, and then, presuming everyone would like to continue with the application, you will have a 1-2 week "Extended Visit." This stage is where you find out officially whether the adoptable pet is the right one for your family. If they are, you will sign the adoption papers at the end of your extended visit and officially welcome the pup home.
So, with that in mind, we want to get ahead of the game and start promoting Adopt a Senior Pet Month NOW! Our goal is to have at least 2 senior pets on our "November Adoptions" announcement, which will be posted in the first few days of December. (But hey- if a few end up on October's announcement that's even better!)
Adopting a dog classified as a "senior" from TAGS does not necessarily mean they are old and frail! All it means is that they are over the age of seven. Interestingly, even though some people shy away from adopting a senior, for many dogs this is the perfect age! They are typically settled, and while they will have spurts of energy and still want regular walks and playtime, they are also just as content to hang out with their people. (Plus, less desirable puppy antics are long gone!)
It also costs less to adopt a senior dog from TAGS:
TAGS Adoption Fees
Dogs (0-6 years): $345.00
** Dogs (7+ years): $172.50 ** 
Cats (all ages): $100.00
Read all about our adoptable seniors on our ADOPTABLE PETS PAGE.
Please note that Cheech and Chong up for adoption as a pair! They are bonded brothers who enjoy doing EVERYTHING together, and we cannot bear to separate them.
<> <> <>
BONUS CONTENT:
1. In the photo below, you can see all of the seniors who were up for adoption in November 2013. Pepper is the only one left on our adoptable pets page. Hopefully 2014 is her year!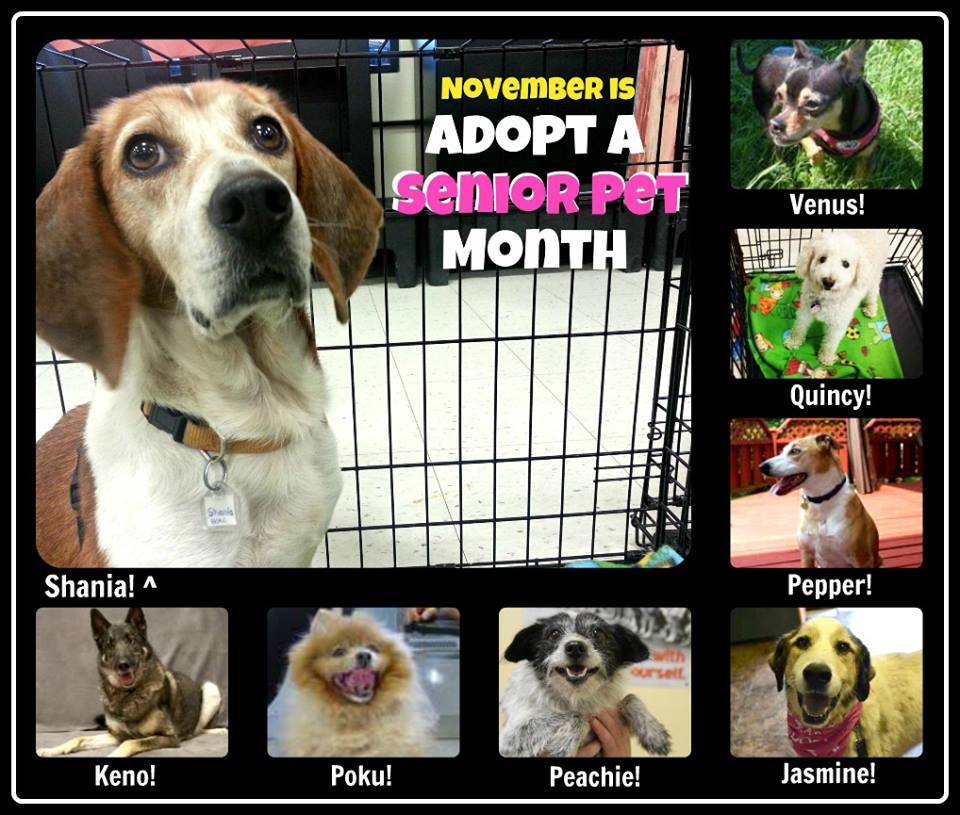 2. Read:  The Joys of Adopting a Senior Pet
---
---