3+1 Last Minute Christmas Gift Ideas for Pet Lovers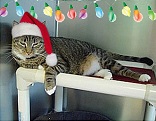 To all those who always wait until the last minute to get the Christmas presents: don't worry, there is still some time. Thank God for the internet that can make all this hassle easy and quick.
Not sure what Christmas gifts to give to a fellow animal lover? There are lots of options out there. Here, we will list 3+1 last minute Christmas ideas that will not only save you from a bad decision but they also stand for a good cause that will warm anyone's heart.
"Rescue dogs are a gift of life" T-shirts go for $20 from TAGS. 100% of the proceeds go to helping dogs and cats in need. This is a simple & adorable present for anyone. Don't forget to include TAGS' web address on the tag!
Kuranda Bed – You can either buy one as a present or donate one on behalf of someone. Shelters and rescues like TAGS are always in need of pet related accessories.
Donate – Donating in someone's name is a fantastic new trend amongst animal lovers. It's easy, fast, fun and you will help out abandoned dogs or cats tremendously.
+1: Dog DNA Test – This is a very creative and thoughtful present for someone who has a mixed breed dog but never actually knew what breeds got mixed into that little hell raiser. Now it's the time to find out AND support a local rescue (TAGS) at the same time. Buy a Dog DNA Test kit and see who was the great-grandparent of your friend's dog. The kits are available in Microchip Clinics and PetValu locations which will be open again from January.
Don't forget that the end of 2013 also means the end of another tax year. If you donated more than $20 throughout 2013, you will be able to write a portion of the amount off. TAGS accepts donations through CanadaHelps which issues electronic receipts valid for tax filing by the CRA.
Merry Christmas & Happy Holidays from the team of The Animal Guardian Society!
---
---