Our Volunteer of the Month for June is ASHLEY CAMPBELL! Ashley has been with TAGS for nearly a year, offering assistance wherever and whenever she can to the areas that interest her most. Read more below! 
What encouraged you to become a volunteer with TAGS?
What encouraged me to become a volunteer at TAGS is wanting to give back to the community. Why not give back to something that you love more than anything? For me, that is animals, specifically, a rescued animal! I just finished my Veterinary Assistant Program at Durham College and wanted to head in the direction where I want to pursue a career where I am able to help rescued animals of all shapes, sizes and kinds. This is when I heard many amazing things about TAGS from other people and my former classmates such as how they help many dogs (and a few felines here and there) from high kill shelters in the States, pets that have been staying at local shelters for awhile, as well as strays and owner surrenders. I thought why not give it a try to see where it takes me? And, look at me now its almost been a year and I am loving every moment with of it!
What are your roles at TAGS?
One of my roles at TAGS is to be a helper at the Microchip clinics. I ensure that paperwork is done properly and I handle dogs and some cats when the microchip is given. I am also involved in PetSmart shifts where one or two dogs are on display. I am there to supervise the dogs and talk  to interested individuals about adoption, our organization and how they can get involved to help give back to the community. I am also involved with random events such as the UOIT/DC event. TAGS has visited the campus in Oshawa several times now so some of our adoptable dogs can play with the students and comfort them as they deal with the stresses of being away from home and being busy with academics.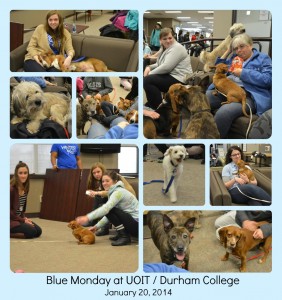 What do you like about us?
What I like about TAGS is how they foster dogs and cats until they have the right home.  I like how they have an adoption process that brings in the right family for every special pet and if the pet isn't the right fit for a family, they suggest one that could be. I also like how it is completely run by volunteers – we make everything possible. I also admire how involved we are with the community (outreach events, inviting the public to use our fenced-in dog park and how we offer training classes for dogs.)
Do you ever get discouraged?
So far, as a TAGS volunteer, I have never felt discouraged. Many of the volunteers I have volunteered with are very endearing and helpful when I didn't know some answers to questions people had about our organization.
What are some of the memorable moments you have from volunteering with TAGS?
Soooo many memorable moments at TAGS, believe me on that one! One memorable moment is being able to be involved in my first UOIT event. There were many smiling and excited faces when students got to hang around happy go-lucky dogs like Snoopy for instance. He loved being around the students and especially the other dogs! He spent the day whipping around the room and continually bugging Jasper to come play with him. And Biscotti can smell a treat from miles away I tell yeah! If you didn't have treats in your hands you would got no attention from this smart gal.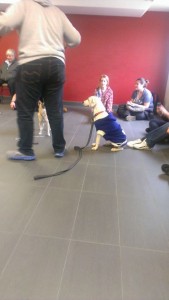 Snoopy waiting for Jasper to play with him.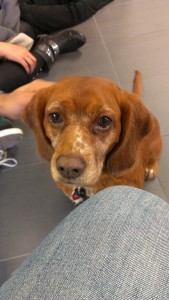 Biscotti at UOIT making it clear she wants a treat from Ashley!
Another memorable moment was during a PetSmart shift when I met Willow the cattle dog (she's since been adopted). She is a bundle of energy and such a sweetheart. Everytime you say her name or even try to get her attention with a treat she would just flip her head back and give you a sideways look (see picture below).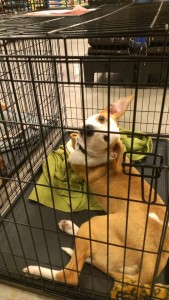 The most memorable moment of all is being able to get involved in microchip clinics. You get to meet a new furry friend every shift and most dogs you meet wag their tails and smile like no tomorrow.
Closing Thoughts
Overall, my experience with TAGS has been unforgettable and will always be one of a kind. I enjoy meeting many other animal lovers out there that support rescued animals and new furry friends every time can make your experience with TAGS worthwhile. There is always a variety of roles and events to help out with and most experiences make you feel good about yourself about giving back. TAGS has given me the opportunity to show my skills and given me a reason why I want to pursue a career in the animal field.
<> <> <> 
As she explained above, Ashley is involved in many areas of TAGS,
using her experience and passion as motivators for what she does.
If you are interested in becoming a volunteer, apply online today! 
---
---