On a cold Saturday morning in December, two TAGS volunteers, Ashley Farrugia and Shelley Willis, were on their way to a Christmas craft market. They managed to get lost along the way and decided to stop at a gas station for directions.As they were heading back to the highway, a car pulled over, the door opened, and a beagle popped out. As fast as the car arrived, it took off, leaving the dog and a box on the side of the road.
Almost immediately, the dog walked over to Ashley and Shelley. He was happy to see them and very friendly. Shelley and Ashley decided to bring the dog, who was wearing a collar without any tags, up to the TAGS dog park. The crafts would have to wait! During the trip, the dog was sitting in the backseat beside a hockey stick named by Bauer, so they started calling him Bauer since they didn't know his real name.
Once they arrived at the TAGS dog park so Bauer could be examined, TAGS volunteers discovered that not only was he neutered, he was well-fed, healthy, micro-chipped and knew a full host of commands! Sue Montgomery, the TAGS foster home coordinator, decided to take him home with her for the time being until she could do some digging into Bauer's background. She called 24PetWatch to find the contact information for Bauer's owner.
As the phone rang, Sue didn't know what to expect. Would her call be ill-received?
The line connected and Sue started talking. Once finished with her story, the man on the other end of the phone sounded instantly relieved and emotional.
It turns out that Bauer's real name is Frankie! He was being watched by a family friend while his owners were on vacation and he escaped (probably following that beagle nose!) and couldn't be found. Frankie's family was devastated when they got home and obviously wanted to come pick their boy up as soon as possible.
As soon as his owner arrived, Frankie was ecstatic and more responsive than he'd been all day long. It was a beautiful reunion to witness.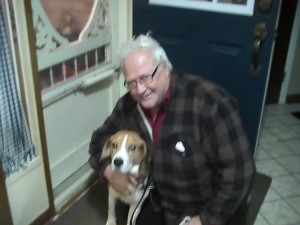 We will never know how Frankie got in the car that left him at the side of the road, or why he was with that person. What we do know is that many dogs who escape like Frankie did end up as strays. Some of them become so afraid they are almost feral by the time they are found and take months to learn how to trust again. Some do not survive due to threats they don't usually encounter as house pets, i.e. predators, the elements, and traffic.
Luckily for Frankie, he never had to experience those things, and this is thanks to the fact two animal-loving women were in the right place at the right time, and that he had a microchip.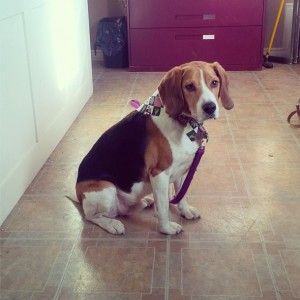 We are so glad that Frankie's story had a happy ending and that he was microchipped, but if he was wearing a collar with identification tags on him, the debacle would have been over even quicker. Please make sure that your pet has up to date tags on his or her collar with their name, your name, your contact info, and whether they have a microchip.
Our next microchip clinic is January 18 and costs just $30. If you are unable to attend that day, hopefully you and your pet can make it to one of our future clinics.
---
---