Home
Holistic Care Success Story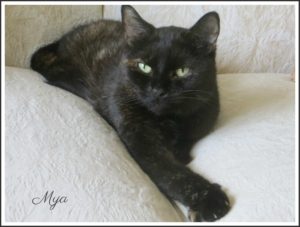 ~ from Mya's foster mom….
Looking at 8.5-year-old Mya, you can see that she is a beautiful tortoiseshell cat. Spend some time with her, and you'll discover that she is good-natured, enjoys sitting on windowsills, likes to be rubbed under her chin, and will wriggle and roll about in delight while being brushed. What wouldn't be obvious to you is that Mya has an intestinal tumour.
Mya came to The Animal Guardian Society (TAGS), along with her mother and daughter, in March 2015. She has been my foster since late February 2016. Having ongoing skin issues, TAGS asked Dr. Carolyn Benson (a veterinarian with a homeopathic practice) to take Mya on as a patient. Soon thereafter, Dr. Benson knew something else was awry. In November, an ultrasound confirmed the presence of a tumour.
Mya's last few check-ups have confirmed that the tumour has not grown. Her appetite fluctuates, so we try various foods to ensure she has something nutritious and palatable. If the menu du jour has discernible bits and pieces it in, I blend it so is easier on her digestive system. She does vomit regularly, but (fortunately) it is seldom food. Dr. Benson is in constant contact; it's a rare day that we haven't corresponded by email. We discuss Mya's eating and litter habits, whether she still enjoys her regular routines, any changes in behaviour, and her general demeanour. Mya's care has not been reduced to a "tumour case", the focus is unquestionably on her overall well-being.
As time has gone on, I've missed Mya's running and chasing balls like she used to do. That is, until last night (September 30th). In the interest of at least providing the opportunity for her to chase a crinkle ball, I thought I'd throw one or two before I turned in. I assumed Mya would likely watch it fly by, as she had been doing for the past while. However, this girl has a mind of her own and ran after it. I grabbed my camera, then threw more balls and she chased them too! I was excited to send the video clips to Kathy Asling (TAGS Founder) and Dr. Benson this morning; both were thrilled to hear and see the great news.
Homeopathy was a completely new concept to me and I've been learning from Dr. Benson as we move along. I don't know what the future will hold for Mya, but I know that she is finding enjoyment in her daily life and has benefited from Dr. Benson's skill, compassion and genuine concern for Mya's health and happiness.