Happy Tails: Justice and Thornton
This post was written by Jan Evinou Thompson, who is a true animal lover. She is also a rescue advocate and has her own online campaign to encourage people to adopt, not shop. She adopted two cats from TAGS earlier this year, Justice and Thornton. Thank you, Jan, for sharing this with us and for giving all of your rescues such a great home. 
Hello,
I am Justice and Thorton's adoptive mum. 🙂
Justice was a lost and lonely cat, with new baby kittens, found under the Court Building in Oshawa. Thorton, named after some TV cartoon I believe, is Justice's male kitten. Luckily for them, they were given shelter by TAGS and the lovely people who run it.
Shona was my lovely Springer Spaniel. Sadly she died at seventeen years old, three years ago. I had recently retired, so my husband and I decided we would not replace Shona, and would be free to do whatever we wanted in our retirements. That decision did not last long.
Our first rescue, was an Australian cattle dog named Jack. The next rescue was Sara, another cattle dog. That is when I decided that I could contribute to society in my own small way, in my retirement, by saving a few animals and giving them their forever homes.
That was when I decided to adopt a rescue cat. When I looked on TAGS website at the adoptable cats, I was immediately drawn to Justice who looked just like our first cat, Mitsy, who had died at seventeen many years ago, and my son's current cat, Tyson. So, I had to have her. 🙂
When I called TAGS, I was informed that Justice came with her son, Thorton, as he would be lost without her. Thorton is very timid and follows his mum around everywhere. Well of course, as all animal lovers would do, I adopted them both. Justice and Thornton have the run of our finished basement. I spend half of my time down there, and I am always greeted by both cats. Whenever we have company, we entertain in the basement so the cats have met all of our friends and relatives. Justice sits on the lap of whoever is sitting in my spot and Thornton snuggles at their legs to be petted.
The dogs hang out upstairs. The animals noses meet at the top of the stairs through a gate, it's very cute! Justice seems fearless of the dogs, she and my hound sit and look at each other a lot. Thornton has always preferred to hide from potential danger, so to keep him comfortable I don't let them loose together. Justice loves to lay on top of me when I am relaxing on the couch, and rests her head on my arm. Thornton is too shy to jump up on me, but he does sit near me and enjoys being stroked – sometimes he even demands it!
All in all, the cats have come a long way and are very much loved.
Besides Justice and Thornton, we did add one more dog: Cooper, a blue tick Hound, from a rescue in Georgia, USA.
Sadly, we had to stop at five; three dogs and two cats is enough for us! The animals have all settled in nicely in their forever home, or should I say, castle. Jack thinks he is the King and the others his princes and princesses. My husband and I are the serfs!
Seriously, we love them all, and I am happy that none of them will ever be without a forever home again.
I am totally in awe of how many people there are out there, like the staff and volunteers at TAGS, who work tirelessly to protect the unwanted animals of this world. I thank you all from the bottom of my heart.
I do feel though, that each of us who contributes in a smaller way do still make a difference. The combination of all of our small efforts can make a huge difference, and will reduce the number of healthy animals who are euthanized.
If you think you might at some point in your life, look to buy an animal, please go to my cause on Facebook, whereby you pledge to save a Rescue, rather than buy from a breeder or store. Please also encourage your animal loving friends to take the pledge. I set up this page as another of my little contributions to our furry friends.
Thank you TAGS, for my beautiful cats.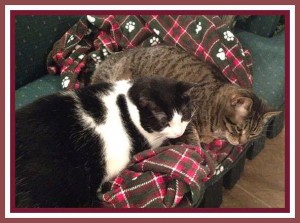 Never too old for snuggles with Mom.
---
---