Our long-time volunteer, Cathy Lloyd has recently adopted Wyatt and we wanted to know how he was doing. It seems that this adoption was meant to be! Wyatt was rescued from a high-kill shelter in Kentucky this March. It didn't take long for this sweet boy to find his new home and now he is happier than ever!

Why did you decide to adopt Wyatt?
We simply fell in love with the little guy.We have adopted so many dogs through the years.We don't really go looking for a new family member, it just happens.

  
When you met Wyatt, did you know right away that he was who you were looking for?
I met Wyatt at one of our TAGS social functions and he made a huge impact on me.I really wanted to take him home with me right then and there!

 

He seemed so small and vulnerable and I went home and told my husband about him.I already felt connected to him.Then Wyatt was at Petsmart one day while I was there for TAGS, and I called my husband to come and meet him.He fell in love with him too…and the rest is history.
What were his first days like?
Wyatt settled in really well.He was a little timid and he still is sometimes.But he loved playing with Wally, our four year old Vizsla/Mastiff mix.They hit it off right away and are best buds!Wyatt got along well with our other dogs too.  I think he thought he was at the dog park. Wyatt bonded with us quickly too.He loves to cuddle.He would curl up beside me or even in my lap if one of the other dogs was lying beside me. He is such a sweet boy.
How did the training classes go?
Well, let's just say that Wyatt didn't graduate at the top of his class!

 

He did ok, and did much better when we trained at home. But once he saw the other dogs in his class, and if his foster family was around, he was more interested in visiting than learning.

 
Tell us a funny story or habit about Wyatt!
Wyatt likes to sneak things to play with.One of his favourite things is the toilet
paper roll.He'll sneak it off the roller and then run around the house with it leaving a long trail of toilet paper behind him.While our other dogs enjoy a rawhide bone treat, Wyatt will take his and try to bury it in the couch if he can't get outside.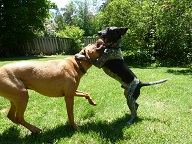 How is he getting along with your other dogs/family members?
Wyatt loves everyone.He loves our other dogs, especially Wally.They are best of friends and play together all the time.Wyatt is Wally's shadow.

 
Anything else you would like to share about Wyatt?
Wyatt is such a treasure.He plays hard one minute, and the next, he's cuddling with you.In the morning, he likes to jump up on the bed and have a little snuggle before we get up.He is so affectionate.We feel so fortunate to have him in our lives.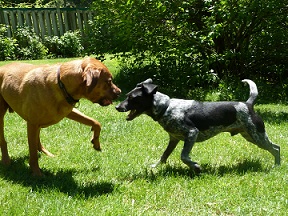 ---
---