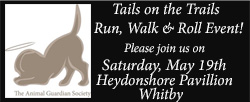 Tails on the Trails

Please join us for our annual 5k walk/run on Saturday, May 19th at the Heydonshore Pavillion in Whitby.
The day begins at 9:00 am. Following the walk enjoy our BBQ while you check out the fantastic items in our silent auction. But that is not all – we have face painting for the kids and dog painting!! Come by and check out our Smooch the Pooch Picture booth. Nail trimming and our Pet Show round off the things you won't want to miss. A number of local vendors will be delighted to chat with you about their wonderful products for sale.
Registration is $25 until the end of April and then goes up to $30.
Not able to walk? Please consider a donation or pledging.
For more info contact tagsinfo@yahoo.ca
---