HOLISTIC CARE ANIMAL CONFERENCE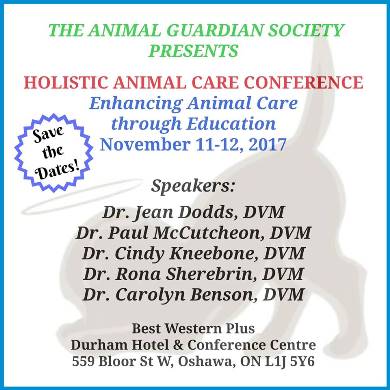 Holistic Care Animal Conference!

Enhancing Animal Care through Education
November 11 & 12, 8:30 till 4:30
Location: Best Western Plus Durham Hotel & Conference Centre, 599 Bloor St.
Platinum Sponsor
We are pleased to announce the following Global Pet Food stores as our Platinum sponsor for our Conference.
310 Harwood Avenue South, @ Bayly, Ajax, Ont.- Jeff & Sherry Leyland
1965 Salem Road North, @ Taunton Rd. W., Ajax, Ont. – Jeff & Sherry Leyland
600 Grandview Street south, @ Bloor, Oshawa, Ont. – Paul & Kim Mitchell
789 Taunton Rd. East, @ Harmony, Oshawa, Ont – Paul & Kim Mitchell
575 Thornton Rd. North, @ Rossland Rd., Oshawa, Ont – Sue & Mike McDonald
Global Pet Foods is the largest Canadian-owned pet specialty retailer.
"Our philosophy is that caring for pets must include these four elements: Mind+Body+Soul+Spirit. By offering a unique and wide selection of wholesome pet food, accessories and supplies that encompasses these four elements, we are committed to helping pet lovers make informed decisions for the total health and well-being of their companion pets. Global Pet Foods specializes in natural and holistic pet food, pet treats, and supplements."
[formidable id="15″ title="1″]
---